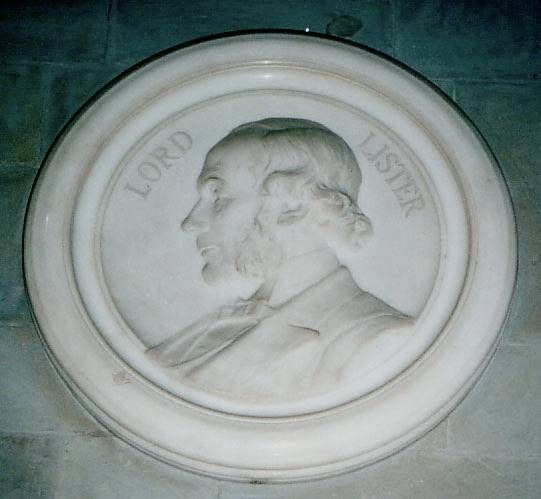 Lord (Joseph) Lister by Sir Thomas Brock (1847-1922). Marble medallion. Unveiled 1915. Westminster Abbey, London. Photograph and text kindly provided by John Sankey, whose copyright they remain.
In October 1912 the Lister Memorial Committee decided to raise funds for a "simple marble medallion" in Westminster Abbey and for "a large and more conspicuous monument" in some public place in London. Brock was commissioned to execute the medallion in March 1914 and it was unveiled in the north aisle of the Abbey on 1 November 1915. As the north aisle also had the tombs of Newton and Darwin, the Times christened it "Science Corner" (to balance 'Poets Corner').
Bibliography
The Times of 4 April 1913, 3 March 1914 and 4 November 1915.
---
Last modified 27 September 2009