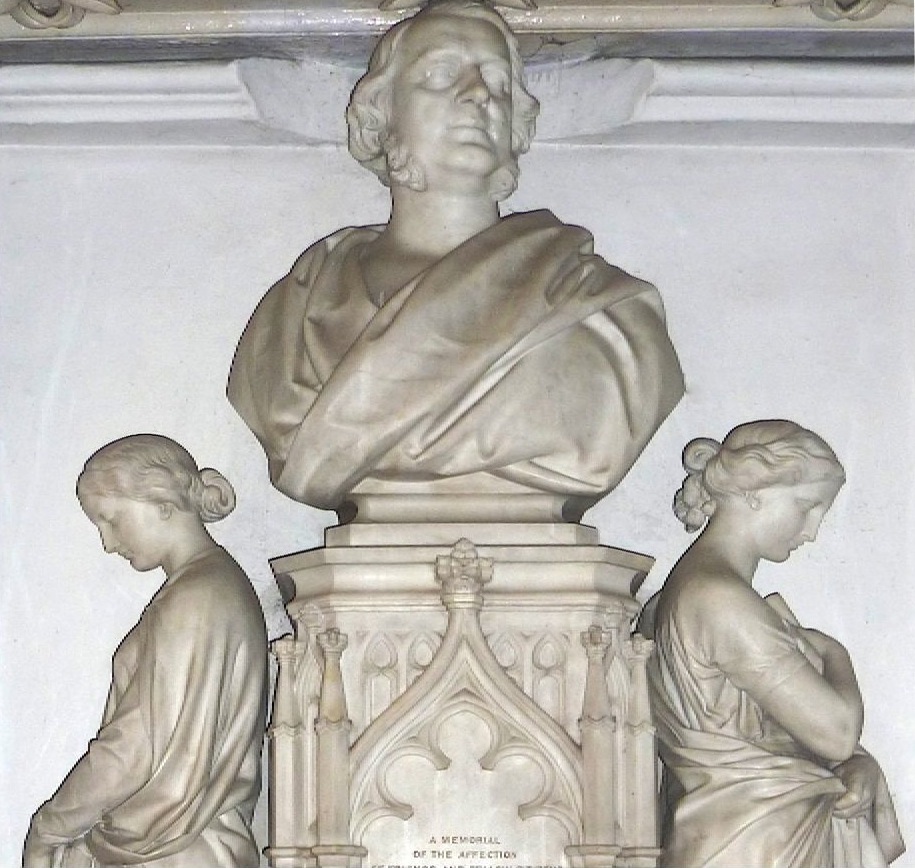 This marble monument to the memory of William Ritchie (1806-1862) is in the vestibule of St Paul's Cathedral, Kolkata. It was the work of John Henry Foley (1818-1874), and signed and dated on the base with Foley's name and "London. 1865" (see below right). William Ritchie was William Makepeace Thackeray's favourite cousin. His bust is on pedestal flanked" by two lifesize female figures, demure, thoughtful and beautifully draped: the one on the right, holding what looks like a scroll, represents Law, and the one of the left, holding a Bible, represents Religion. Below, on the base, are Ritchie's arms, crest and motto: "Virtute Acquiritur Honos" ("Honour is Acquired" by Virtue").
Law is represented here because Ritchie became an advocate of the Supreme Court in March 1813, and was Advocate-General from 1855 to 1861. Shortly before his death he became a member of the Supreme Council. All this, as well as being the Vice-Chancellor of the University of Calcutta from 1859 until his death in 1862. The family connection with Thackeray was an important and lasting one: Thackeray's daughter Anne married William Ritchie's son Richmond Thackeray Ritchie, her much younger second cousin, in 1877, becoming Mrs and later Lady Ritchie.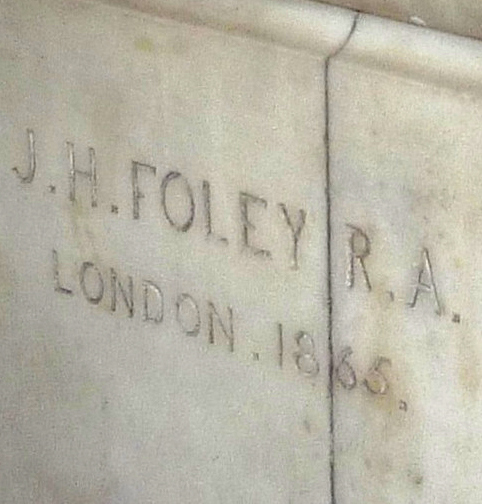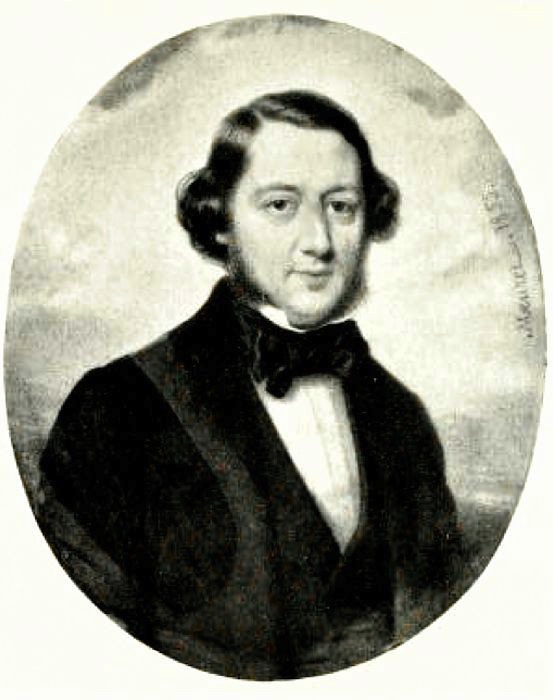 Left: Inscription of the sculptor's name. Right: A portrait of William Ritchie in 1855, taken from Ritchie, facing p. 68.. [Click on images to enlarge them.]
Inscription on the Monument by William Makepeace Thackeray
A memorial of the affection of friends and fellow-citizens for William Ritchie of the Calcutta Bar and Inner Temple, Member of the Council of the Governor-General, Vice-Chancellor of the University, and twenty years a resident in Calcutta. To a clear intellect and sweet and generous temper England had added her highest education and God his grace. Public-spirited, wise, and beloved, his career was one of rare success, breeding no envy. His death was felt to be a calamity alike public and private and carried grief into many households, but left to all who mourn him the bright assurance of his rest in Christ. He died in Calcutta March 22nd, A.D. 1862, in his 46th year. [Cotton 593]. A text from Revelations 13, v. 14 — "Blessed are the dead which are in the Lord." — follows Thackeray's inscription.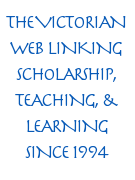 Related material
Photographs and image scan by the author. You may use these images without prior permission for any scholarly or educational purpose as long as you (1) credit the photographer and (2) link your document to this URL or cite it in a print one. Click on the images to enlarge them.]
Bibliography
Cotton, H. E. A. Calcutta Old and New: A Historical and Descriptive Handbook to the City. Calcutta: W. Newman & Co., 1907. Internet Archive. Web. 20 March 2014.
Ritchie, Gerald. The Ritchies in India: Extracts from the Correspondence of William Ritchie, 1817-1862; and Personal Reminiscences of Gerald Ritchie. Ed. Gerald Ritchie. London: John Murray.1920. Internet Archive. Web. 20 March 2014.
"Sir Richmond Ritchie" (obituary). The Times. 14 October 1912: 9. Times Digital Archive. Web. 20 March 2014.
---
Last modified 20 March 2014