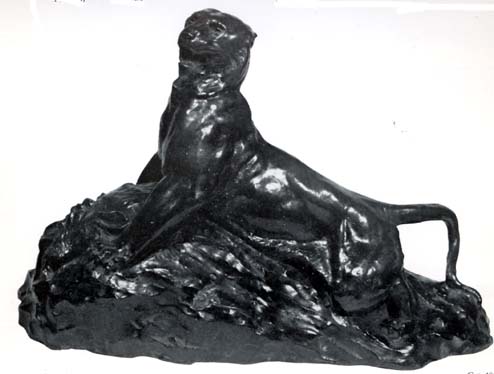 Puma with Wild Boar by John Henry Monsell Furse. (1860-1950). Bronze, 12 inches, Signed and dated 1902. Fine Art Society, London.
According to Channel Packet, the catalogue of an exhibition at the Fine Art Society, Furse "studied at Trinity College, Oxford, before joining the staff of the British Museum. Began studying art under Herkomer, then went to the Slade. Exhibited at the R.A., 1892-1907. Died Halsdon, Devon."
The Fine Art Society, London, was the very first commercial gallery or public museum to share its information, images, and text with the Victorian Web. The copyright on text and images from their catalogues remains, of course, with the Fine Art Society. [GPL]
Bibliography
Channel Packet: Paris-London, 1880-920. Exhibition catalogue, The Fine Art Society, 148 New Bond Street London Wl. March 24th-25th April 1969, plate 22.
---
Last modified 1 September 2003