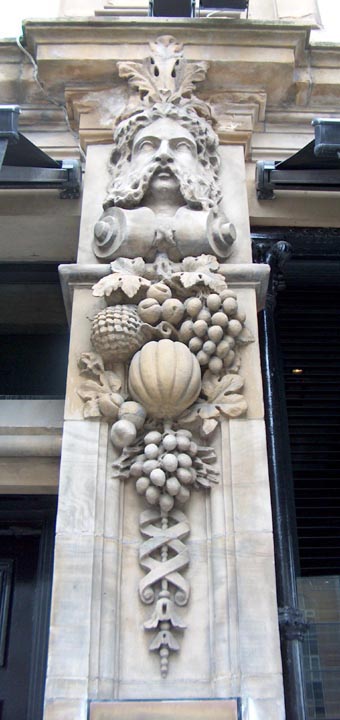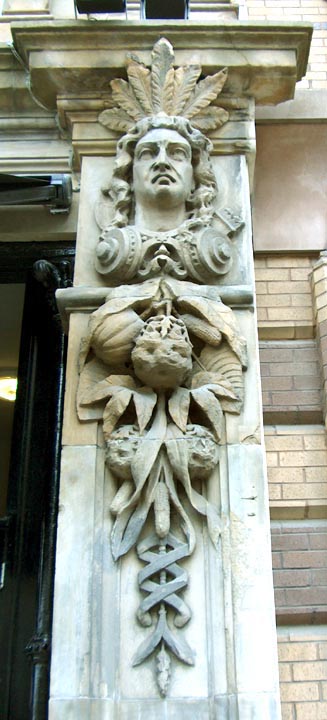 Click on the images above for larger pictures
According to C. E. B. Brett,
Belfast is exceptionally rich in architectural sculpture. Thomas Fitzpatrick, a really remarkable working sculptor, was certainly responsible for the Red Indian [i. e. "North America"] at 36 Victoria Street and the Chinaman [sic] round the corner in Marlborough Street; possibly also for the engineer Stevenson and the poet Tom Moore in Linen Hall Street. . . . The ground-floor facade of No. 36 is divided into bays" by five half-caryatid pilasters, symbolizing the five continents and their fruits in a mouth-wateringly juicy manner. The vigour of the carving is tremendous. [Brett, facing p. 44 and p. 44])
The Renaissance-style building (now "Malmaison) was completed in 1868 according to the architectural plans of William Hastings; it, with its next-door neighbour (now a trust company), was one of two side-by-side semi-detached warehouses built for competitors in the seed business, John Lytle and Samuel McCausland. These ornate, four-storey Renaissance edifices with their Thomas Fitzpatrick "Continents" (from drawing provided by the imaginative James Kendall) on the keystones seem far too grand for their original purpose, but bespeak Belfast's civic pride. But one cannot envisage Uncle Pumblechook's seedshop in Dickens's Great Expectations looking a fraction as grand. Here, however, the underlying theme of the figures advertises the business within, proclaiming that seeds from all the continents are available for sale within, and that the results will be luxuriant and abundant.
Text and Photograph by Philip V. Allingham 2006. These images may be used without prior permission for any scholarly or educational purpose.
Bibliography
Brett, C. E. B. Buildings of Belfast, 1700-1914. London: Weidenfeld and Nicolson, 1967.
Heatley, Fred, and Gillian Boyd (il.). Belfast: Paintings and Stories from the City. Donaghadee, N. Ireland: Cottage Publications, 1998.
---
Last modified 14 September 2006