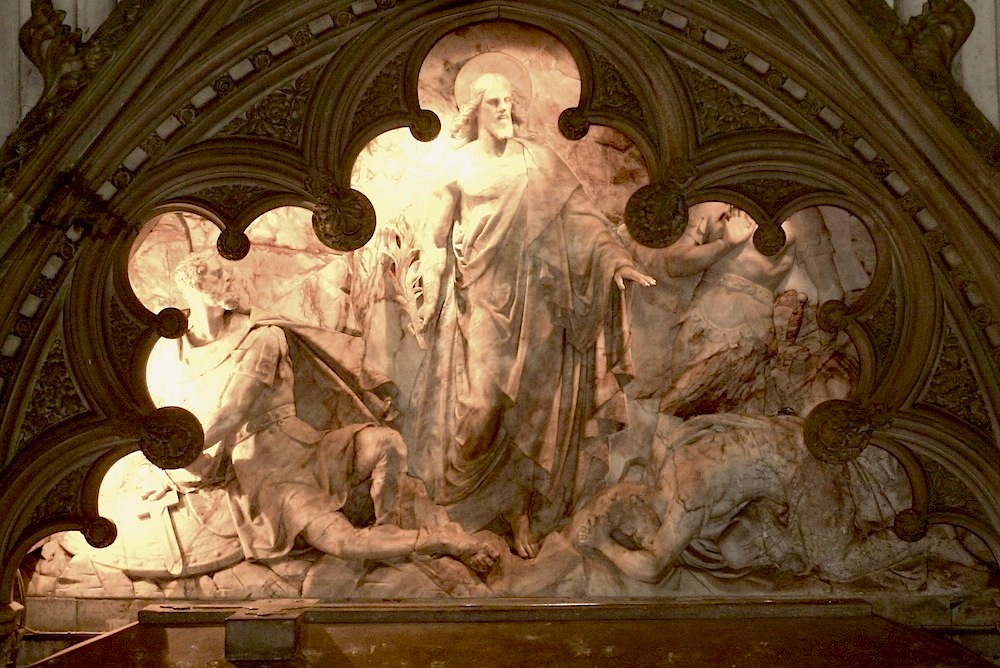 Memorial for Colonel Richard Baird Smith (1818-1861). This striking funerary monument in St Paul's Cathedral, Kolkata honouring the memory of Colonel Smith was designed by George Gilbert Scott (later Sir George Gilbert Scott, 1811-1878), and executed by John Birnie Philip (1824-1875). Dating to 1867, it was illustrated in the Illustrated London News of 6 April that year, with the wood engraving seen below left (on p.366). Philip's "longest and closest association was with George Gilbert Scott" (Stocker), and he took on many commissions from him from 1852 onwards. He would also work for Scott on the Elgin Memorial in the same cathedral, less than a couple of years later. Both these monuments have Gothic canopies, with medallion profile portraits of their subjects at the top, but the principal decoration of this one is a dramatic high relief sculptural group within the canopy, while the later one has four bas-reliefs in bronze.
The monument to Colonel Smith stands at the northern corner of the eastern wall, before entering the main part of the cathedral (see Cotton 618). Philip was at the height of his career" by then, and it is a remarkable piece of work. This is not so much because of its form as for the dynamism of the sculptural group. This makes a great impact, especially when the sun catches it in this corner. It shows "the resurrection unto life" referred to in the inscription below, with Jesus stepping forward to raise the casualties of battle: in the left foreground, one man in knightly garb is already beginning to sit up, while another to the right still hides his face beneath his clasped hands.
The Scottish-born Colonel Smith was seen as a hero of the Indian Mutiny. As an army officer who had previously been in charge of much canal and irrigation work for the East India Company, he was sent to Delhi as Chief Engineer when the unrest broke out. According to his biographer, "the man to whom the capture of Delhi is principally due was Colonel Baird Smith, for he was the man who strengthened and secured our position from the assaults of the enemy. It was he who put strength into the proceedings throughout" (Vibart 77). He survived to become Master of the Mint in Calcutta, as it was then, in 1858. But his health never really recovered from a wound to his foot and his illnesses then, and he died at sea on the way home, on 13 December 1861. His body was taken off and buried in Madras. His wife was Thomas de Quincy's second daughter, Florence. The inscription, composed" by Colonel Sir Henry Yule (see Vibart xi) reads:
In memory of Colonel Richard Baird Smith, of the Bengal Engineers, Master of the Calcutta Mint, Companion of the Bath, and Aide-de-camp to the Queen, whose career, crowded with brilliant service, was cut short at its brightest. Born at Lasswade, N.B., 31st December, 1818, he came to India in 1838. Already distinguished in the two Sikh wars, his conduct on the outbreak of revolt in 1857, showed what a clear apprehension, a brave heart, and a hopeful spirit, could effect with scanty means in crushing disorder. Called to Delhi as Chief Engineer, his bold and ready judgment, his weighty and tenacious counsels, played a foremost part in securing the success of the siege, and England's supremacy; and the gathered wisdom of many years spent in administering the irrigation of Upper India trained him for his crowning service in the survey of the great Famine of 1861, the provision of relief, and the suggestion of safeguard against such calamities. Broken" by accumulated labours, he died at sea, December 1861, aged scarcely 43. At Madras, where his career began, his body awaits the resurrection unto life, whilst here the regard and admiration of British India erects this cenotaph in honour of his virtues and his public services.
Profile of Colonel Smith in the medallion.
Related Material
Photographs by the author. You may use these images without prior permission for any scholarly or educational purpose as long as you (1) credit the photographer and (2) link your document to this URL or cite it in a print one. [Click on the images to enlarge them.]
Bibliography
Cotton, H. E. A. Calcutta Old and New: A Historical and Descriptive Handbook to the City. Calcutta: W. Newman & Co., 1907. Internet Archive. Web. 22 March 2014.
"List of Works: Record 26-51." Henry Moore Institute. Web. 22 March 2014.
"Monument of Colonel Baird Smith." Illustrated London News. Vol. 50. Jan-June 1867. 6 April 1867: 366. Google Books. Web. 22 March 2014.
Stocker, Mark. "Philip, John Birnie." Oxford Dictionary of National Biography. Online ed. Web. 22 March 2014.
Vetch, R. H., rev. Roger T. Stearn. "Smith, Richard Baird (1818–1861)." Oxford Dictionary of National Biography. Online ed. Web. 22 March 2014.
Vibart, Henry Meredith. Richard Baird Smith: The Leader of the Delhi heroes in 1857: Private correspondence of the commanding engineer during the siege and other interesting letters hitherto unpublished. London: Constable, 1897. Internet Archive. Web. 22 March 2014.
---
Last modified 25 March 2014