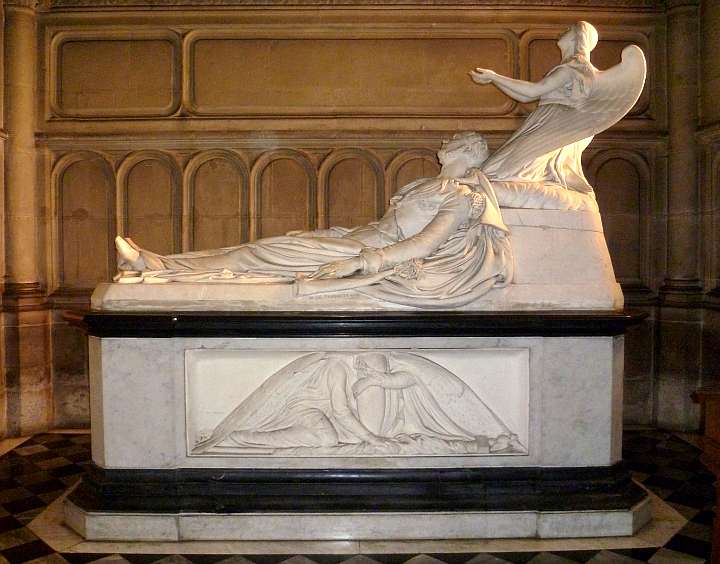 Recumbent Duke of Orléans (in situ) by Baron Henri de Triqueti (1803-74). 1842. Marble. Notre Dame de la Compassion (Chapelle Royale Saint Ferdinand), Paris, 17ème. Photographs and text by Jacqueline Banerjee, 2010.
See commentary on the full-size maquette of Duke Ferdinand of Orleans in the Triqueti room of the Musée Girodet, Montargis, France. Quite apart form the more beautiful and appropriate setting and peaceful atmosphere, it is good to see the marble version, complete with the angel sculpted" by Princess Marie d'Orléans, the duke's sister, at its head. The marble of course is much smoother and more finished, though the vein (or crack?) running across the cheek is rather disconcerting. The chapel is still very much in use. On the morning these photographs were taken, mass was being held on its lower level to a full congregation. The second reading happened to be the suitable one from St. Paul's Second Epistle to Timothy, 8-13, including the words (in French), "If we have died with him, we shall also live with him."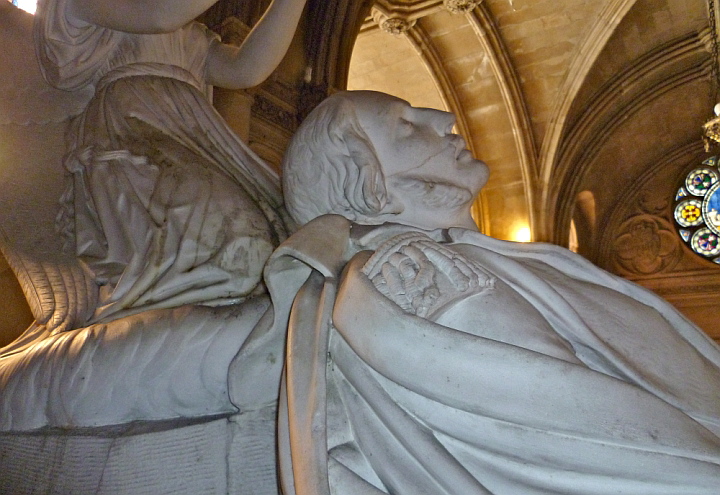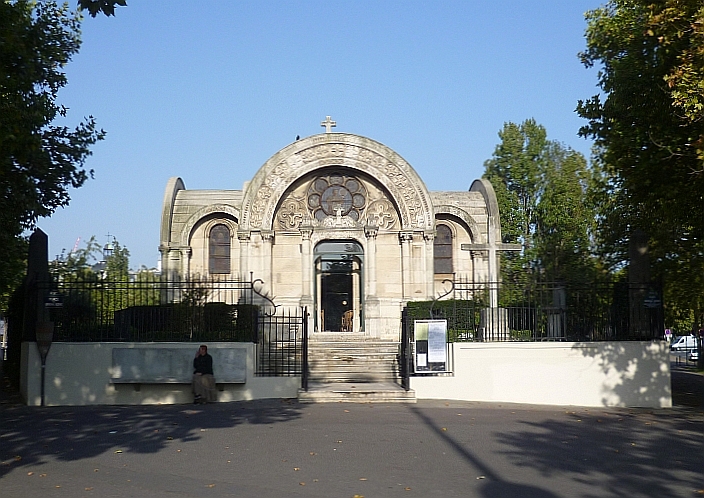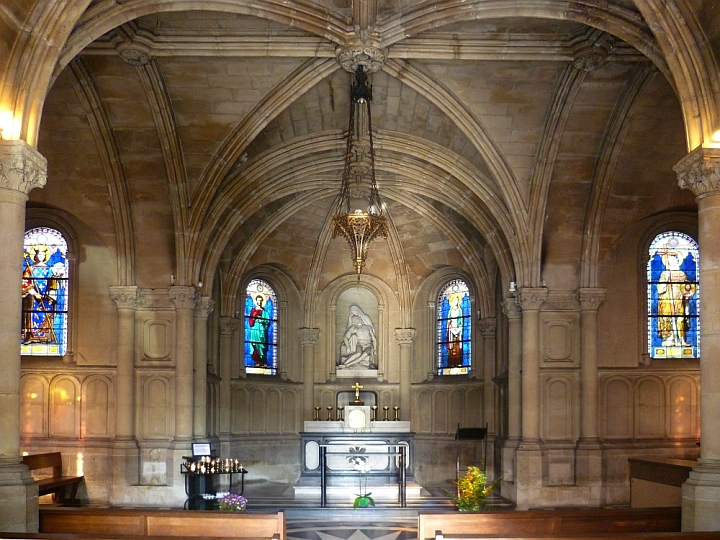 Left to right: (a) Detail of the duke's head. (b) Exterior of the chapel. (c) Interior of the chapel. [Click on thumbnails for larger images.]
Bibliography
Galliot-Rateau, Véronique. Henry de Triqueti, 1803-1874, Sculpteur: Collection du Musée des Beaux-Arts d'Orléans. Orléans: Musée des Beaux-Arts d'Orléans, 2009.
"La Chapelle Saint Ferdinand" (a French site about little-known places of interest in Paris). Viewed 2 November 2010.
Price, Munro. The Perilous Crown: France Between Revolutions, 1814-1848. London: Pan Macmillan, 2008.
Rykner, Didier. "Henry de Triqueti (1803-1874)." This site relates to a major exhibition of Triqueti's work in France in 2007/8. Viewed 2 November 2010.
---
Last modified 18 November 2010