[Click on pictures below for larger images. Photograph, caption, and commentary 2011 by the author. You may use this image without prior permission for any scholarly or educational purpose as long as you (1) credit the photographer and (2) link your document to this URL or cite it in a print one.]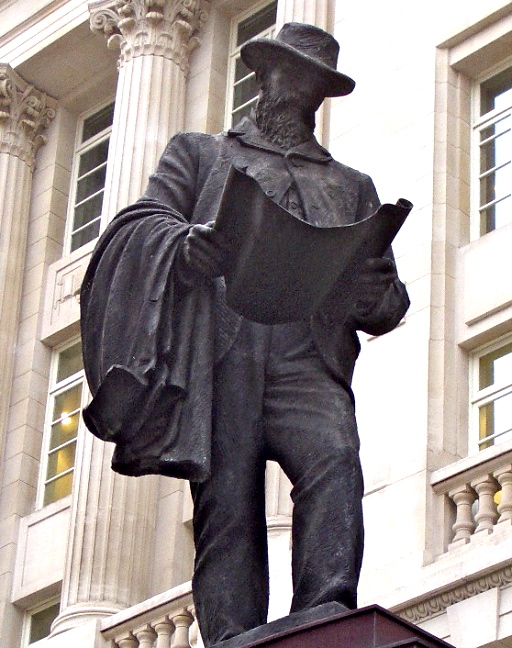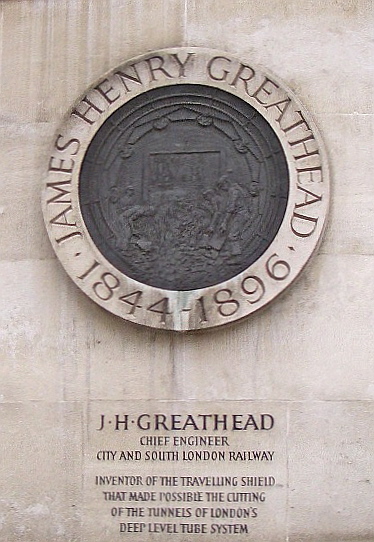 James Henry Greathead by James Butler, RA (b. 1931). 1994. Bronze, on a hollow oval Portland stone plinth. Cornhill, London EC3 (near Bank tube station). The statue's plinth is hollow for a reason: it encases a ventilation shaft for the tube line beneath the ground here, leading ingeniously to air ducts in the statue's bronze base. The inscription on the plinth describes Greathead as Chief Engineer of the City and South London Railway, and as "the inventor of Travelling Shield that made possible the cutting of the tunnels of London's deep level tube system." The bronze relief above the inscription shows tunnellers working within his shield (see Ward-Jackson 85).
The civil engineer James Henry Greathead, belatedly commemorated in this impressive memorial, is caught here in a very natural pose, his head bent and shaded by his wide-brimmed hat as he looks intently at his open plans. Sometimes called "the father of the tube," he was a South African who had come over to England at the age of fifteen and completed his engineering training as a pupil of Peter Barlow (brother of another famous civil engineer, William Henry Barlow). Greathead's vital contribution to the early tube network was to develop a type of tunnelling shield that greatly speeded up the tunnelling process. It did so by incorporating not only Barlow's cylindrical design, but also "sharp steel blades which were forced into the clay by hydraulic rams at a pressure of a ton per square inch" (Halliday 47). This also enabled the tunnelling to be done at greater depths. It allowed the pedestrian Tower subway to be completed in under a year, and further refinements enabled the City and Southwark subway (the beginning of the City and South London Railway) to be done considerably faster: one of the twin tunnels was completed in an incredible fifteen weeks (Birse). Thus was built the first underground electric railway in the world (see Birse again). In addition other tunnelling work — for example on London's Blackwall Tunnel — Greathead was engaged in the building of the Liverpool overhead electric railway. He was very highly regarded both in England and South Africa.
Other Views and Related Material
Sources
Birse, Ronald M., rev. "Greathead, J. H. (1844-1896)." Oxford Dictionary of National Biography. Online ed. 23 Jan. 2011.
Bullus, Claire, & Ronald Asprey. The Statues of London. London & New York: Merrell, 2009.
Halliday, Stephen. Making the Metropolis: Creators of Victoria's London. Derby: Breedon Books, 2003.
Ward-Jackson, Philip. Public Sculptures of the City of London. Liverpool: Liverpool University Press, 2003.
---
Last modified 23 January 2011