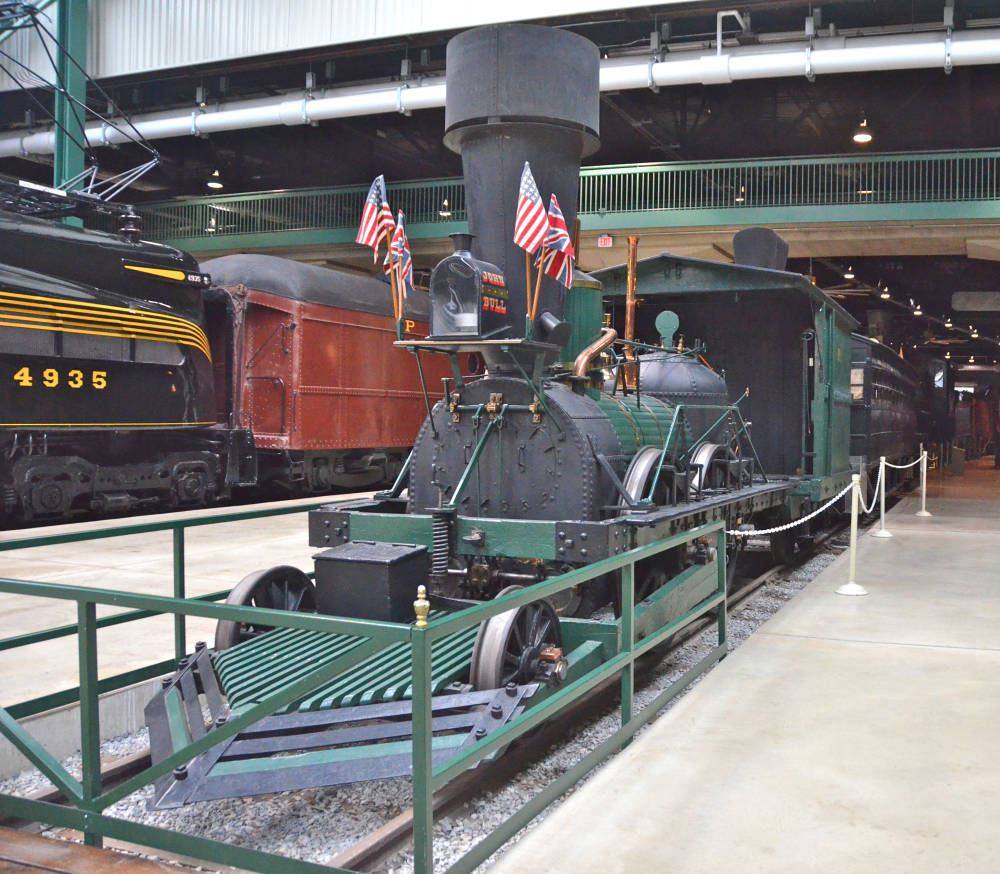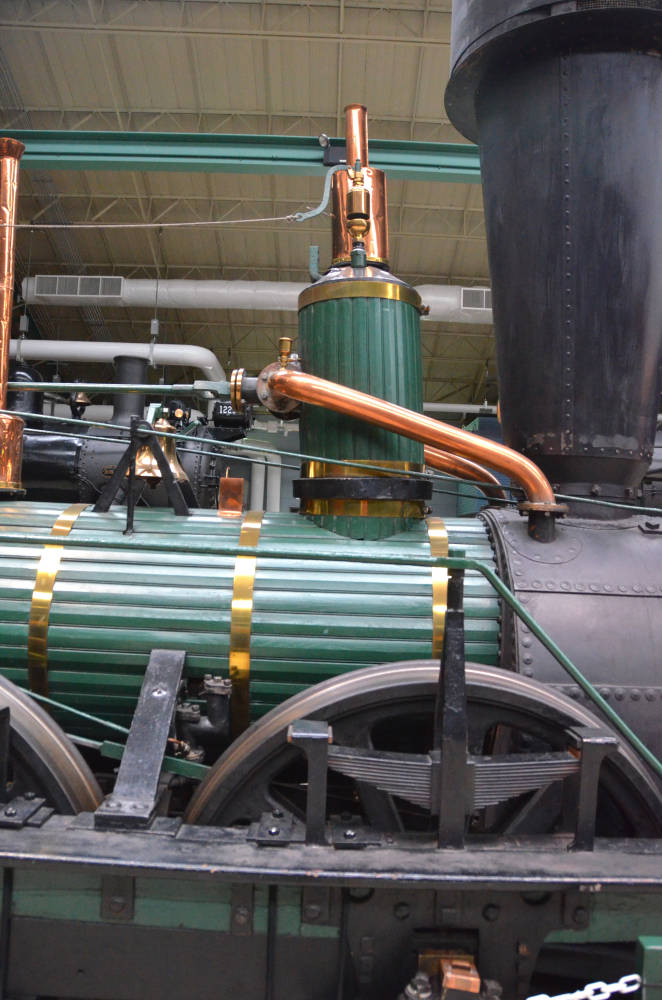 A modern replica of John Bull, an early English-built locomotive. Collection: The Pennsylvania Railroad Museum, Strasburg, Pennsylvania. Built in 1939 by Pennsylvania Railroad. Manufacturer of the original locomotive, which is now in the Smithsonian Institution: Robert Stephenson & Co. for the Camden & Amboy Railroad, which first operated in 1831. As a scale model nearby makes clear that shelter was to keep the wood fuel, not the engineer, dry. [Click on image to enlarge it.]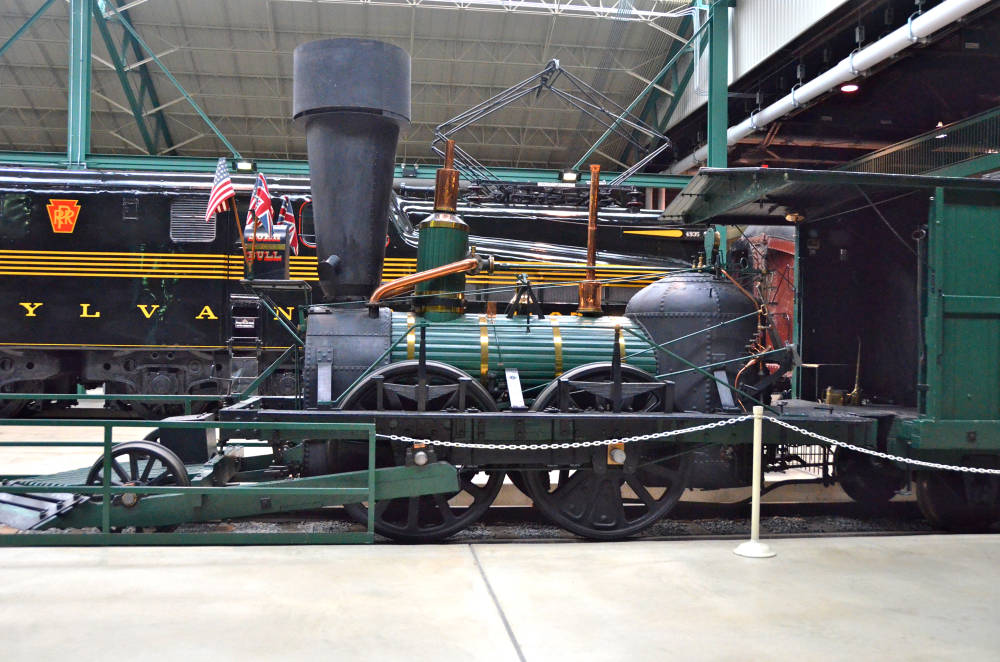 Commentary from the Museum Website
As originally constructed by Robert Stephenson, the John Bull was a four-wheeled locomotive. The piston rods were connected to a crank on the rear axle, and the front drivers were connected to the rear drivers by outside drive rods. Because railroads in England were being constructed at that time with rails made of wood with metal stringers on the top, the original drivers of the John Bull were made of wood. President and Chief Engineer Stevens, however, quickly realized that wooden rails and metal strips would be inadequate for the heavy service and demanding terrain of American railroading. While sailing across the Atlantic Ocean to procure the locomotive, Stevens had turned his inventive mind to the problem. He devised the all-metal T-rail, which is still in use today. Predictably, the wooden driving wheels quickly proved impractical for iron rails. The Camden & Amboy quickly cast iron driving wheels as replacements for the wooden drivers. (A wooden driving wheel thought to be from the John Bull is on display at the Railroad Museum.)
Other problems were also quickly apparent with the John Bull as originally built. Because of the rigid 0-4-0 wheel arrangement, the locomotive had an aggravating habit of derailing on curves. This started a series of changes to the locomotive to better adapt it for service. Pilot wheels were added to the front of the locomotive and attached by wooden beams to the front axle, which was sprung to turn slightly. This vastly improved the ability of the locomotive to negotiate curves, but necessitated removing the driving rods which connected the front and back drivers. This effectively changed the locomotive to a 4-2-0 wheel arrangement, with only the two rear wheels powered.
The boiler of the John Bull is an unusual design specified by Robert Stevens. It consists of a cylindrical waist and a low dome over the firebox. It is similar to a type of early boiler, known as the "Bury boiler," which was designed to provide additional steam room directly over the hot firebox. The John Bull's boiler, however, is not as high as a Bury boiler, and therefore lacks the extra steam capacity. Worse, the shape of the Bury dome produced a weak vessel, necessitating lower steam pressures than could be obtained in a cylindrical boiler (eliminating any advantage of the additional steam capacity). The John Bull boiler shared this defect.
Originally, the steam dome on the John Bull consisted of a brass casting that was mounted on top of the boiler dome. When this dome was removed and a new steam dome was mounted on the front of the boiler, the appearance of the locomotive was significantly altered. The throttle and the dry pipes were also remounted on the back of the new dome on the outside of the boiler, resulting in thermal inefficiencies.
Other additions to the locomotive included a pilot or "cow catcher" to prevent obstructions on the track from going under the wheels, a whale-oil-burning headlamp (removed from a riverboat) to permit night operation, a whistle to signal the crew, a warning bell, an additional safety valve, a cab to protect the locomotive crew from the weather, a bonnet stack with baffles and screens to catch sparks, and an eight-wheeled covered tender to carry wood and water. [The Museum site has considerably ore information about the history of the replica.]
Photograph and formatting by George P. Landow. [You may use these images without prior permission for any scholarly or educational purpose as long as you (1) credit the photographer and (2) link your document to this URL in a web document or cite it in a print one]
Related Material
---
Last modified 16 March 2014