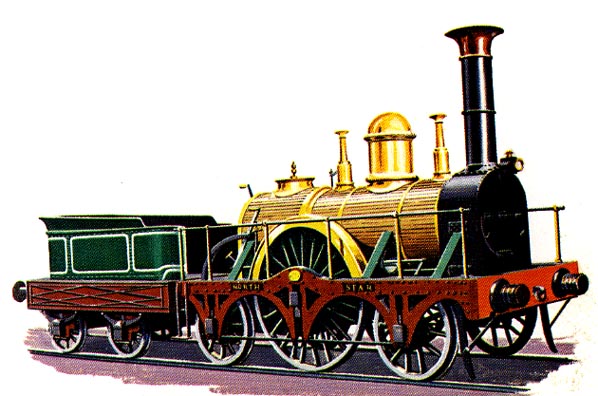 Robert Stephenson's The "North Star" — 2-2-2, 1837: Great Western Railway (seven-foot guage).
"From its inception the Great Western Railway in many respects stood in isolation from the rest of the country, through its adoption of the broad gauge, 7 ft., in contrast to the standard gauge of 4 ft. 8 in. used on most other railways in Great Britain. Brunell was the architect of the broad gauge, and at first he took direct responsibility for ordering the locomotives. It must be admitted that he saddled the G.W.R. with a poor lot — with one outstanding exception. The North Star came to the Great Western almost by accident, as it were. It was built by Robert Stephenson and Co. for service in America on the New Orleans Railway. It was actually shipped, but through business difficulties delivery was not taken, and it was returned to England. On its arrival back it was adapted to run on the 7 ft. gauge and sold to the Great Western. A replica of it is now housed in the G.W.R. Museum at Swindon, and looking on this one can quite appreciate Brunell's comment, that it would make a handsome ornament in the most elegant drawing-room. It was upon the general layout of the North Star that Daniel Gooch based the design of his very successful 'Firefly' class of B-2-3 express locomotives. The original North Star was withdrawn from service in 1870, and for many years it was kept at Swindon. It was scrapped in 1906, and the present replica was constructed for the Railway Centenary celebrations in 1925." [Nock, pp. 114-15]
Bibliography
Nock, O. S. The Pocket Encylopaedia of British Steam Locomotives. Illustrations by Clifford and Wendy Meadway. Poole: Blandford Press, 1964.
---
Last modified 10 September 2004