The station building at Boat of Garten in the Scottish Highlands
Boat of Garten Station, on the Highland Railway. This village in Badenoch and Strathspey owes its name to the chain ferry that used to ply back and forth across the River Spey at Gartenmore. It is on the Strathspey line just a few miles north-east of Aviemore, and is where the Highland Railway once met the Great North of Scotland railway. It developed in the later Victorian period as a direct result of the railway, and has has a church, public hall, larger villas and cottages, although it is still very small. The weather-boarded railway station has a stone cottage at one end for the station master. Like the station at Aviemore, it was designed by the Highland Railway's Chief Engineer, William Roberts, but this was built several years later, in 1904 (see Gifford 82), after the original station building here had burned down. It is a long, low, and much simpler than the one at Aviemore.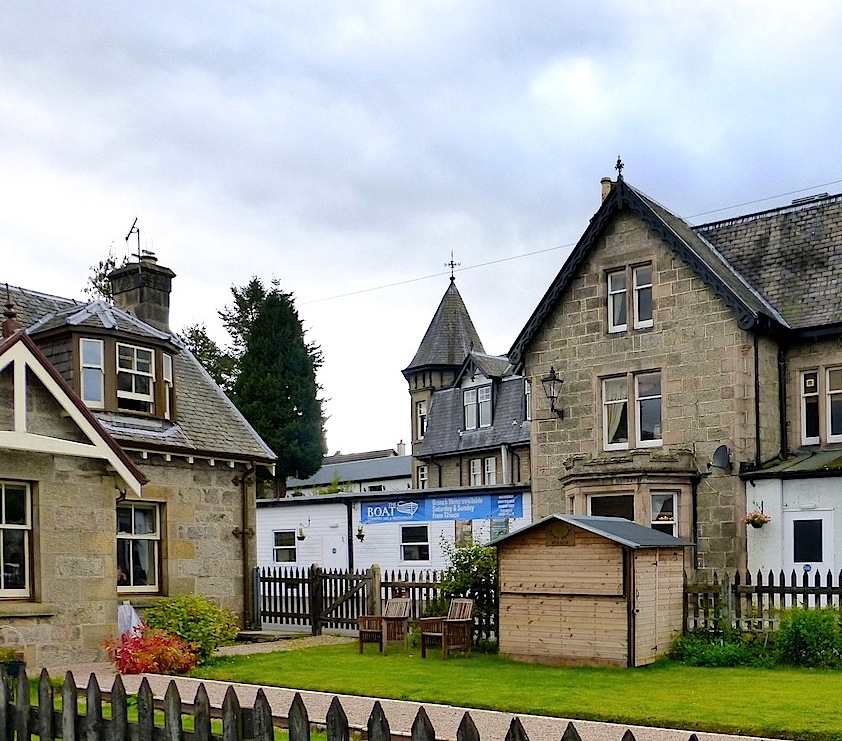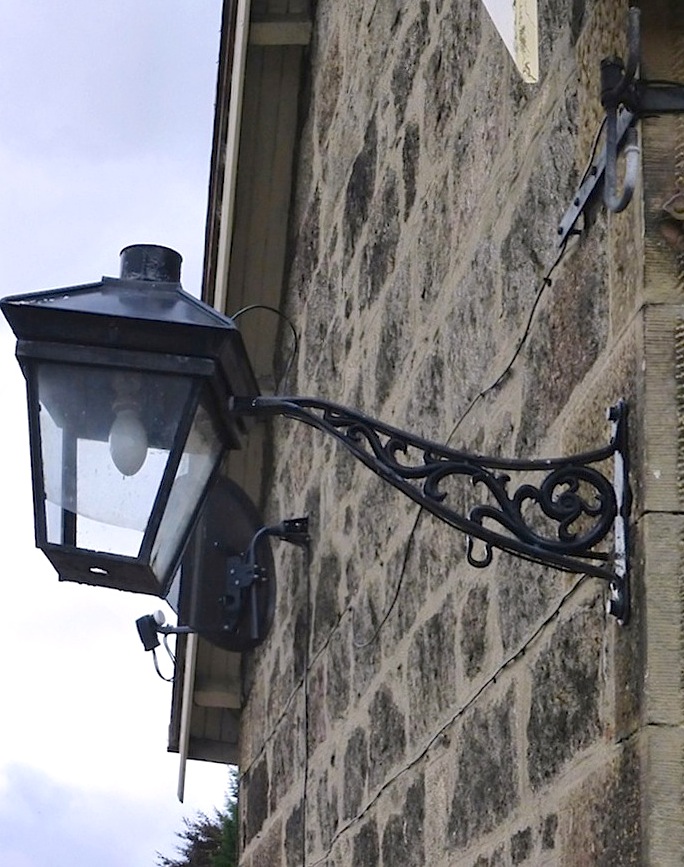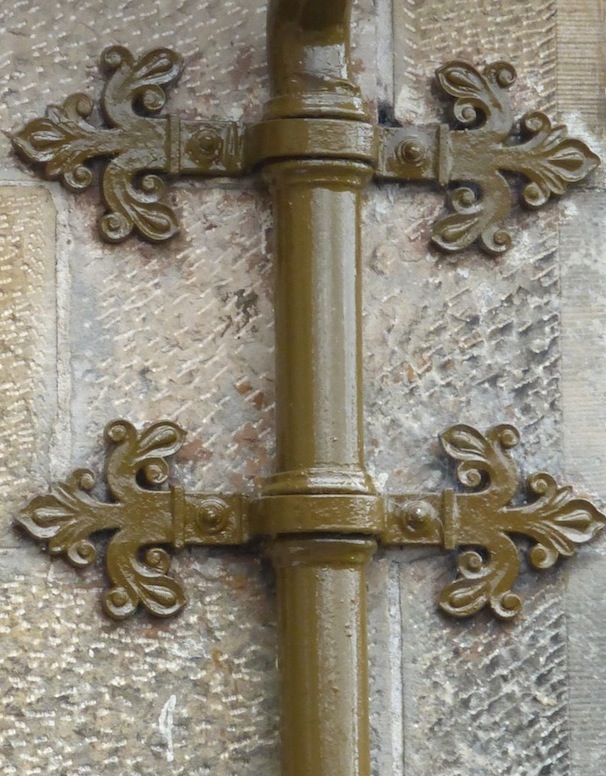 Left to right: (a) The former stationmaster's cottage, seen at the left. (b) Ironwork: lamp-bracket (c) Ironwork: downpipe fixings in Highland Railway colours.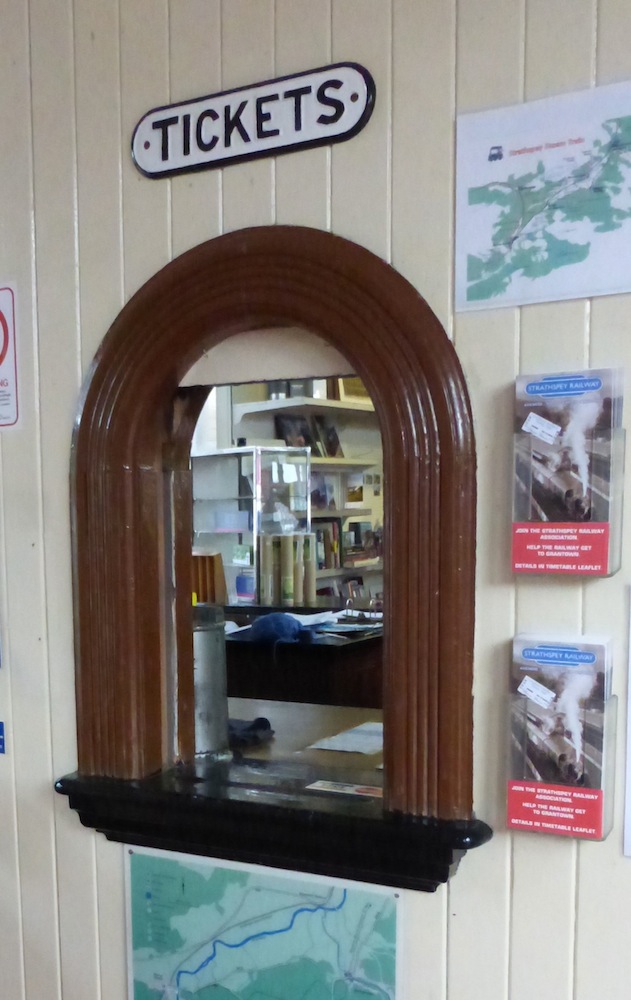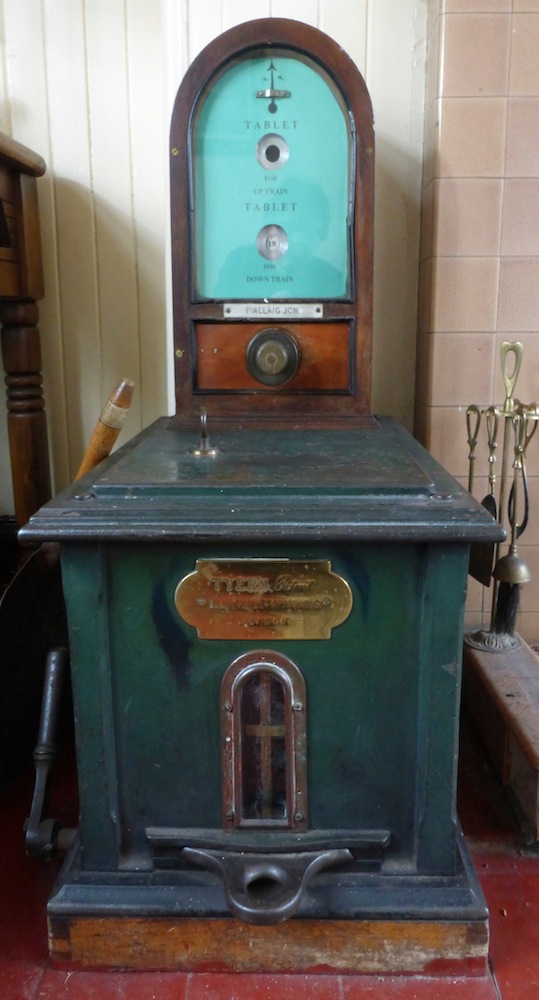 Left to right: (a) Ticket office. (b) Ticket hatch. (c) One of two Tyer's patent token boxes kept in the Boat of Garten station waiting room.
At one time, the system in operation for preventing collisions on such a line was the one patented by Edward Tyer in 1878, and first put into regular use in 1880, between Dalmally and Oban to the south-west. At each section, only one token could be removed from the box at any one time, the driver in possession of it knowing that no other train would be running on that section (see "Electric Token Block" for a full explanation).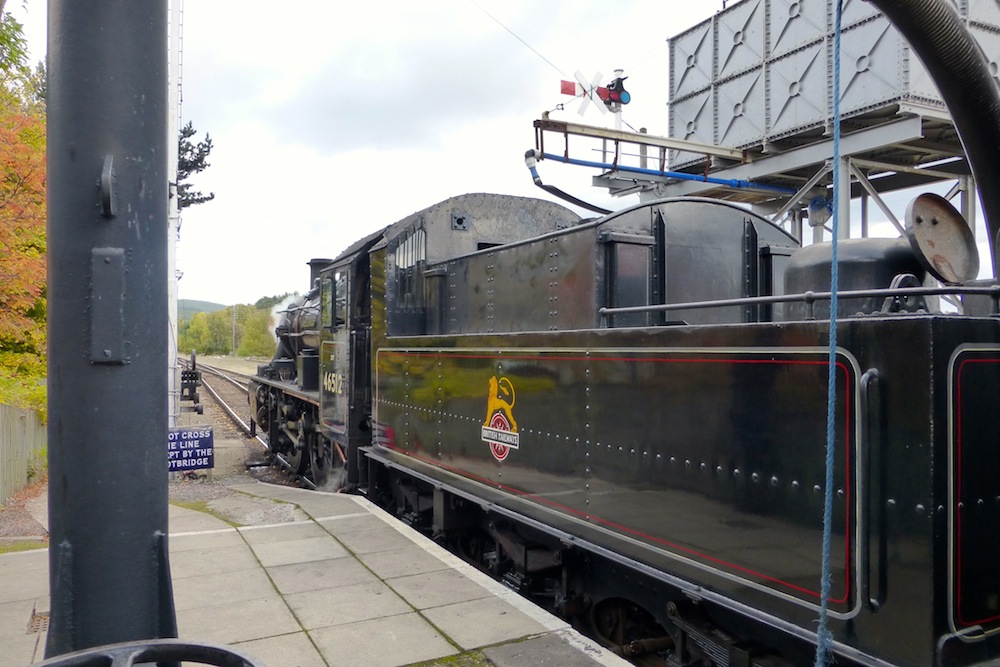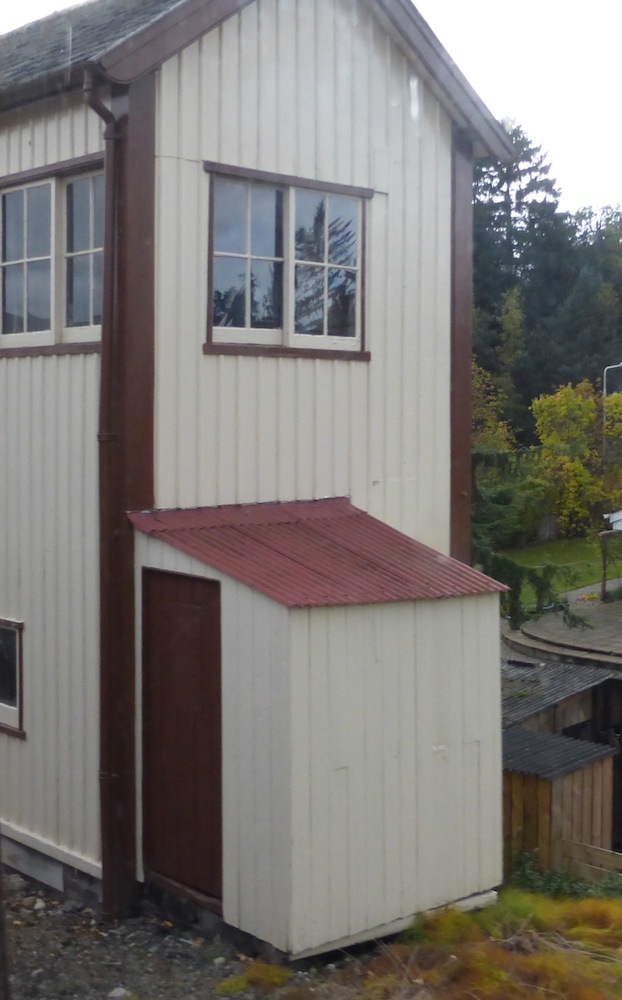 Left: The engine taking on water at Boat of Garten. Right: A glimpse of the signal box in passing, on leaving the station.
Photographs, text and formatting by Jacqueline Banerjee. You may use these images without prior permission for any scholarly or educational purpose as long as you (1) credit the photographer and (2) link your document to this URL in a web document or to the Victorian Web in a print document.
Related Material
Bibliography
"Electric Token Block." Railway Signs and Signals of Great Britain. Web. 10 January 2018.
"Basic Biographical Details: William Roberts." Dictionary of Scottish Architects (DSA). Web. 10 January 2018.
Fenwick, Keith, and Howard Geddes. The Highland Railway. Stroud, Glos.: The History Press, 2009.
Sinclair, Neil T. Strathspey Railway Guide Book. Eighth rev. ed. Aviemore: Strathspey Railway Co., 2014.
Strathspey Railway. Web. 10 January 2018.
Strathspey Railway: Aviemore - Boat of Garten - Broomhill (2017 timetable and information). Available at the station.
---
Created 10 January 2018