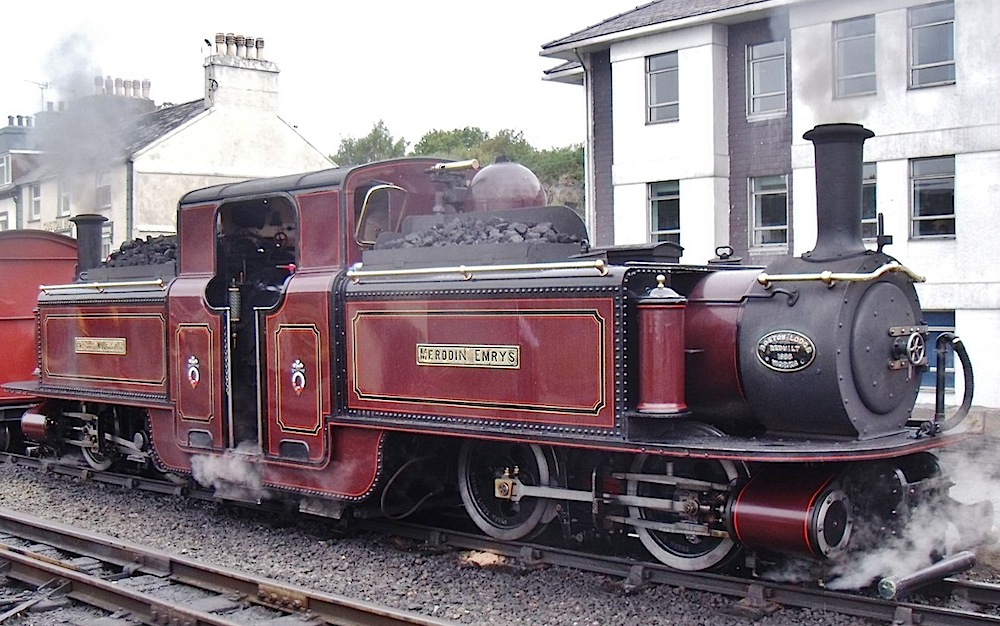 Three-quarter view of the Double Fairlie locomotive Merddin Emrys, designed by George Percival Spooner (1850-1917), and built for the Ffestiniog Railway, N. Wales, a narrow gauge railway which was opened in 1836 (Simmons 349).
According to Grace's Guide,
[i]n October 1863 steam locomotives were introduced, to allow longer slate trains to be run, and this also enabled the official introduction of passenger trains in 1865: the Ffestiniog was the first narrow-gauge railway in Britain to carry passengers. In 1869 the line's first double Fairlie articulated locomotive was introduced, and these double-ended machines have since become one of the most widely recognised features of the railway.
The locomotive, the third of its kind for the railway company, was built in 1879 at the company's own workshops at Boston Lodge and "has spent its entire working life on the Festiniog Railway" ("Merddin Emrys").
It is interesting to note that the designer, Spooner, son of the Festiniog Railway manager and engineer, went out to India in 1879 as "assistant district and locomotive superintendent on the Indian State Railways," until he retired in 1894 — after which he "interested himself in scientific instruments and organ building" (from an obituary quoted in "George Percy Spooner").
Photograph by Peter Broster, slightly modified (cropped), taken in the terminus at Porthmadog Harbour Station. The image has kindly been made available on flickr, under the Creative Commons Attribution 2.0 Generic (CC BY 2.0) license. Text by Jacqueline Banerjee.
Related Material
Bibliography
"Ffestiniog Railway." Grace's Guide to British Industrial History. Web. 3 July 2017.
"George Percival Spooner." Grace's Guide to British Industrial History. Web. 3 July 2017.
"Merddin Emrys." Ffestiniog Railway Heritage Group. Web. 3 July 2017.
Simmons, Jack. The Victorian Railway. Pbk ed. London: Thames and Hudson, 1995.
---
Created 3 July 2017