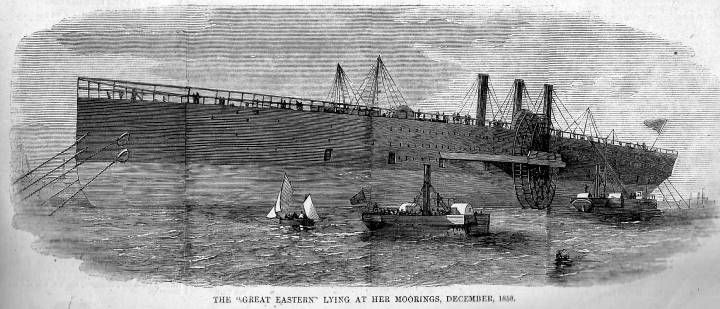 The "Great Eastern" Lying at Her Mooring, December 1858". Harper's Weekly (1 January 1859). Image scan and text by Philip Allingham.
The fame of Ismambard Kingdom Brunel's great ship, nicknamed Leviathan by the British press, gradually taking shape at Millyard Docks, Deptford, over the latter part of the 1850s, had spread to America. In the issue of Harper's Weekly, A Journal of Civilization for 1 January 1859, ran a story accompanied by a woodblock engraving about the great ship and of the latest financial reversals suffered by the owners even before she was finally seaworthy. On the 11th of November 1857 attempts to launch her had failed, but on the 30th of January 1858 (the owners have rejected Brunel's innovative hydraulic launching gear as too expensive) a complex mechanical system of checking drums and winches had finally lowered the great ship down two inclined cradles some 240 feet to the Thames:
So long a period has elapsed since the Great Eastern was a common topic of newspaper reports and ordinary conversation, that many of our readers have perhaps forgotten all about her. She exists, nevertheless, and is in a state of forwardness, as the accompanying engraving, taken from a photograph made for the London News, will show.
It may not be generally known that the expense of building and launching this mammoth vessel far exceeded the estimates, and in fact exhausted the capital of the company whose property she was. After vainly trying to raise money to complete her after the launch, the owners formed a new company, which brought her as she stood for a sum of $800,000. She had cost about $2,500,000. It is estimated that another half million or so will finish her, and prepare her for the sea. . . . .
Her speed in the ocean is now estimated at sixteen knots an hour at least, or nearly 400 miles a day. At this rate she would cross the Atlantic in at least eight days, and in fine weather, when she could use her sails, in six or seven. [1 January 1859, p. 13]
Other pictures of this ship
Bibliography
Dugan, John. The Great Iron Ship. New York: Harpers, 1953.
Bibliography
"The 'Great Eastern Lying at Her Mooring, December 1858." Harper's Weekly, A Journal of Civilization. 1 January 1859. Page 13.
Rolt, L. T. C. Isambard Kingdom Brunel . 5th ed. London: Longmans Green, 1964.
Standage, Tom. The Victorian Internet: The Remarkable Story of the Telegraph and the Nineteenth Century's Online Pioneers. London: Phoenix, 1998.
---
Last modified 12 February 2008