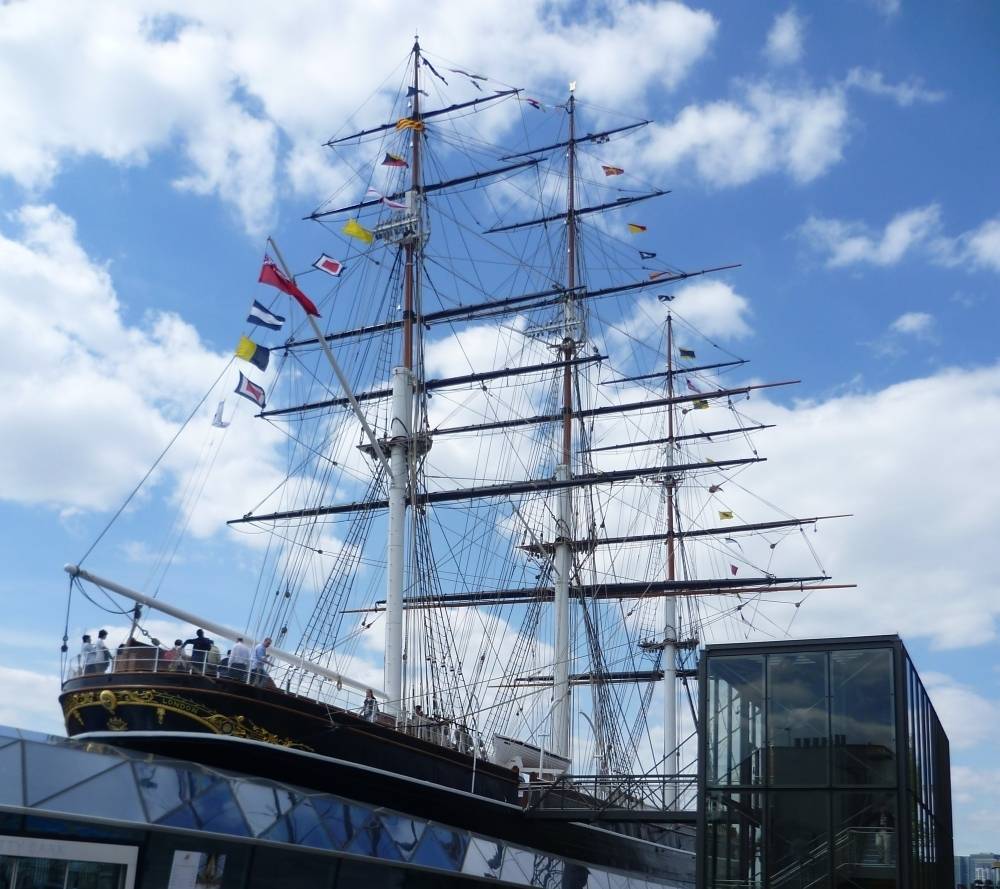 The Cutty Sark. 1869. Built for the London ship-owner John Willis in Dumbarton, Scotland. Now berthed high and dry at King William Walk, Greenwich, London SE10. According to the ship's official site, this is the "last surviving tea clipper and the fastest and greatest of her time." Her name comes from Robert Burns's poem "Tam O'Shanter," a spirited narrative in which the drunken Tam applies it to an attractive witch with a revealing shirt ("cutty-sark"). The witch pulls off his horse's tail in a chase, and the ship's original figurehead depicted the witch, tail in hand. Such a figurehead, though not the original one, can still be seen, as shown below. [Click on all images for larger pictures.]
Launched at the end of the sail-ship era, the Cutty Sark last carried tea in 1877, but was then used for the wool trade with Australia, and "in the late 1880s and early 1890s made the fastest passage home several times" (Aslet 274). Another commentator tells us that she reached speeds of up to 17 knots (Schäffelen 137). After passing through various hands, she was eventually brought to Falmouth on the Cornish coast, and there restored and used as a stationary teaching ship. She made her last voyage in 1938, when she sailed to Greenhithe in Kent, where she was again used for training purposes, before being towed into a specially constructed dry dock at Greenwich in 1954 (see Weinreb et al., 229). More recent restoration, complicated by a devastating fire in 2007, has robbed her of some of her authenticity by "floating" her high up on a glazed hospitality pod. Beside her stands a service block containing lifts and an air-conditioning system.
Left: The prow of the Cutty Sark. Right: The mast and rigging of the Cutty Sark seen above the elegant, part-gilded wrought-iron gates of Greenwich Park. Many might prefer to see the ship more modestly grounded, but apparently even the Cutty Sark must move with the times. There are advantages to her new elevation. Her hull, clad as it would originally have been in a mix of copper, zinc and iron (see Emery), but gleaming in a way no seafaring vessel's hull could be expected to gleam, can be examined from below; and her rigging with its bunting rises higher into the sky, making a festive display for those coming down Greenwich Hill. As she is now, complete with audio-visual displays for visitors, the Cutty Sark makes a typically high-tech twenty-first century tribute to the romantic age of sail.
Photographs (except for that of the figurehead), text and formatting by Jacqueline Banerjee, 2012. [You may use these images without prior permission for any scholarly or educational purpose as long as you (1) credit the photographer and 2) link your document to this URL in a web document or cite the Victorian Web in a print one.] The picture of the figurehead is by Christine Matthews of Geograph, and is reproduced here under the Creative Commons Attribution-Share Alike 2.0 Licence. It was taken in 2003, but looks identical to what is there now on the newly restored ship. Many thanks.
Related Material
Aslet, Clive. The Story of Greenwich. Cambridge, Mass.: Harvard University Press, 1999. Print.
"Cutty Sark." Royal Museums, Greenwich. Web. 19 May 2012.
Emery, Louisa. "Cutty Sark Unveils Her New Look." wharf.co.uk. Web. 19 May 2012.
Schäffelen, Otmar. Chapman Great Sailing Ships of the World. New York: Hearst (Sterling), 2005. Print.
Weinreb, Ben, et al. The London Encyclopaedia. 3rd ed. London: Macmillan, 2008. Print.
---
Last modified 19 May 2012