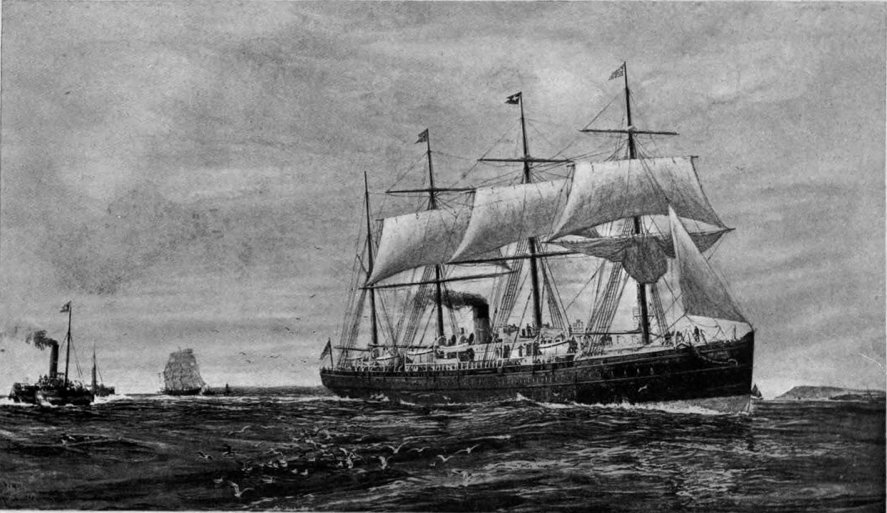 The Screw Steamship "Oceanic," 1870" — "marked a new era in the construction of iron steamships." "From the oil painting by W. L. Wyllie, A.R.A., in the possession of the White Star Line." Source: Muir's Bygone Liverpool,, Plate 42. [Click on image to enlarge it.]
Text accompanying the engraving
Lord Macaulay once observed that " those projects which abridge distance have done most for the civilization and J happiness of our species," and certainly if this be true, then the founders of the great steamship companies, who have done so much to abridge the distance between the nations of the world, can congratulate themselves on having contributed to the happiness of mankind.
The White Star Line was founded in 1870, under the title of the Oceanic Steam Navigation Company, and the first ship of the line was the "Oceanic," of which we are able to give a spirited illustration. She was launched on August 27, 1870, and was regarded with wonder and astonishment when she arrived in the Mersey on February 26, 1871, for in many ways she marked a new era in the construction of iron steamships. At the very outset Mr. T. H. Ismay, and the gentlemen associated with him, had proceeded on original lines, and had given Messrs. Harland and WolfF of Belfast an order to construct the vessel regardless of cost, an arrangement being made for the builders to receive a certain percentage on the cost price. The Oceanic was 3807 tons burthen, and possessed engines of 3500 horse-power. Steam was applied to perform the smallest as well as the largest work, and in many other ways she marked an era in steamship construction, for the saloon was placed amidships, and she had watertight and fireproof bulkheads. Some people shook their heads, and regarded the vessel as a doubtful experiment ; but everywhere she was regarded with interest, especially after she had performed the voyage between Qucenstown and New York in eight days and a half. So carefully had the owners and builders thought out and constructed the vessel that she was a great success, and was followed at intervals by sister ships, each marking a great advance in design, engineering, luxury, comfort, and speed. [43]
Formatting and text by George P. Landow. You may use this image without prior permission for any scholarly or educational purpose as long as you (1) credit the Internet Archive and the University of Toronto and (2) link your document to this URL in a web document or cite the Victorian Web in a print one.
Reference
Muir, Ramsay. Bygone Liverpool illustrated by ninety-seven plates reproduced from original paintings, drawings, manuscripts, and prints with historical descriptions by Henry S. and Harold E. Young. Liverpool: Henry Young and Sons, 1913. Internet Archive version of a copy in the University of Toronto Library
---
Last modified 14 January 2013