Photographs by the author. [You may use these images without prior permission for any scholarly or educational purpose as long as you (1) credit the photographer and (2) link your document to this URL or cite the Victorian Web in a print one. Click on all the images to enlarge them.]
Steam Gallopers
Jubilee Steam Gallopers. This set of hand-painted wooden fairground horses is still doing the rounds for Carter's travelling Steam Fair of Maidenhead in Berkshire, the largest independent fair in the country — and one which numbers amongst its rides an "overboats" wheel of 1875, the very oldest working fairground ride in Britain (see Storr, and "Carter's Overboats"). Although the ride shown above is not the oldest, it is still (if only just) Victorian. Information given on one of the central panels tells us that the horses were originally built by Robert Tidman & Sons, Norwich, in about 1895. According to Grace's Guide, Tidman's firm operated between 1883 and 1925. Naturally, restoration, repainting (by hand), and replacement has continued since then, but always in the style of the original.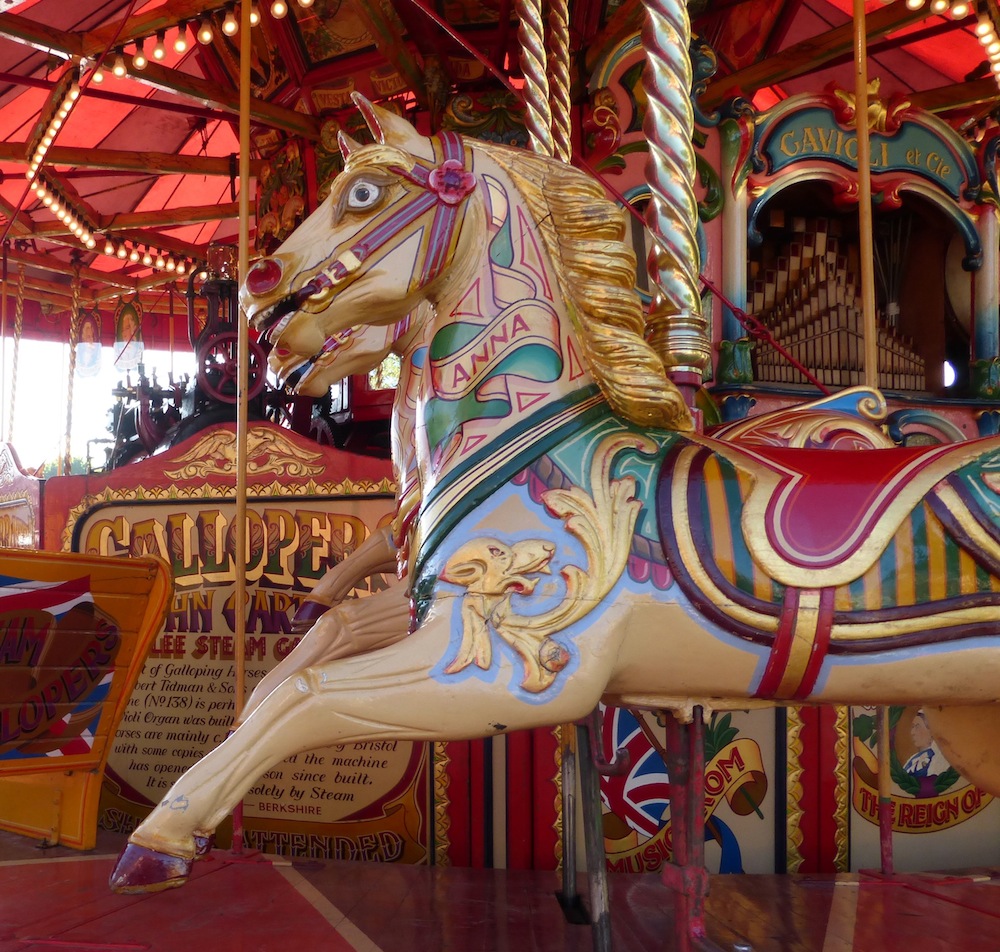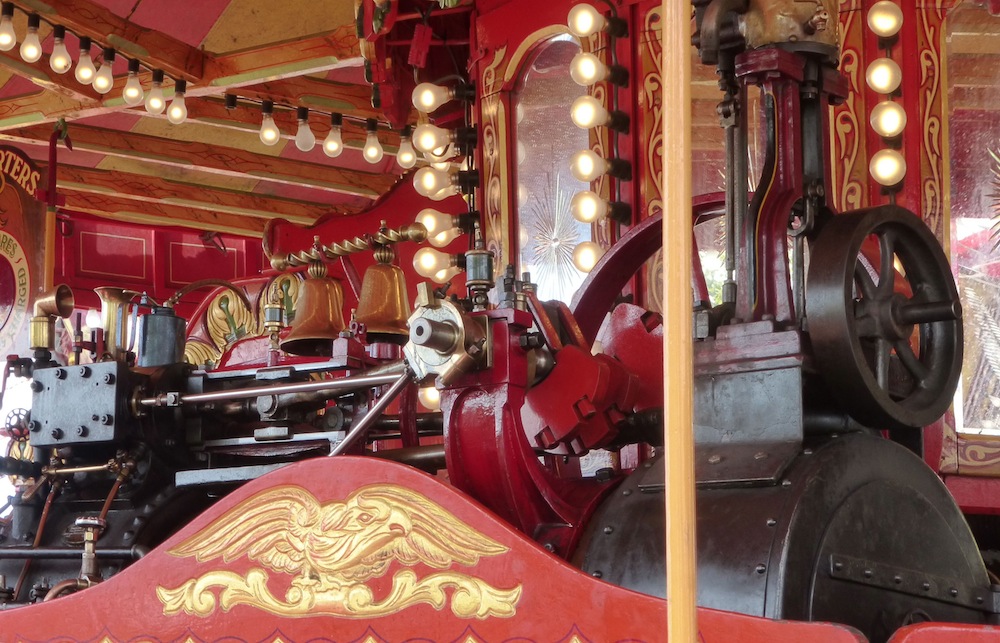 Left: A closer view of one of the "Gallopers." Right: The steam engine powering the ride.
It is worth noting that this is not a carousel on the American model. It turns clockwise rather than anti-clockwise, and the horses are generally different from each other. Their motion is different too. Carter's description of them on their own website explains that this is, in fact,
a very British ride, born of a time when normal working people couldn't afford their own horse. It provided a much-needed flight of fancy, a break from the drudgery of work, and often they would be highly decorated with exotic scenes, portraits of actors and actresses, of great men and royalty. In the days before cinema or television, it was transporting people into a gaily-coloured world. They're called Gallopers because the horses speed round, and as they race they're pulled up and down on cams, which gives them a "galloping" motion. When they were made in about 1895, this would have been the fastest most people had ever travelled.
Left: A closer view of the organ.
Although it was acquired later on, the engine is thought to be about the same age as the horses, especially since it fitted perfectly into place. The 46-key organ dates from not much later, about 1900, and was built by the celebrated French firm of Gavioli et Cie.
In the first half of the nineteenth century, travelling shows were generally circuses or menageries (like George Wombwell's Travelling Circus); panoramic or lantern-slide shows; waxworks (like Mrs Jarley's in Dickens's The Old Curiosity Shop); or freak shows — some of which became more popular than ever in the course of the century. Traditional fairs, on the other hand, held regularly on commons and greens from centuries back, were going out of fashion. No longer needed for such purposes as selling farm produce and livestock, or hiring labour, they had become too rowdy for their neighbourhoods. The increasingly notorious twice-yearly Greenwich Fair, for example, was stopped in 1857. Many others were hit by a series of restrictive Fairs Acts in the late sixties and early seventies: it seemed, as Jerry White suggests, that this was a matter not just of "civic disapproval" but of "changing taste" as well (210).
Yet just when they seemed doomed to disappear, along came a new attraction: the use of steam to power exciting new rides:
Mechanisation shifted the emphasis from the shows, which were rooted in the past, to the rides which gave the showmen complete freedom to keep in step with the technological advancements of an ever revolutionary age.... By the end of the Victorian era the landscape of the fairground was populated by rides of all kinds: steam yachts, switchbacks and of course the galloping horses. ["History of the Fairground"].
Steam Yachts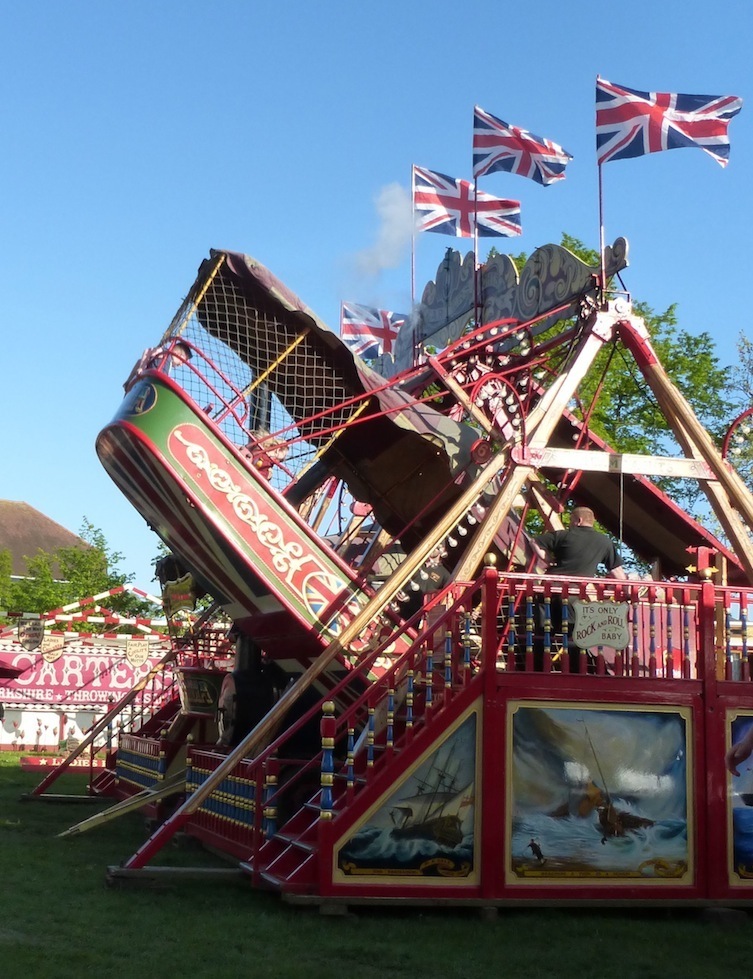 Left: Carter's Steam Yachts, seen from the back to show the engine. Right: Carter's steam yachts in action.
The steam yachts, with real flags flying and huge painted ones covering the entire bottom of each boat, are almost as spectacular as the carousel. They are actually more scary to ride on than the "Gallopers" because at the height of their swing they are almost vertical. This is a very rare surviving example of its kind, built in 1921 — but the engine itself dates from even earlier, having been saved from a scrapyard and restored.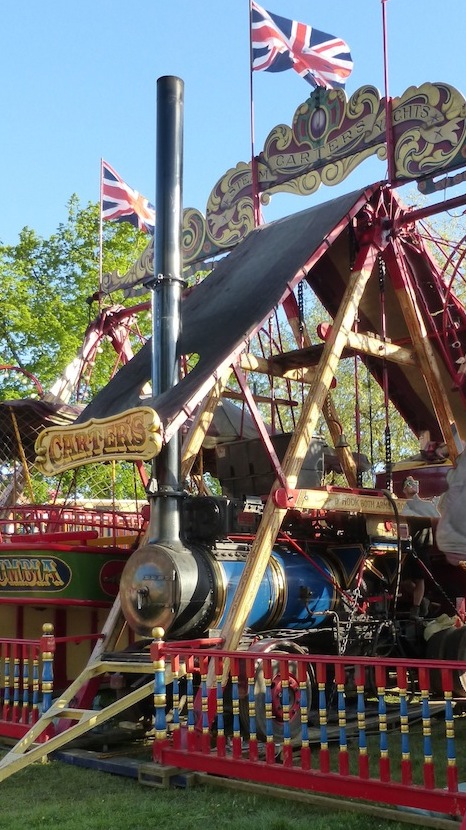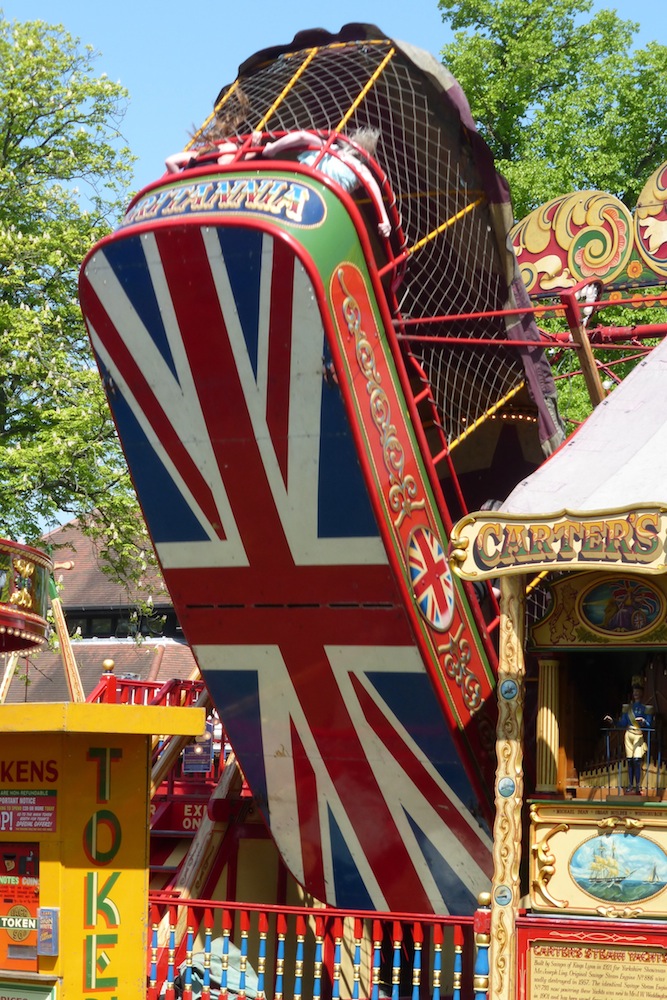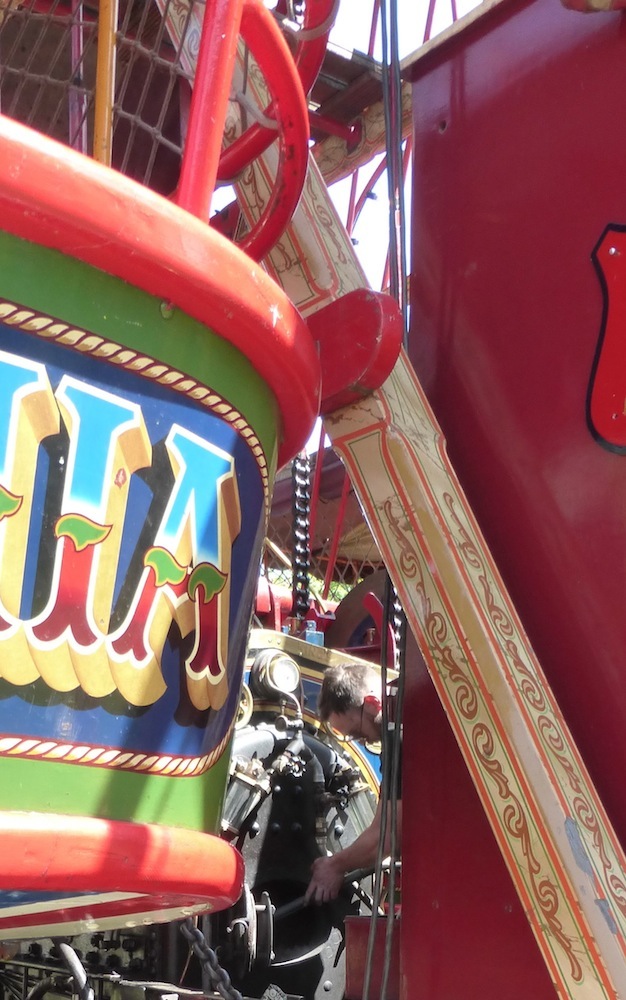 Left to right: (a) Three-quarter view of the engine, with its tall funnel. (b) Britannia in motion. (c) Stoking the engine (the activity is just visible).
The Steam Yachts' engine "Yorky" dates from 1901, and was made by Savage Brothers of King's Lynn, founded by Frederick Savage in 1850. The firm made steam engines for a variety of purposes, including ones for showmen and fair rides. This engine was originally for Waddington's (see "Excelsior Steam Yachts"). Waddington was a big name in fairground history, especially with regard to steam fairs:
The impact of the steam machine on the development of the riding machine was profound. As the nineteenth century drew to a close numerous patents were taken out for new ideas and designs. Sometimes it was the roundabout proprietors themselves who tried out new ideas, including Abraham Waddington of Yorkshire who patented his idea in 1870....
If the roundabout could be mechanised, so could the swing. A patent taken out in 1888 introduced the Steam Yachts. William Cartwright of Bromwich first succeeded in building a set using upright cylinders. Savages also began building Steam Yachts, using Cartwright's improved patent of 1894.... The Yachts were often given the names of the latest liners: Lusitania and Mauretania, Cymric and Celtic, although Olympia and Titanic proved short lived names on John Collins' set. ["History of Fairground Rides"]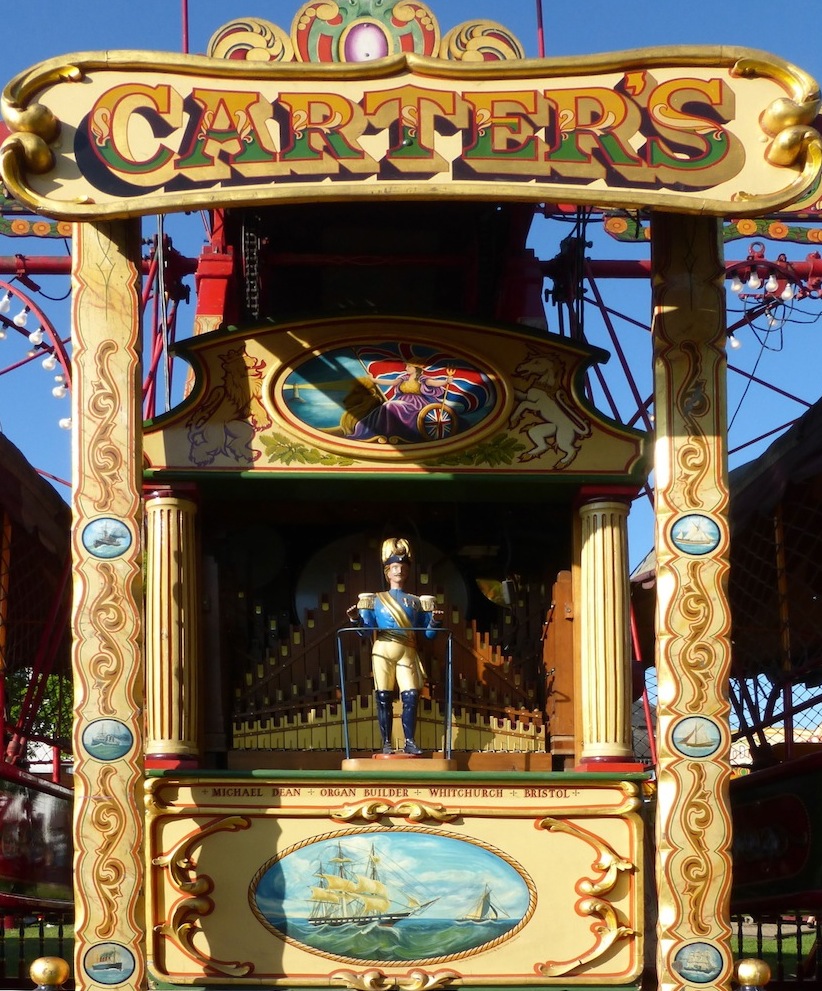 Left: The organ at the front of the ride (the engine is behind it).
Carter's two swinging yachts are called Britannia (perhaps after the Prince of Wales's racing cutter, built in 1893), and Columbia (possibly after a famous American racing yacht of 1899; it has the stars-and-stripes on its base). It is good to see this interest in the larger world, as, in other ways, the fair seems so fervently patriotic! At the front, making a glitzy show that obscures the engine, and sending out its typical fairground music in competition with the Gallopers, is a 47-key organ hand-built for the yachts in 1984 by Dean Organ Builders — as explained on the information panel just below it. The style is entirely authentic, and the result is a complete set of steam yachts. According to the same information panel, it is one of only two surviving, and the only one in the world to still be travelling round on a regular basis.
Traditional rides and side-shows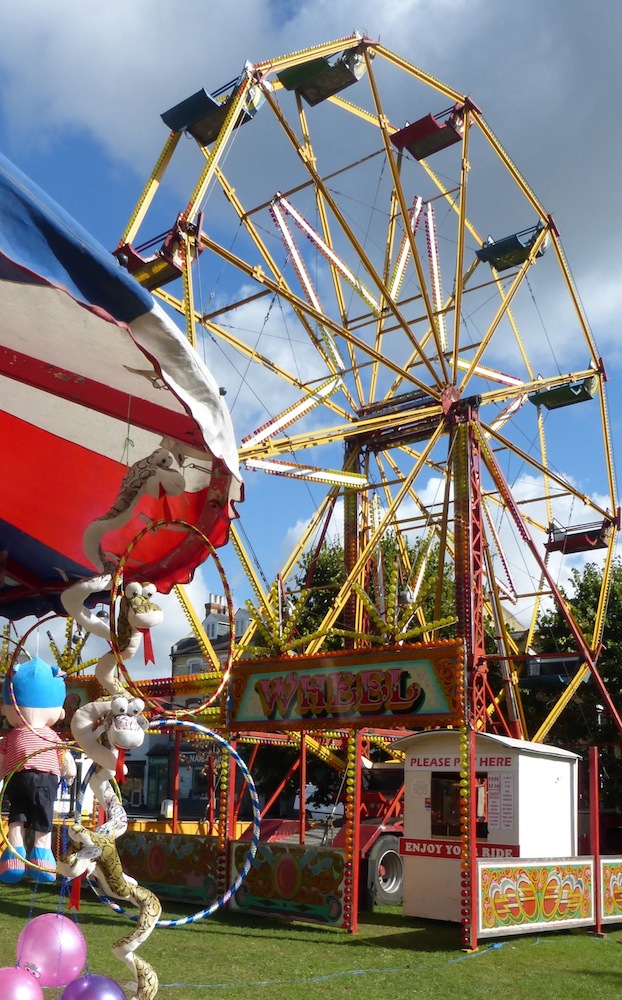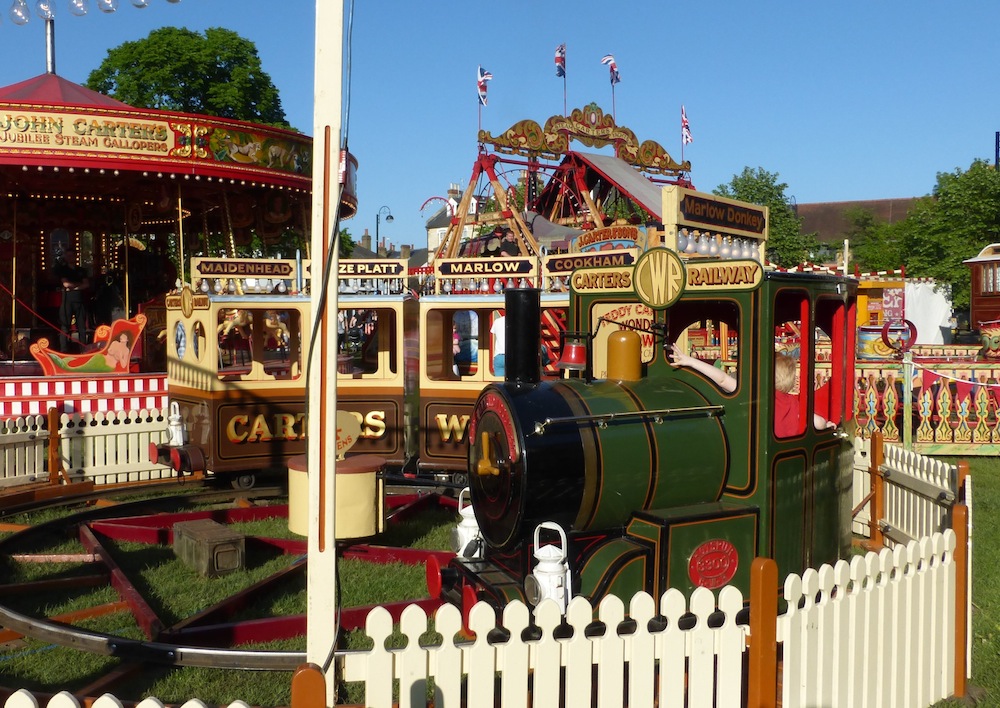 Left to right: (a) The "overboats" wheel. (b) A "train ride" for younger fair-goers. (c) One of the "Try your strength" strikers. Note the Prince of Wales's feathers at the top.
The more traditional elements of the old fairs also got a new lease of life now. The "overboats" wheel shown here is a more up-to-date version of the Steam Fair's restored, hand-cranked wheel, which only has two boats, and is still in use (although, because it is so labour intensive, it is not part of their travelling fair). A "train ride" for the little ones was naturally popular in the new age of railway travel, and is represented here too. Other stands and side-shows like the "striker," a shooting gallery, a mirror house, coconut shy, ghost train and so on, as well as candy floss and other snack food kiosks, make for a lively and varied fair-going experience for people of all ages. Carter's is unique not only in the historical backgrounds of the individual rides and fairground structures, including even the showpeople's living and moving arrangements, but also in the quality of their hand-painted lettering and hand-painted and gilded decorations. These combine to give an authentic flavour of the popular late-Victorian/early twentieth-century travelling fair.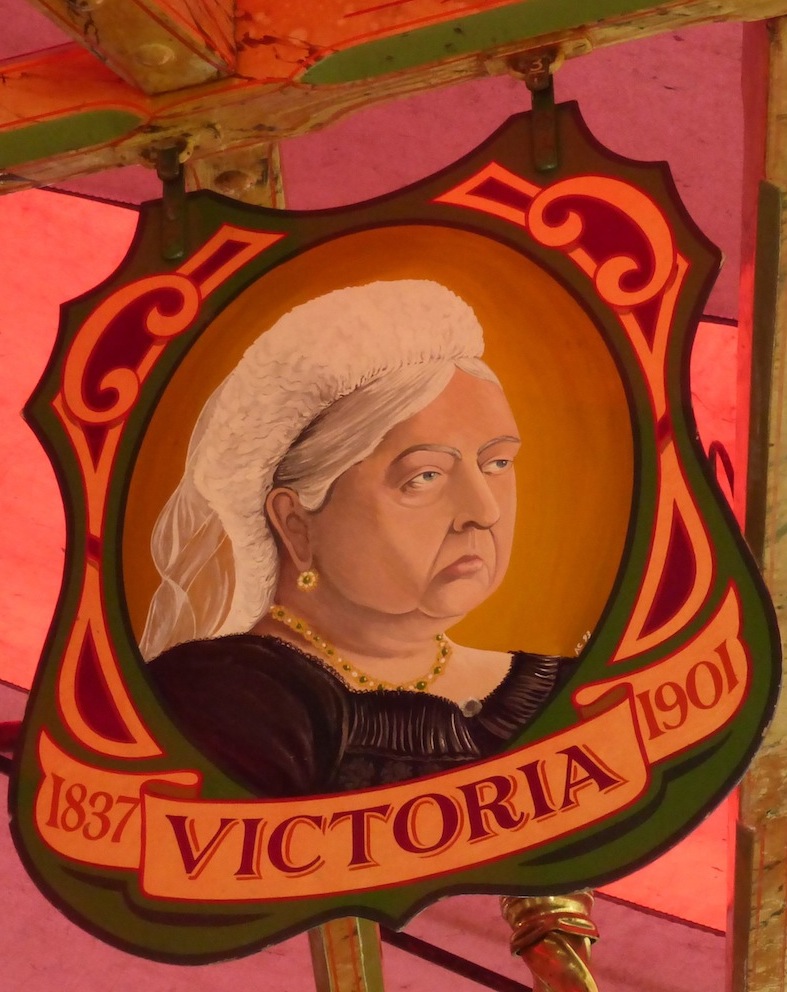 Queen Victoria featured on one of the overhead signs on the Gallopers. She looks distinctly unamused — but she was, in reality, not a bit strait-laced.
Bibliography
"About Carter's Steam Fair." Carter's Steam Fair. Web. 6 May 2018.
"Carter's Overboats." Carter's Steam Fair. Web. 6 May 2018.
"Excelsior Steam Yachts." Carter's Steam Fair. Web. 6 May 2018.
"Fairground Organs." Dean Organ Builders. Web. 6 May 2018.
"History of Fairground Rides." National Fairground and Circus Archive (University of Sheffield). Web. 6 May 2018.
"History of the Fairground." National Fairground and Circus Archive (University of Sheffield). Web. 6 May 2018.
Horn, Pamela. Pleasures and Pastimes in Victorian Britain. Stroud, Glos.: Amberley, 2011 (see Ch. 4).
"Robert Tidman and Sons." Grace's Guide. Web. 6 May 2018.
"Savage Brothers." Grace's Guide. Web. 6 May 2018.
Storr, Will. "The Rides of Their Lives: Carter's Steam Fair." 12 May 2012. Web. 6 May 2018.
White, Jerry. London in the Nineteenth Century: "A Human Awful Wonder of God." London: Cape, 2007. [Review]
---
Created 6 May 2018