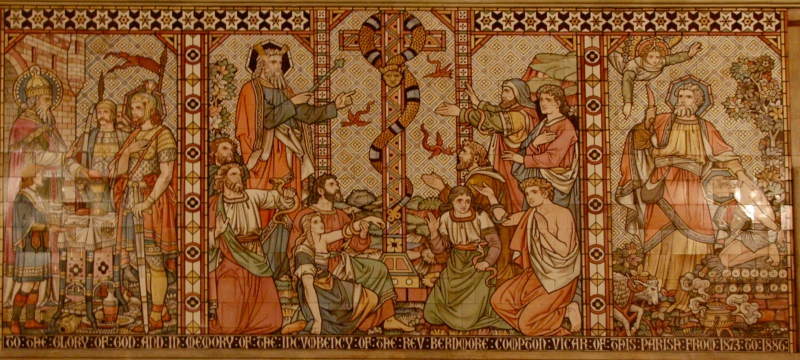 Three scenes with types of Christ. 1889. Tile painting, west wall, All Saints, Margaret Street, London, designed by William Butterfield. All Saints Margaret Street (1990), a pamphlet available at the church, mentions both that Butterfield replaced his original geometrical decoration on the north wall with tiles "painted by Alexander Gibbs and manufacturerd by Henry Poole and Sons," but does not indicate if these three depictions of types of Christ replaced paintings by William Dyce destroyed by air pollution or the architects's own wall decoration.
The church pamphlet describes and explains the three old testament scenes as follows: "Moses lifting up the serpent — symbolizing the Crucifixion; Abraham offering his only son Isaac, as God gave his Son for our sins; and Melchizedek, priest of God — archetype of the great High Priest, Christ."
Related Material
References
All Saints Margaret Street (1990). Foreword by Sir Roy Strong. London: All Saints Margaret Street and Jarrold Publishing. 2005.
Hitchcock, Henry-Russell. Architecture Nineteenth and Twentieth Centuries. Baltimore: Penguin, 1963.
Thompson, Paul. William Butterfield, Victorian Architect. Cambridge: MIT Press, 1971.
---
Last modified 6 February 2011