City Hall (with the National Museum of Wales to the right). Lanchester, Stewart and Rickards. 1900-1904; official opening, 1905. Portland Stone. City Hall Road, Cardiff. Top photograph (2009) and text by Jacqueline Banerjee. Additional photographs by Robert Freidus [You may use these images without prior permission for any scholarly or educational purpose as long as you (1) credit the photographer and (2) link your document to this URL or cite it in a print one.]
With the development of the South Wales Coalfield, and of Cardiff as a port, the population of Cardiff multiplied four-fold in the Victorian period. By 1871 it was already the biggest town in Wales (Hodges 11). Naturally it needed civic offices commensurate with its new pre-eminence, and for this purpose bought Cathays Park from the Bute family in 1898. The result was arguably the most beautifully laid out civic centre in the country. City Hall, with its "extraordinary mixture of Continental Baroque styles" (Curl 146), is its focal point. The building's most striking features are its 194' high clock tower, and its dome crowned by a very lively Welsh dragon. The allegorical statues of the four winds on the top part of the tower, and the symbolic dragon, were the work of Henry Charles Fehr (see City Hall, Cardiff, 3). London-born Fehr (1867-1940), once an assistant to Thomas Brock, had already made his name as the sculptor of the vigorous Rescue of Andromeda (1893) outside London's Tate Britain Gallery (see Read 264).
City Hall's interior is no less splendidly crafted. Its Marble Hall is especially impressive. Lined by columns of Sienna Marble, it houses a large art collection which includes, for example, Sir Luke Fildes's The Penitent's Return (1879), and fine statues of Wales's national heroes. In place of honour in the centre is locally-born Sir William Goscombe John's iconic sculpture, Dewi Sant (Saint David, the patron saint of Wales).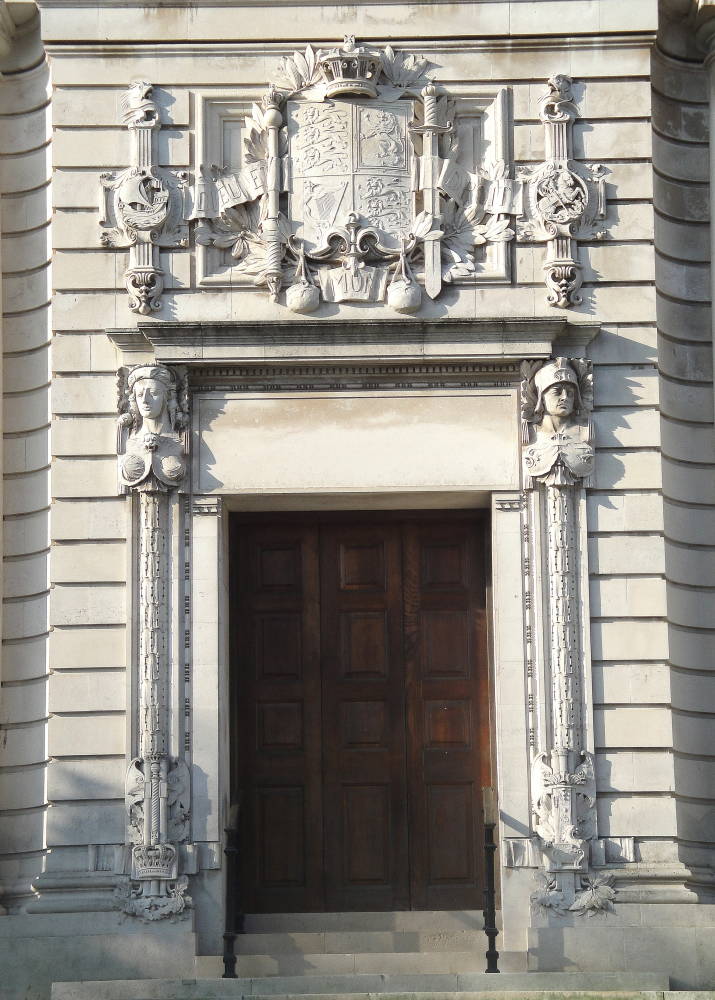 The imposing cityscape shown above was not completed until 1927. This was when the neighbouring National Museum of Wales was finally opened. Designed by Arnold Dunbar Smith (1866-1933) and Cecil Brewer (1871-1918), who had been partners since 1895, the Museum is "one of the earliest in Great Britain to utilize the Beaux-Arts style then popular in the United States" (Evans).
Related Material
References
Curl, James Stevens. Victorian Architecture. Newton Abbot: David & Charles, 1990.
Evans, Dean. Arnold Dunbar Smith & Cecil Claude Brewer. (a comprehensive and useful site on the life and works of Passmore Edwards, and those associated with him). Web. 20 December 2011.
City Hall, Cardiff: Visitor Information Guide. 2nd ed. Cardiff: City and County of Cardiff, 2006 (33pp.) Available from City Hall.
Hodges, T.Mansel. "The Peopling of the Hinterland and Port of Cardiff, 1801-1914." Industrial South-Wales, 1750-1914: Essays in Welsh Economic History. By W. E. Minchinton. London: Routledge, 1969. 3-18.
Read, Benedict. Victorian Sculpture. New Haven & London: Yale University Press, 1982.
---
Last modified 4 March 2010.