Photographs by the author, with thanks to the club for allowing photography. You may use these images without prior permission for any scholarly or educational purpose as long as you (1) credit the photographer and the Savile Club and (2) link your document to this URL in a web document or cite the Victorian Web in a print one. Click on the pictures to enlarge them.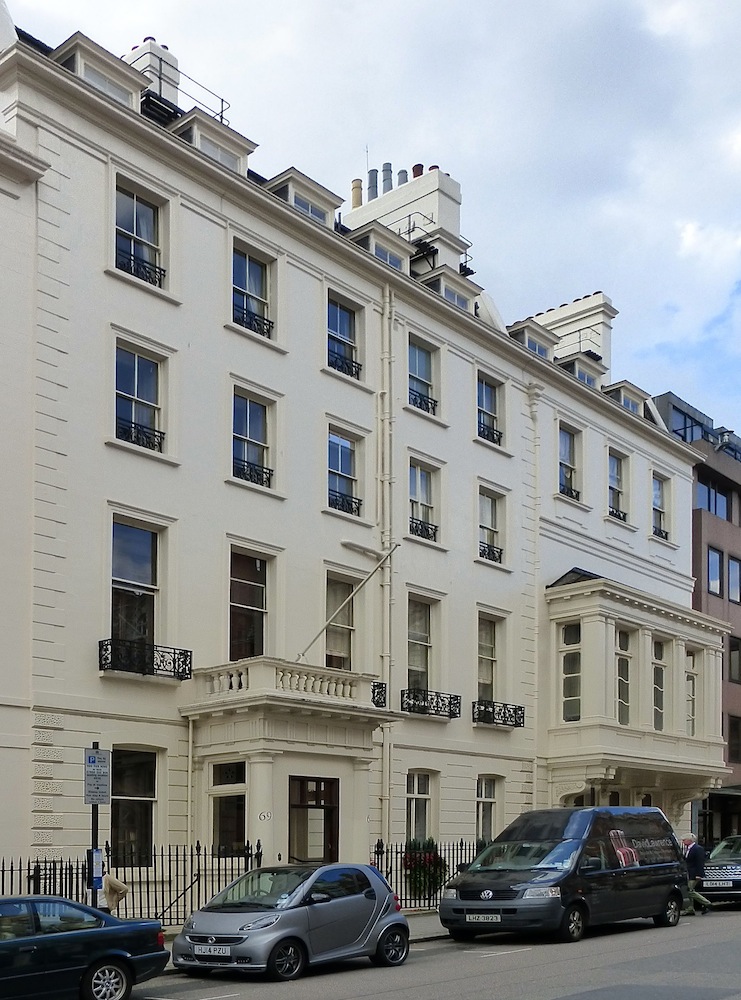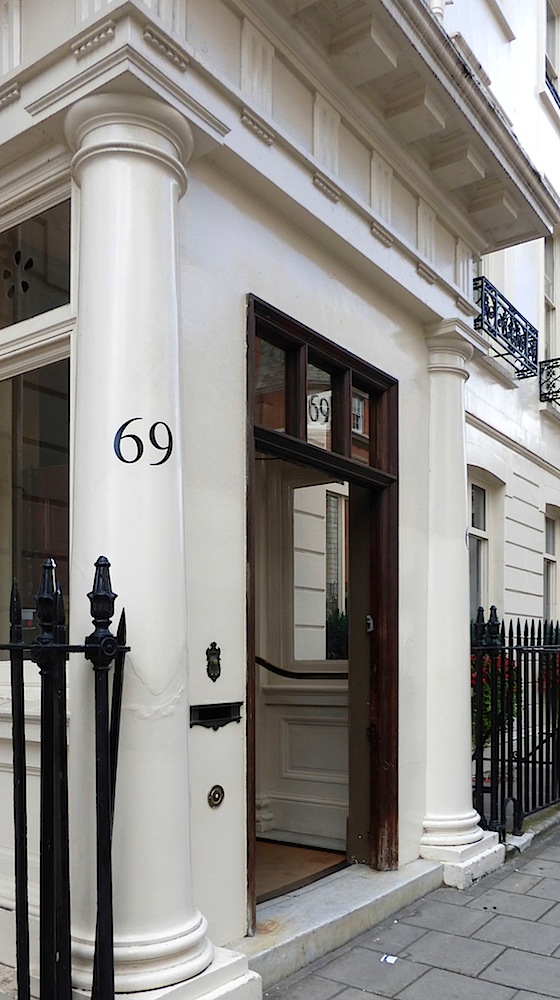 The stuccoed neoclassical exterior of the Savile Club, with its projecting porch entrance to the left and its large rectangular first floor bay to the right, its elegant window ironwork giving the only clue to its rich interiors (see "Brook Street").
The Savile Club, London, in what were originally two adjacent early eighteenth-century houses, with major rebuilding in the late nineteenth century, and interiors of the same period by the Parisian firm of Bouwens Van der Boyer (or Boijen). The club, founded in 1868 as the New Club, took its name from its second premises in Savile Row which it occupied between 1871 and 1882. From there it had moved to the Piccadilly townhouse inherited by the wife of Lord Rosebery, overlooking Green Park, and then finally to its present location in Brook Street in 1927. Here, it benefited from the ornate French style of the interiors designed for wealthy American socialites May and Walter Burns: May was the sister of J. P. Morgan. Although the club spreads across numbers 69 and 71, acquired by Burns in 1884 and 1890 respectively, and has its ballroom in the latter, the address is simply 69 Brook Street, Mayfair.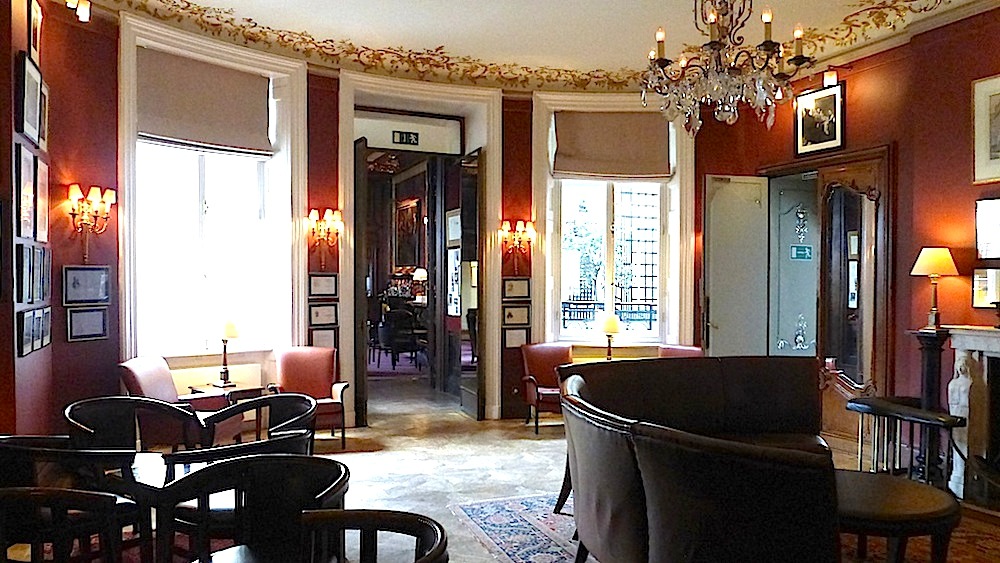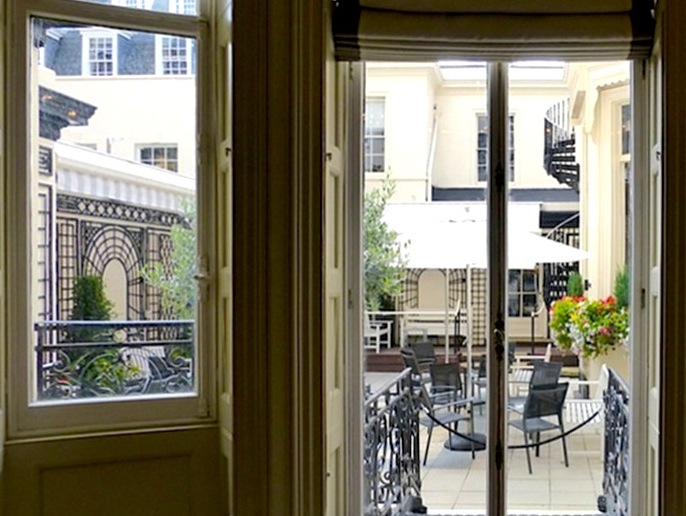 Left: The "Sandpit" (there are various theories for this name: it may, for instance, refer to the old practise of knocking out pipe-ash on the floor), a downstairs room lined with portraits of past members, grouped according to their métiers. Right: Outside, the pleasant courtyard garden.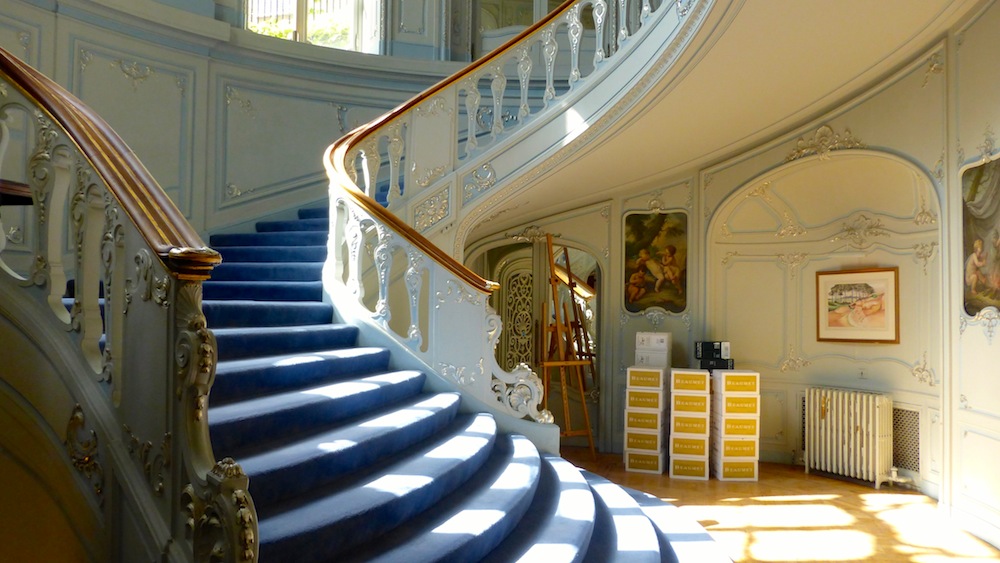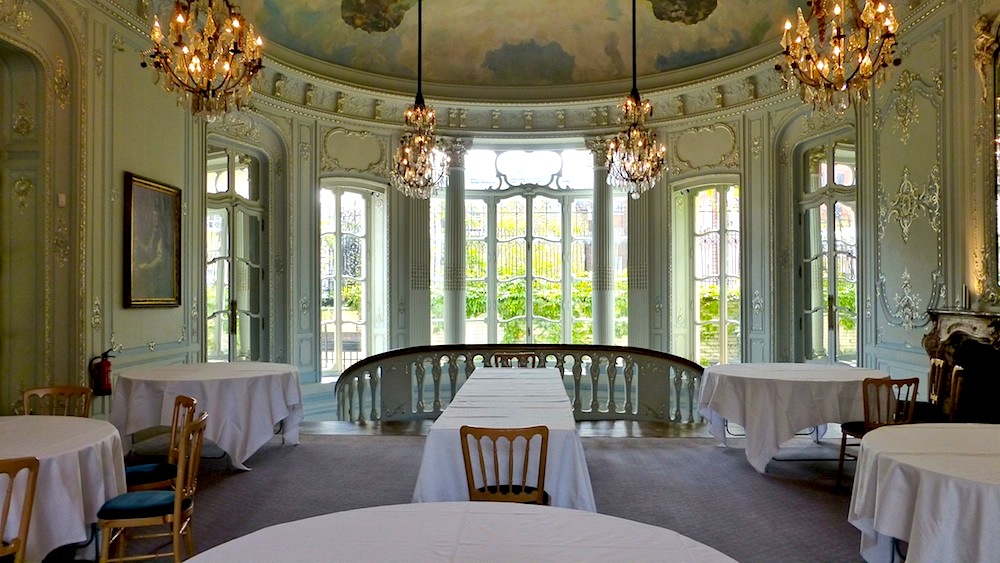 Left: The imposing entrance hall leads to the grand sweep of the main stairway. Right: The stairs are of a piece with the equally grand ballroom on the floor above. This is decorated in "a lighthearted manifestation of the Louis XVI style" ("Ballroom").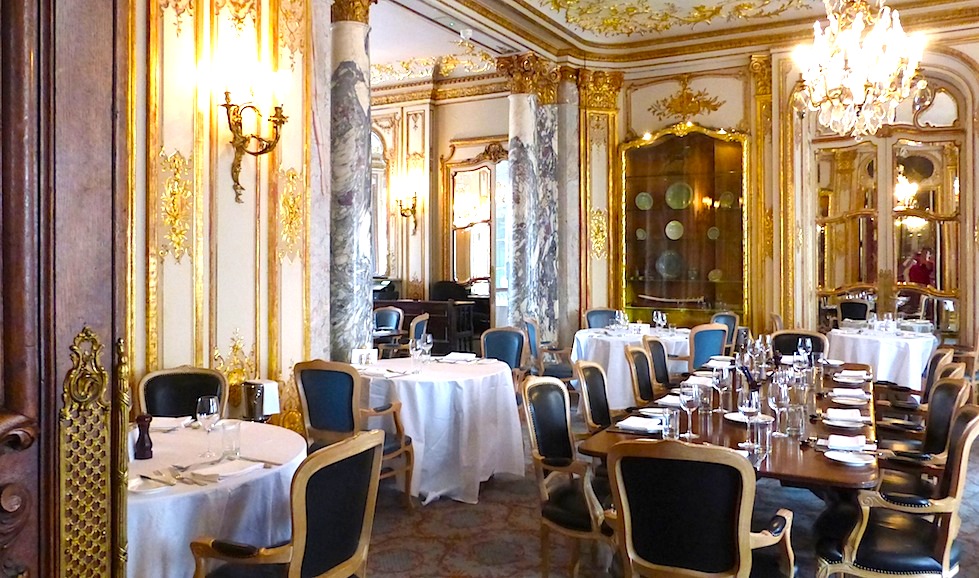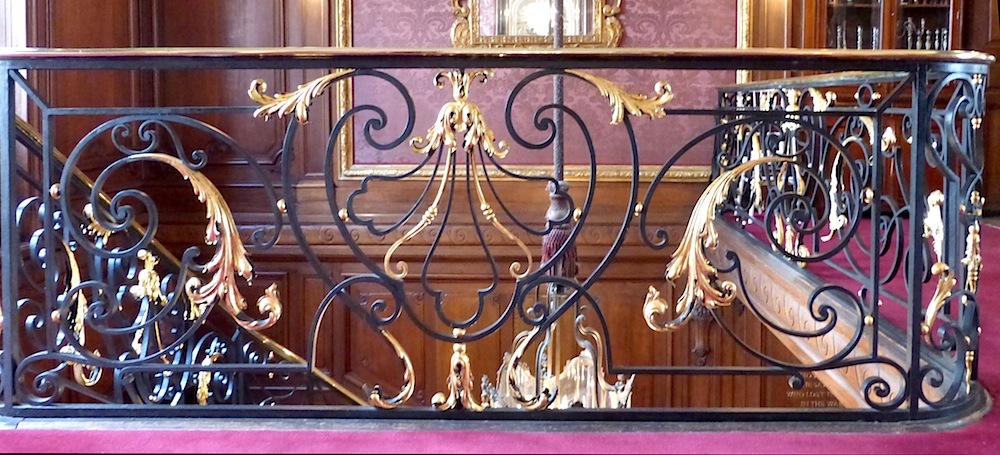 Left: The Dining Room, also reflecting French-influenced interior design of the end of the nineteenth century, with carved wooden panels, marble columns, painted ceilings, much gilding and, of course, chandeliers. The mirrored doors open to unite it with the ballroom. Right: Stairhead with fine ironwork scrolling, the top of a chandelier visible just below.
For Victorianists, these interiors are of great interest: "perfectly maintained," according to the Survey of London, they shed useful light on a certain aspect of nineteenth-century taste, at a time when the lavishly ornate Second Empire style had become popular in architecture. Also, although this was not the setting in which famous members of the those years gathered, it does evoke the ambience of clubland at that time. This club was especially popular in literary circles: early members from the 1860s and 70s included Walter Pater, Coventry Patmore, Robert Louis Stevenson and Thomas Hardy. Rudyard Kipling and Max Beerbohm were among those elected in the later nineteenth-century, and then early in the twentieth century came such well-known names as H. G. Wells, W. B. Yeats and A. A. Milne (see Black 245 n.8).
It was Walter Besant who recommended the young Kipling for the Savile. Kipling was delighted, and listened carefully to his mentor's advice about not getting involved in any "dog-fight" — although actually he seems only to have met "scores of good men" there. "At 'the little Savile' I remember much kindness and toleration," he wrote (Ch. 4). As for Hardy, even after settling back in Dorchester, he attended when he could, but was apt to cast a gloom on fellow-diners, and then resent being seen as a pessimist. Hardy also belonged to the Athenaeum and the Rabelais (founded by Besant), but it was at the Savile, apparently, that he renounced novel-writing after the attacks on his later novels (see Ferguson 15-16 and Greenslade 28).
Other arts were also represented here — music by Sir Edward Elgar and Sir Arthur Bliss, for instance. Scientists were also welcomed: Lord Rutherford was a member, and one of the club's "dynasties" was that of the Darwin family (see Black 26).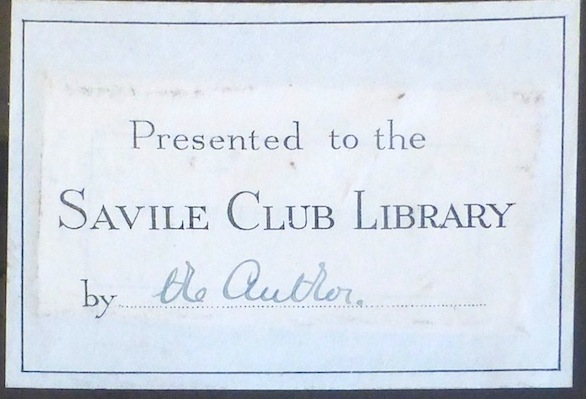 Book label on a book in the club library, which overflows with members' own donated works.
Related Material
Bibliography
"Ballroom." Savile Club (the club's own very informative and well-illustrated website). Web. 15 April 2016.
Black, Barbara. A Room of His Own: A Literary-Cultural Study of Victorian Clubland. Athens, Ohio: Ohio University Press, 2013.
"Brook Street: South Side." In Survey of London: Volume 40, the Grosvenor Estate in Mayfair, Part 2 (The Buildings). Ed. F. H. W. Sheppard (London, 1980): 21-32. British History Online. [Plans of the ground and first floors, minus some modern additions, can be seen here.] Web. 15 April 2016.
Ferguson, Trish. "Memoirs and Recollections." Mallett 13-21. Greenslade, Wiilliam. "Thomas Hardy and Friendship." Mallett 22-31.

Kipling, Rudyard. Something of Myself. Kipling Society Web. 15 April 2016.

Mallett, Phillip, ed.

Thomas Hardy in Context

. Oxford: Oxford University Press, 2013.

Savile Club

(the club's own very informative and well-illustrated website). Web. 15 April 2016.
---
Created 15 April 2016