Biography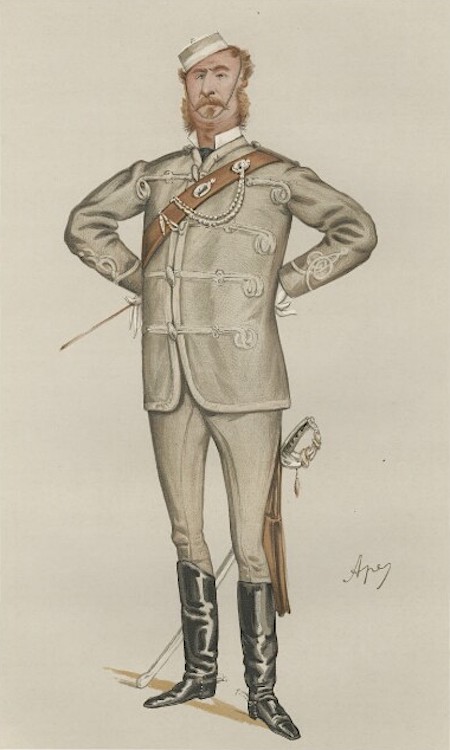 Spy's caricature of Edis in Vanity Fair. © National Portrait Gallery, London
Colonel Robert William Edis, C.B. (1839-1927), was a fellow of the Royal Institute of British Architects and the Royal Society of Art, and was President of the Architectural Association in 1865-67.
Born in Huntingdon, Cambridgeshire, Edis went to the Brewer's Company School in Aldenham, Herts, and set out on a career as an architect. He was articled to W. G. and E. Habershon, moving on to become head assistant to Anthony Salvin (see "Col. Sir Robert Edis"). Twickenham Museum's website has an account of him because he did some work in that area. The interior of St Mary's, Twickenham, was partially redecorated to his designs in 1872, and, among others, he designed the building that is now the Mary Wallis Theatre on the Twickenham Embankment.
He became better known, however, as the architect of some palatial private homes and other buildings in London, and for his work on Sandringham for the royal family. As an architect, he was well connected in several ways. First, as a young man, he was a friend of Edward Godwin; and in 1862 went down to look at William Morris's Red House in Kent (designed by Philip Webb) with William Burges. This was in the year before he started practising on his own account (see Powers). Some of his later pronouncements owed a good deal to such friendships. But, in general, he moved with the times. Starting out as a Gothic architect, he turned later towards the Queen Anne style, while the ballroom he designed at Sandringham in 1883 was Jacobean in style. Towards the end of the century he also worked in an elaborate Italian Renaissance style. Perhaps his best known work is the former Grand Central Hotel at Marylebone Station, now the Landmark Hotel, with its huge glazed courtyard. This was the sort of space he liked — witness the "principal conservatory" which was one of his additions to Sandringham. The hotel opened in 1899. Edis must have needed to please the tastes of his well-to-do clients with up-to-the-minute designs, and make a statement with grander buildings like these. Alan Powers, who describes the changes in his style, sees him as "a popularizer" rather than an innovator.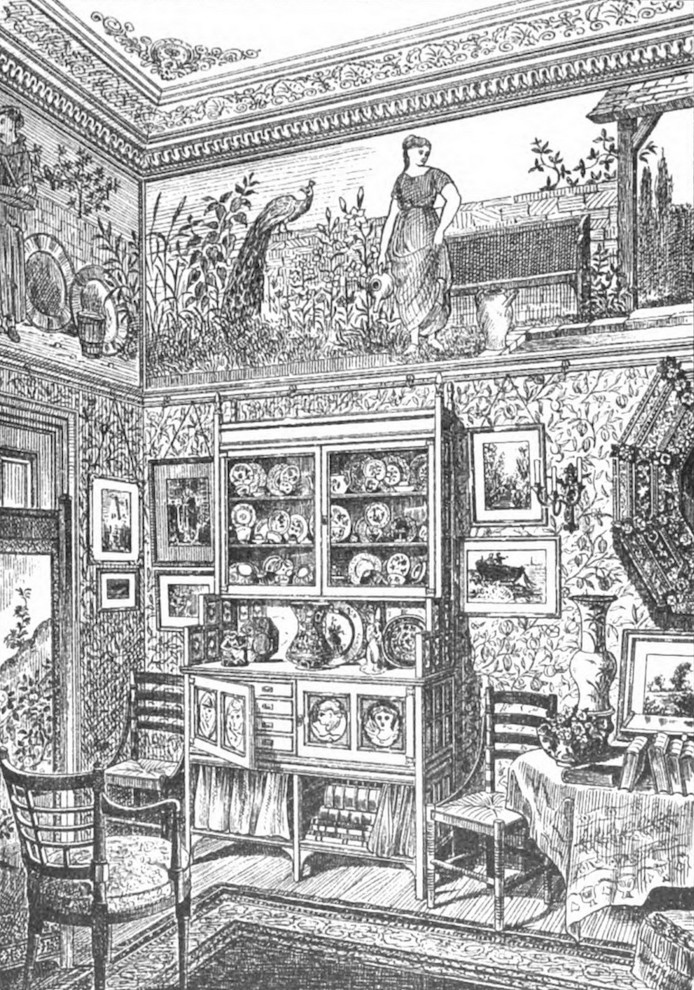 Frontispiece to Decoration and Furnishing of Town Houses.
Edis was also known for his writings: in his influential book, Decoration and Furnishing of Town Houses (1881), based on his lectures to the Society of Arts in 1880, he aimed to show how "the general dreariness of an ordinary Town House" could be remedied "by a little thought and a conscientious regard for use and comfort, combined with artistic design and arrangement" (x). Despite this book's rather over-crowded frontispiece, he often criticises anything that might harbour dust, such as carved panelling on wardrobe doors (see p. 27). So it is no surprise to learn that he was especially interested in domestic hygiene. He went on to write a booklet to accompany the International Health Exhibition of 1884: Healthy Furniture and Decoration (1884). Here too he inveighs against surfaces that invite dust and cannot easily be cleaned, praising instead simple furniture and decor, such as the use of wipe-clean tiling where appropriate, blinds rather than heavy curtains in the bedroom, wooden hinged tops to baths to keep them clean, and, above all, good ventilation.
Outside the world of architecture and interior design, Edis was very much a military man: he joined the Artists' Rifles in 1860, and took over the command of the regiment in 1878, after Lord Leighton retired to become President of the Royal Academy. He was also the Earl of Albemarle's aide-de-camp during the last days of the Paris Commune, and was knighted for his military services at the end of World War I. Of a piece with his military endeavours were expeditions to North America for big-game hunting. He died a widower in 1927, in Norfolk, leaving five daughters. He was the uncle of the photographer Olive Edis (later Galsworthy, since she married a cousin of the novelist). — Jacqueline Banerjee
Works
Bibliography
"Col. Sir Robert Edis: Architect, Soldier and Sportsman." The Twickenham Museum (a very helpful site). Web. 10 November 2021.
Edis, Robert W. Decoration and Furniture of Town Houses. London: Kegan Paul, 1881. Hathi Trust, from a copy in the library of Harvard University. Web. 10 November 2021.
_____. Healthy Furniture and Decoration. Vol. I. London: Handbook to International Health Exhibition, 1884. Hathi Trust, from a copy in the New York Public Library. Web. 10 November 2021.
Long, Helen C. Victorian Houses and Their Details. Oxford: Architectural Press, 2002.
Powers, Alan. "Edis, Sir Robert William (1839–1927), architect." Oxford Dictionary of National Biography. Online ed. Web. 10 November 2021.
---
Created 10 November 2021