All illustrations are from our own website. Click on the images to enlarge them, and for more information about their sources. You may use these images without prior permission for any scholarly or educational purpose as long as you (1) credit the original source and (2) link your document to this URL in a web document or cite the Victorian Web in a print one. — JB

"Volunteer Sham Fight at Southend on Whit Monday." Source: Illustrated London News of 6 June 1863 (613). The report that follows specifically mentions the participation of "the West Middlesex, London Artists', and other metropolitan corps" (622).
By the summer of 1859, the British feared a French invasion under Napoléon III because of an assassination attempt on the Emperor and Empress on 14 January, 1858, with bombs made and tested in England by an Italian revolutionary, Felice Orsini (1819–1858). A year later, on 29 April 1859, France and the Austrian Empire went to war. On 12 May 1859, the British government authorized the formation of volunteer rifle corps to be called out "in case of actual invasion, or of appearance of an enemy in force on the coast, or in case of rebellion arising in either of these emergencies." By the end of the year, the volunteer corps comprised thousands of patriotic men all over Great Britain, and was said to be "a force potentially the strongest defence of England" (Haydn 846).
The idea of a special corps of artists was conceived by Edward Sterling, an art student and ward of Scottish historian Thomas Carlyle. In May 1859, Sterling held a meeting at his studio of fellow students in the life class of Carey's School of Art, Charlotte Street, Bloomsbury. The rooms of artist Arthur Lewis (1824–1901) in Jermyn Street became a gathering-place for those who pursued the plan.
The Artists Rifles was established on 28 February 1860 as the "The 38th Middlesex (Artists') Rifle Volunteers." The Corps met to elect officers at the St. George Street studio of portraitist Henry Wyndham Phillips (1820–1868), who became the regiment's first commander. (Phillips also served for thirteen years as Secretary of the Artists' General Benevolent Institution, founded in 1814 to assist professional artists in financial distress due to illness, accident or old age.) The regiment initially was headquartered at the Argyll Rooms, a notorious pleasure establishment in Windmill Street, just north of Piccadilly. Members met for preliminary drills in plain clothes, learning the goose step, the "balance-step without gaining ground," and other rudimentary soldiering skills such as musketry – how to use a ramrod (Fenn 836). The government had purchased Burlington House, a Palladian mansion in Piccadilly, in 1854, and the Artists Rifles was granted space in it until 1868, when the Royal Academy established itself there. From 1868 until 1889, when members built a permanent headquarters at 17 Duke's Road, Euston, the Artists Rifles met and drilled at various addresses in central London.
Founding Members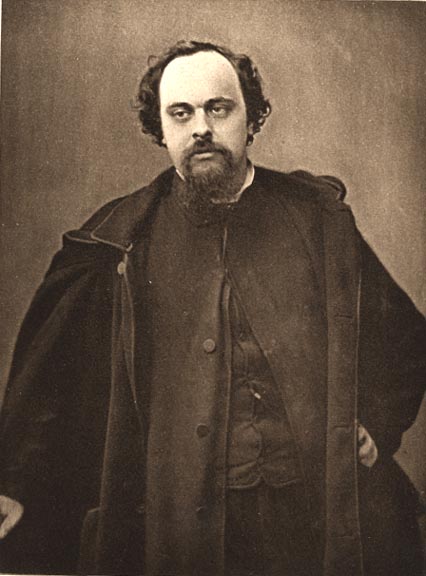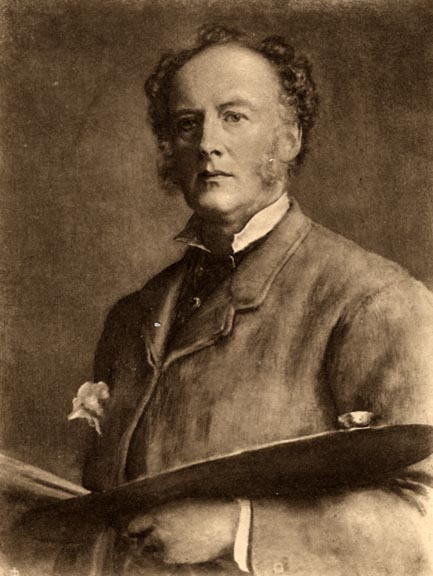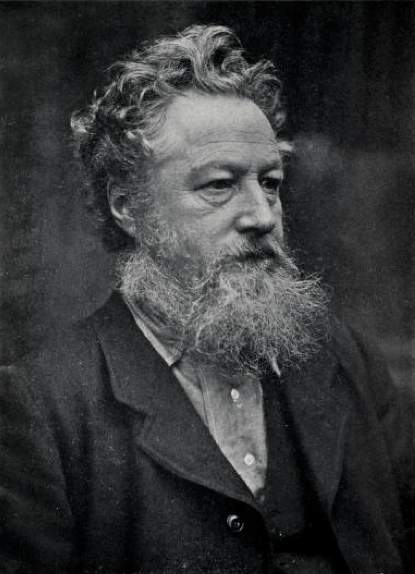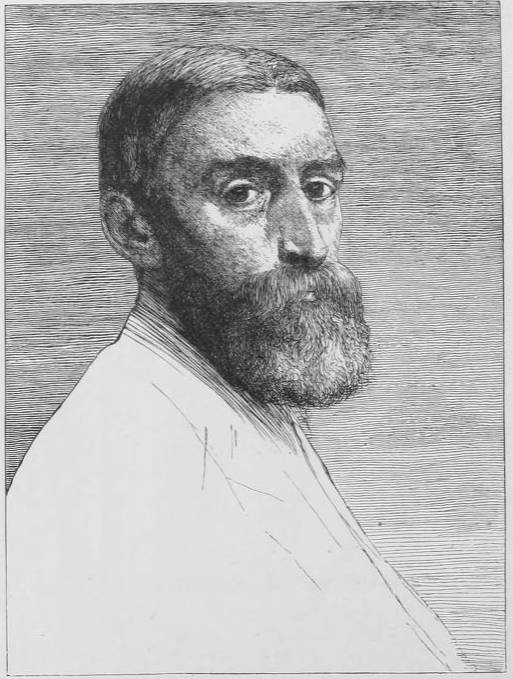 Left to right: (a) Dante Gabriel Rossetti. (b) John Everett Millais. (c) William Morris. (d) Edward Poynter. [Click on the images to enlarge them and for more information about them.]
Founding members of the Artists' Rifles included painters George Frederic Watts (1817–1904), William Cave Thomas (c. 1820–1876), William Holman Hunt (1827–1910), Dante Gabriel Rossetti (1828–1882), John Everett Millais (1829–1896), Edward Coley Burne-Jones (1833–1898), William Morris (1834–1896), Edward Poynter (1836–1919), and the 22-year-old Valentine (Val) Cameron Prinsep (1838–1904). Members nominated friends as recruits.
Members from the 1870s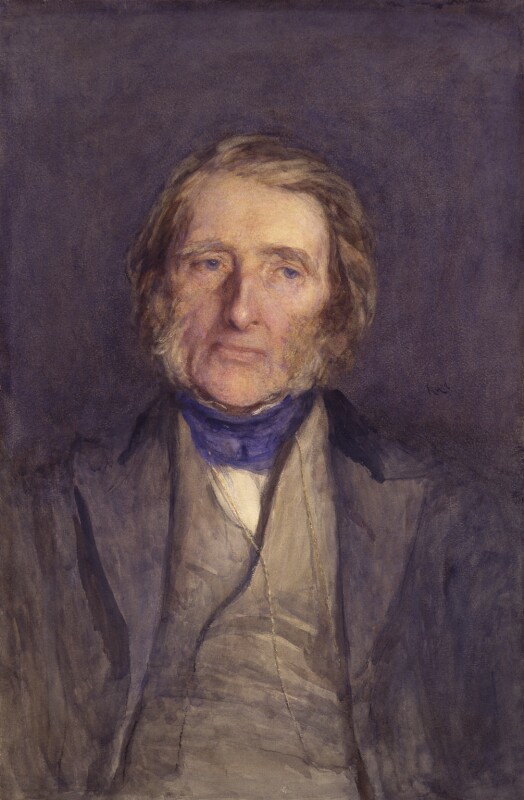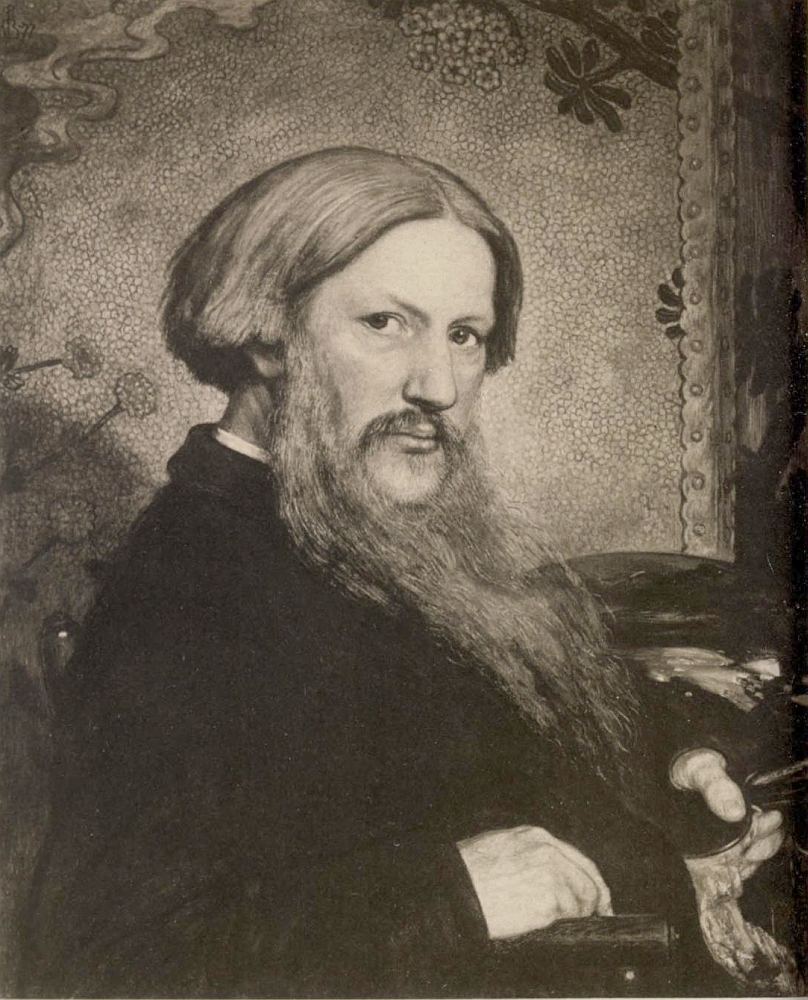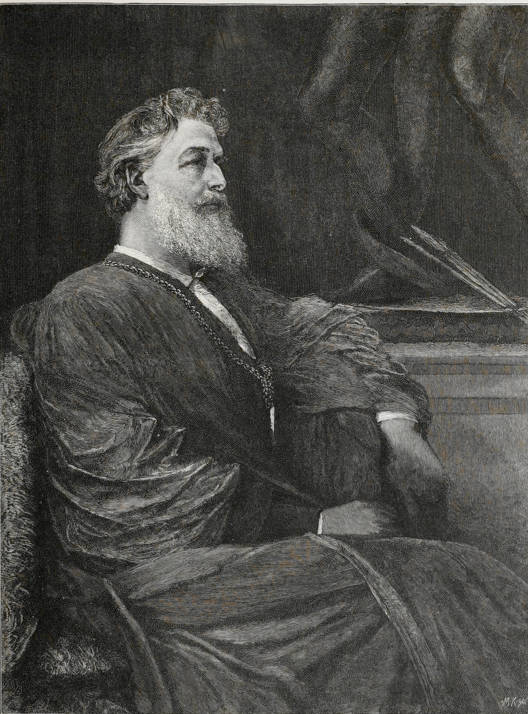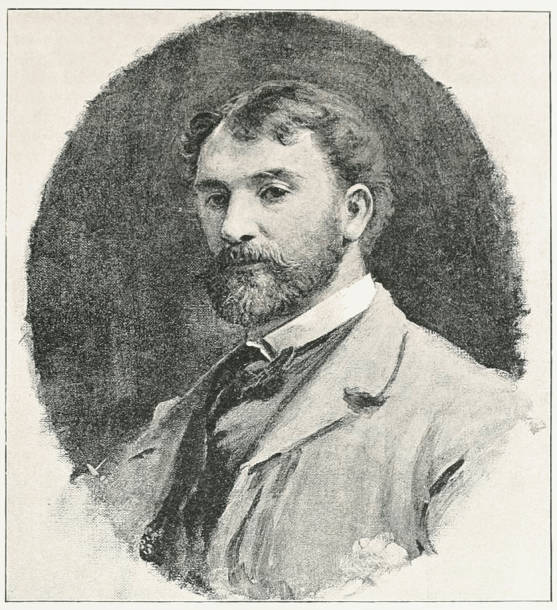 Left to right: (a) John Ruskin. (b) Ford Madox Brown. (c) Fredric Leighton. (d) Luke Fildes. [Click on the images to enlarge them and for more information about them.]
During the 1870s, members of the Artists Rifles included Field Talfourd (1815–1874), portraitist Lowes Cato Dickinson (1819–1908), author and critic John Ruskin (1819–1900), the German-born painter Carl Haag (1820–1915), Ford Madox Brown (1821–1893), George Price Boyce (1826–1897), Robert Braithwaite Martineau (1826–1869), William Wilthieu Fenn (1827–1906), portraitist Henry Tanworth Wells (1828–1903), John Bagnold Burgess (1829–1897), Edwin Longsden Long (1829–1891), John Roddam Spencer Stanhope (1829–1908), Frederic Leighton (1830–1896), watercolorist and War Office clerk Joseph Middleton Jopling (1831–1884), Arthur Hughes (1832–1915), George Vicat Cole (1833–1893), Henry Holiday (1839–1927), Charles (Carlo) Edward Perugini (1839–1918), Simeon Solomon (1840–1905), Marcus Stone (1840–1921), Frederick Walker (1840–1875), Albert Joseph Moore (1841–1893), William Blake Richmond (1842–1921), Samuel Luke Fildes (1843–1927) and his friend Henry Woods (1846–1921), Walter William Ouless (1848–1933), and John William Waterhouse (1849–1917).
The "St John's Wood Clique"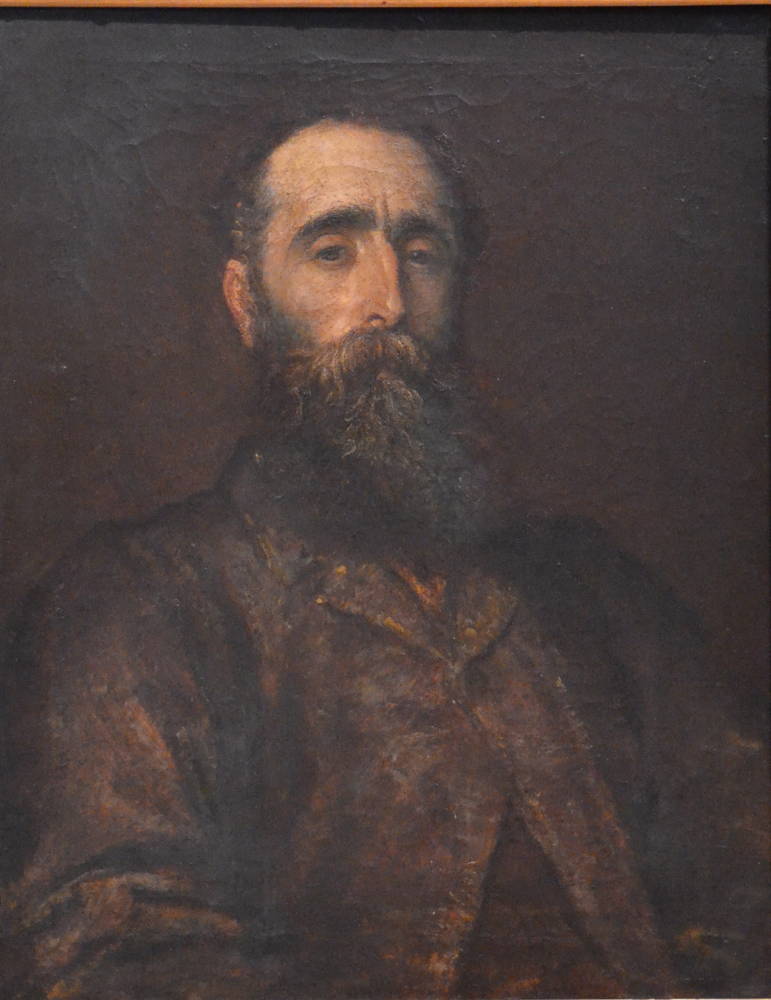 Philip Hermogenes Calderon.
Members of the "The St. John's Wood Clique" – a group of gentlemen painters who resided in that affluent suburb north of London – joined the Artists Rifles, including Frederick Goodall (1822–1904), Henry Stacy Marks (1829–1898), John Evan Hodgson (1831–1895), Philip Hermogenes Calderon (1833–1898), George Adolphus Storey (1834–1919), George Dunlop Leslie (1835–1921), William Frederick Yeames (1835–1918) and the photographer who recorded images of many of the artists of his day, David Wilkie Wynfield (1837–1887).
Sculptors and Artists in Other Mediums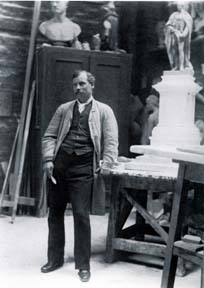 Thomas Brock.
Sculptors who were members of the Artists Rifles included Thomas Woolner (1825–1892), Charles Bell Birch (1832–1893), Thomas Brock (1847–1922) and William "Hamo" Thornycroft (1850–1925). The regiment also included illustrators and engravers, architects, musicians, vocalists, composers, engineers, actors, authors, journalists, and at least one caricaturist, John Leech (1817–1864). Drama critic and author Edward Dutton Cook (1829–1883) was a member, as was poet Algernon Charles Swinburne (1837–1909). While French-born photographer Camille Silvy (1834–1910) lived in London from about 1859 to 1868 and became a member of the Artists Rifles, there is no indication that French painter James Tissot (1836–1902), who lived in London from 1871 to 1882, joined.
Membership and Service
There were two classes of membership in the Artists' Rifles: active members enrolled in military service paid an entrance fee of 10s.6d. and an annual subscription of £1.1s., providing their own uniform and firearms (subject to approval of the War Office for the sake of uniformity). Honorary Members were not committed to military service. They paid an additional 10s.6d. entrance fee and an annual subscription of £2.2s. (or a one-time payment of £10.10s.).
Members served with various levels of commitment. Lucinda Hawksley notes that Carlo Perugini, who joined the Artists Rifles in 1860 and served for twelve years, sent the occasional reminder letter to members who missed drill sessions. To be considered active by the government, volunteer riflemen needed to attend eight days of drill and exercise in four months, or 24 days within a year.
Painter William Wilthieu Fenn, who became blind and was grateful for Millais' kindness and practical assistance in alerting his friends to his inability to earn a living, later recalled that "Millais never quite took to" volunteering. The drills at Wimbledon, where the National Rifle Competition was held, amused Millais, Fenn wrote, "but he tired of it soon, I suspect, and was at any rate very irregular in his attendances." Millais displayed "a flash of enthusiasm" when rifles were first served out, "but it was not sustained." Fenn had no memory of Millais ever wearing a uniform:
I don't think he ever did more than order one, even if he did that. The discipline, loose though it was in all conscience at that date, seemed to irk him; it was not consonant with his painter's disposition, and besides, it made too long-drawn demands upon his time, hard worker that he was, especially after his family increased as it was rapidly doing by 1860.
Fenn added, "Beyond a few visits to the camp at Wimbledon [in 1861], and a few shots at the targets of various ranges, soldiering did not suit him, and he very soon, I suspect, vanished from the ranks of the active volunteers." But Millais and fellow rifleman Joe Jopling — who won the Queen's Prize at Wimbledon in 1861 for his bulls'-eye — became great friends during this time (Fenn 836).
Officers were drawn from the ranks. Leighton, who joined on 5 October 1860, was promoted to command A Company within a few months. Phillips died in 1868, and on 6 January 1869, Leighton was elected to command the Artists Rifles. He was promoted from Captain to Major, and in 1875 was promoted to Lieutenant Colonel. Three years later, Leighton was elected President of the Royal Academy, and he resigned as Commanding Officer of the Artists Rifles in 1883. At his funeral in 1896, his coffin was carried into St. Paul's Cathedral past an honor guard of the Artists Rifles.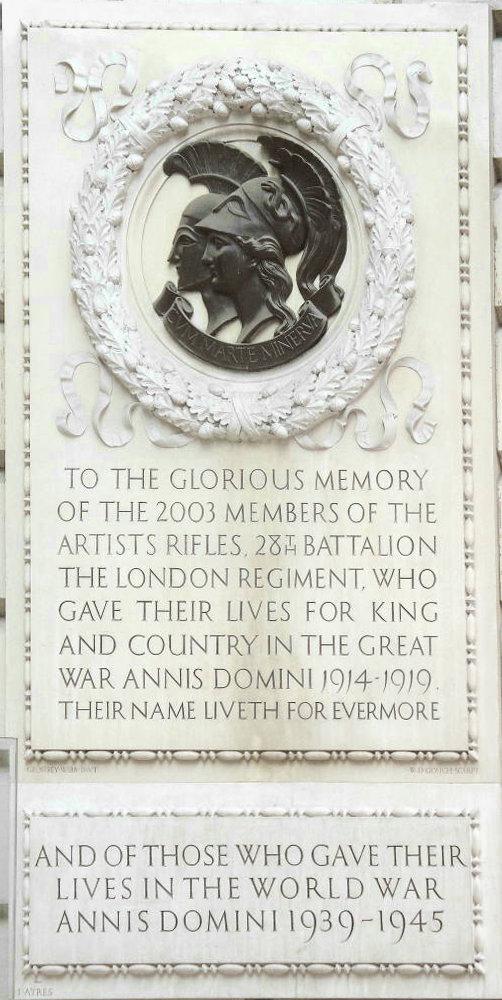 The Artists Rifles memorial outside Burlington House.
The regimental badge was designed by another member, Leonard Charles Wyon (1826–1891), the Queen's medallist. It depicted the profiles of Mars, the god of War, and Minerva, the goddess of Wisdom. The men recited a regimental rhyme: "Mars, he was the God of war, and didn't stop at trifles. Minerva was a bloody whore. So hence The Artists Rifles" (see "Artists Rifles Association" link, in the appended note).
Ironically, the "French invasion" from which the Artists Rifles were protecting Britain turned out to be artistic, as many painters – including James Tissot, Claude Monet and Camille Pissarro – fled Paris in 1870 and 1871 due to the Franco-Prussian War and the Commune and sought success in London's competitive art market. With the exception of French etcher Alphonse Legros (1837–1911), who emigrated to England in 1863, married an English girl in 1864, and assimilated easily into British circles, these foreign artists were not exactly welcomed with open arms by the British public nor the close-knit community of painters who bonded in the Artists Rifles as well as in London's many gentleman's clubs.
In fact, the members of the Artists Rifles so enjoyed socializing with each other that, in 1863, they established the Arts Club in a beautifully preserved Adams-style mansion at 17 Hanover Square, richly decorated with carved marble mantelpieces, magnificent oak staircases, and ceilings painted by Angelica Kauffmann, which they dubbed "Sweet Seventeen" (Griffiths 148).
The Artists Rifles served with great distinction in the Boer War and The Great War. The apostrophe was dropped in 1937, when the regiment's title was officially simplified to "The Artists Rifles." During the Second World War, the regiment functioned as an Officer Cadet Training Unit, supplying officers to other regiments. The regiment was disbanded in 1945 but was re-established two years later as the Special Air Service Regiment, now the 21 Special Air Service Regiment (Artists) (Reserve).
Bibliography
Artists Rifles Association: 28th County of London Battalion (Artists Rifles), County of London Regiment (Territorial Force). Web. 15 November 2019.
Fenn, W.W., "Memories of Millais." Chambers's Journal, sixth series, Vol. IV, December 1900 – November 1901. London and Edinburgh: W & R Chambers Ltd., 1901.
Gregory, Barry. A History of The Artists Rifles 1859–1947. Barnsley: Pen & Sword Books, 2006.
Griffiths, Arthur. Clubs and Clubmen. London: Hutchinson & Company, 1907.
Hawksley, Lucinda. Katey: The Life and Loves of Dickens's Artist Daughter. London: Doubleday, 2006.
Haydn, Joseph and Benjamin Vincent. Haydn's Dictionary of Dates and Universal Information Relating to All Ages and Nations. London: Ward, Lock, 1881.
Meynell, Wilfrid, ed. The Modern School of Art, Vol. I.London: W.R. Howell & Company, 1886-88.
Millais, John Guille. The Life and Letters of Sir John Everett Millais: President of the Royal Academy. Vols. 1 & 2. London: Methuen, 1899.
Note: For more information on the Artists Rifles, past and present, click on the following links:
© 2013 Lucy Paquette. All rights reserved.
---
Created 15 November 2019