Many thanks to the author for sending in these photographs, and an account of the history and building of this fountain. His commentary has been slightly edited: readers may wish to see the original version here, on his own "Heritage Traveller" website, which includes travel notes as well. Download of original plan for the fountain, and the captions and formatting, are by Jacqueline Banerjee. You may use these images without prior permission for any scholarly or educational purpose as long as you (1) credit the photographer or source and (2) link your document to this URL in a web document or cite the Victorian Web in a print one. [Click on the images for larger pictures.]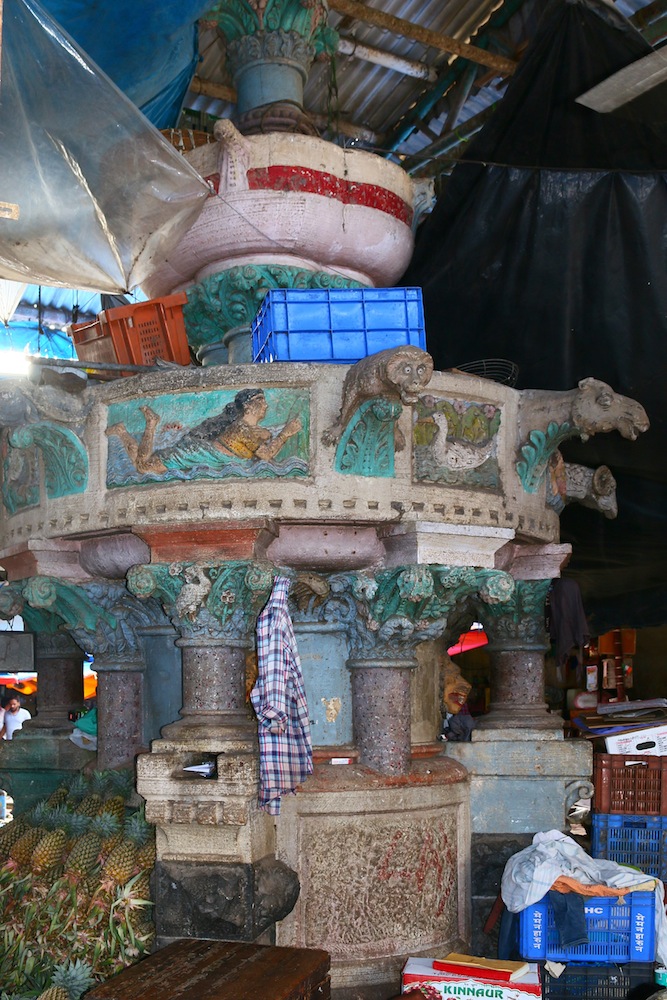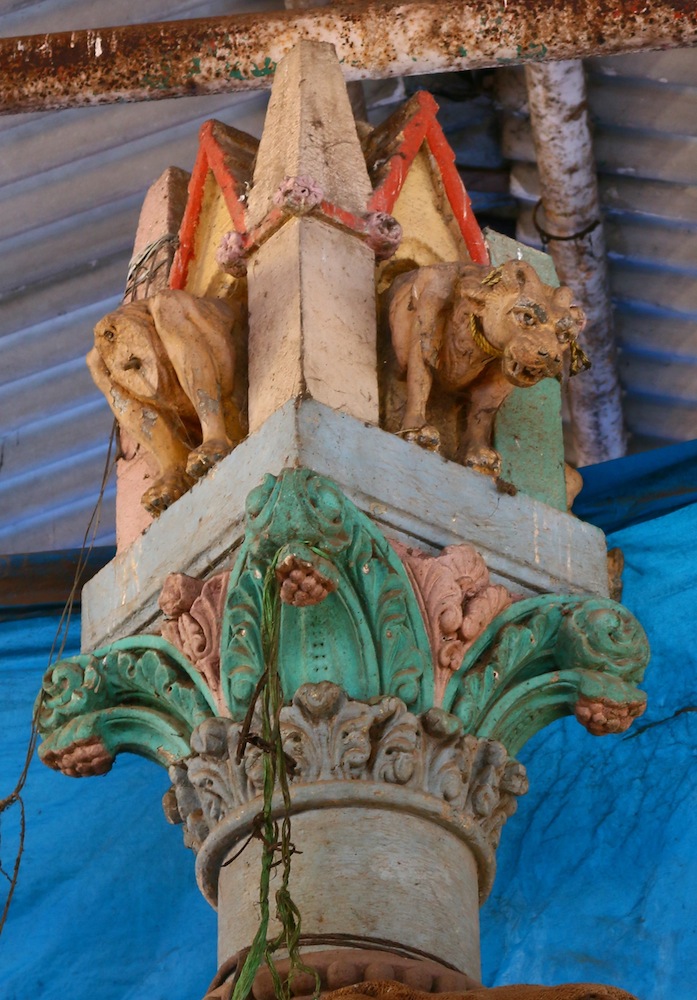 Left to right: (a) The Crawford Market as planned. Source: The Building News and Engineering Journal, following p. 549. (b) The fountain today. (c) The top part as it is now, minus ball and bird, with damaged sculptures of animals.
Like the market itself, the fountain at Crawford Market, Mumbai was built to the design of Sir William Emerson, and installed in 1874, a few years after the market opened. Originally accessed easily from the main entrance, it was located within a garden courtyard setting and was meant to be a social meeting place for traders and other users alike. However, with the surrounding area being taken over by heavy cartons of overflowing shops, it is now only accessible through the winding alleys of the market, leading to what has become the far end. Here, the fountain is surrounded by pet shops and a large collection of vegetable and fruit cartons, and hence is not conspicuous. Needless to say the fountain it is no longer functional. In 1985 while a canopy was being raised over it, the top was allegedly damaged. But since the top is no longer fully visible, it is difficult to say exactly what the damage was.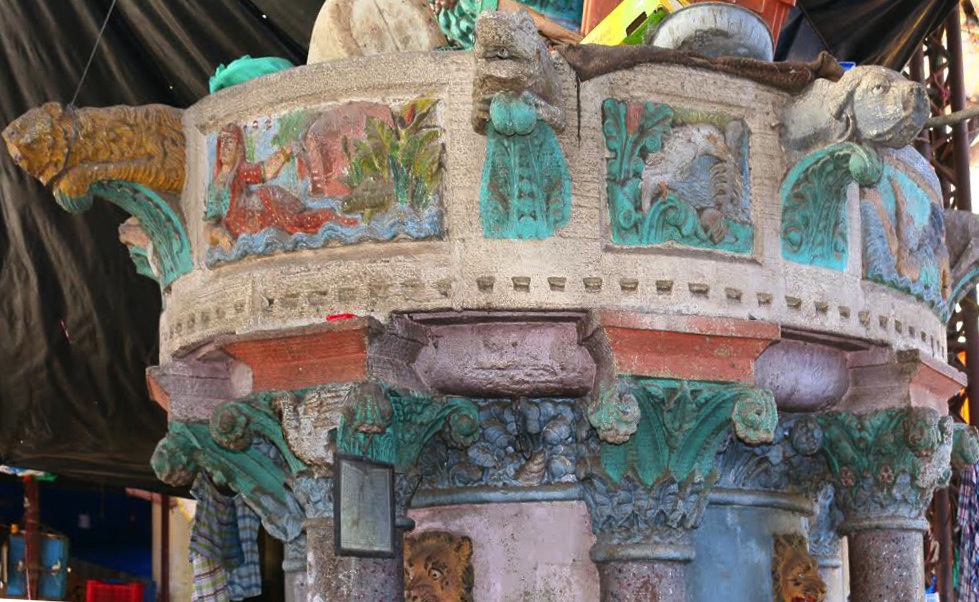 Left: The top tier. Right: One of the capitals on which it rests.
A watercolor design was displayed at no less than the Royal Academy, London. A recent book on Bombay Gothic traces its origin of design directly from William Burges's design for the Sabrina Fountain, Gloucester, which was never executed: "Emerson wanted a four tiered structure, with a bird standing on a ball at the top of the composition, above spouts formed from the upper bodies and mouths of bears. The bears were placed amongst a grouping of gable and pinnacle forms in which the rest of their bodies stood" (London 65). The lower level has fish sculpture, and below that are are the figures of alligators, rams and cows. To intermingle with this Indian fauna he added gargoyles too.
Left: A bear spout. Right: One of the river-goddesses.
In a series of plaques carved by the famous Lockwood Kipling of the Sir J. J. School of Art, are depicted four Indian river goddesses interspersed with native birds of India. There are lot of vegetable forms on the fountain reflecting the actual ware still being sold around it.
Note
According to Julius Bryant, the panels and spouts of the Sabrina fountain were to be "simply pike, carp, and eels, representing the River Severn." Emerson and Kipling not only produced more suitable creatures but, Bryant continues, "promoted to eye-level the scantily clad water-nymphs" (84) in their new exotic roles. So a good deal of lively and inventive adaptation has taken place here! — JB
Related Material
Bibliography
Bryant, Julius. "Kipling as a Sculptor." In John Lockwood Kipling: Arts and Crafts in the Punjab and London. Ed. Bryant and Susan Weber. New York: Bard Graduate Centre Gallery; New Haven and London: Yale University Press, 2017. 81-105.
London, Christopher W. Bombay Gothic. Mumbai: India Book House, 2002.
[Scanned illustration source:] The Building News and Engineering Journal. 1874: Vol II. Internet Archive. From a copy in Robarts Library, University of Toronto. Web. 28 January 2017.
---
Created 27 January 2017