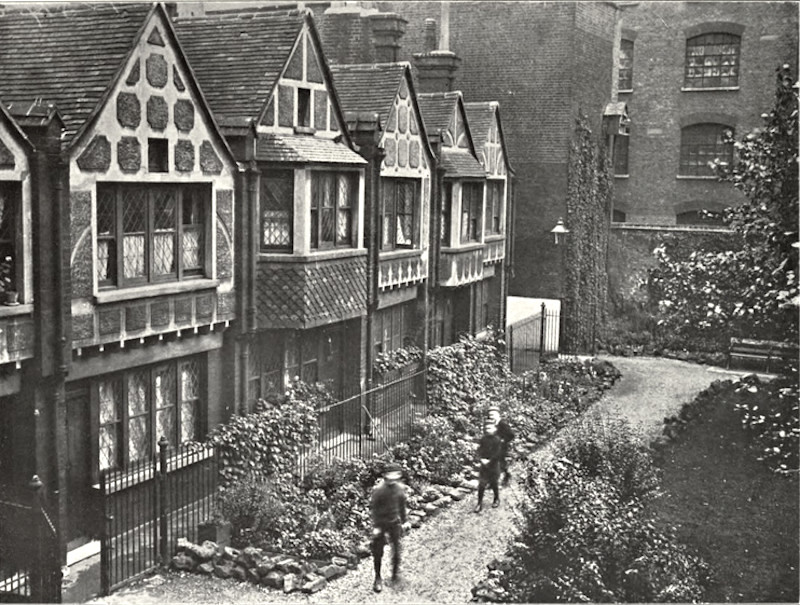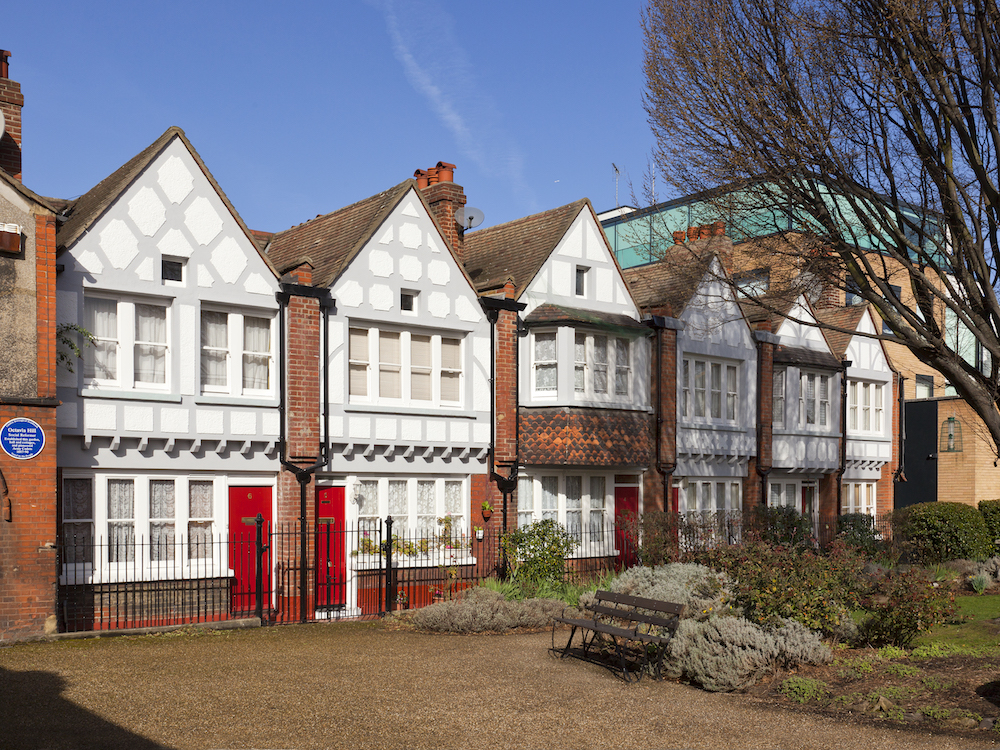 Red Cross Cottages and Gardens, Southwark, London SE1. Designed by Elijah Hoole (1838-1912), to meet the planning ideas of housing reformer Octavia Hill (1838-1912). Opened June 1887. Grade II listed. Left: an early photograph (source: Hill, facing p. 454). Right: a recent one, kindly provided by Octavia Housing. Caption and commentary by Jacqueline Banerjee. [Click on the images for larger pictures.]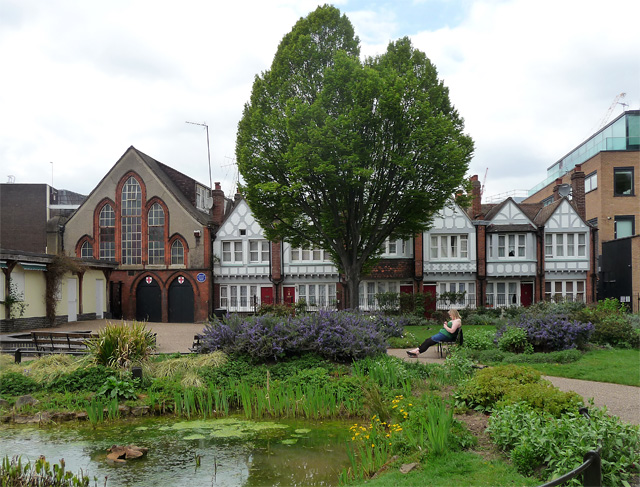 Cottages with adjacent hall. Photograph by Stephen Craven, originally posted on the geograph website, and licensed for reuse on the Creative Commons Licence. [Click on the image for a larger picture.]
Described by Historic England as model dwelling cottages, with gardens and community hall, this row of six cottages in their pleasant setting fully expresses Octavia Hill's ideals "as the pioneer of wholesome, well designed working-class housing." Gillian Darley sees them as tending towards the "Tyrolean" in style (see Darley), but their gabled, stucco-panelled and tile-hung fronts, with jettied upper storeys and mullioned bays, were more probably influenced by the Arts and Crafts movement of the time. The hall is differentiated from the residences by its striking Gothic Revival frontage.
History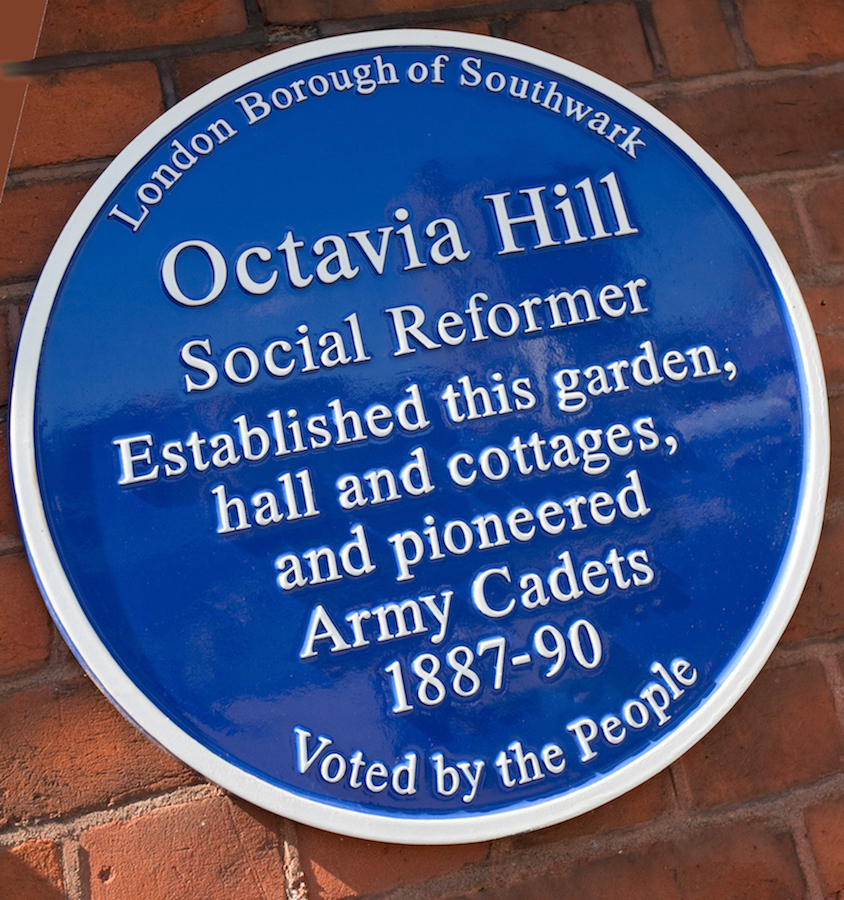 In 1884, the Ecclesiastical Commissioners turned to Octavia Hill, by now well known as a housing reformer, to manage "a great part" of the property they owned in Southwark, which was now in very poor condition:
She was asked to attend a meeting of that body. They wished to learn if she would buy some old courts belonging to them. This, she said, was impossible. Then they asked if she would take a lease of these same houses; and, when she declined to do so, they asked if she would undertake the management. This she consented to do; and the Commissioners were so much impressed with the capable business-like character of her remarks, and with her subsequent management, that they afterwards extended the territory under her care.
This gave her a chance, for the very first time, to plan some cottages right from scratch. Also important was the fact that "Red Cross Hall and Garden gave further occasion for her development of entertainments and outdoor-life for the poor" (Hill 440). Octavia later wrote to her fellow-workers explaining how she had set about making it from unpromising beginnings:
It was, when handed over to me, a waste, desolate place. There had been a paper factory on one half of it, which had been burnt down. Four or five feet of unburnt paper lay in irregular heaps, blackened by fire, saturated with rain, and smelling most unpleasantly. It had lain there for five years, and much rubbish had been thrown in. A warehouse some stories high fronted the street on the other half of the ground, with no forecourt or area to remove its dull height further from the rooms in the model dwellings which faced it. Our first work was to set bon-fires alight gradually to burn the mass of paper. This took about six weeks to do, tho' the fires were kept alight day and night. The ashes were good for the soil in the garden, and we were saved the whole cost of carting the paper away. Our next task was to pull down the warehouse, and let a little sun in on our garden, and additional light, air and sight of sky to numerous tenants in the blocks in Red Cross Street.
The next work was to have a low wall and substantial iron railings placed on the side bounded by the street, so that the garden could be seen and the light and air be unimpeded.
Then came the erection of a covered playground for the children; it runs the whole length of a huge warehouse which bounds the garden on one side. It is roofed with timber from the warehouse we pulled down, and the roof is supported by massive pillars. The space is paved with red bricks set diagonally, so as to make a pretty pattern. At one end of this arcade is a drinking fountain.
The roof of this covered playground is flat, and forms a long terrace, which is approached by a flight of stairs. [454]
As usual, Octavia continued to be involved in the project long after the opening, encouraging the planting and tending of the gardens, and attending flower shows there. She was also involved in decorating the hall, writing to her mother in the spring of 1889 to say that she and Miranda had been there to see a gift of "the loveliest panels, painted for Red Cross Men's Club." It consisted of a "large set of water lilies and other water plants, with bulrushes and kingfishers for the centre over the mantelpiece," another with "swallows and wild roses, one with titmice, one with a wren, and one with a robin...." Delighted, she ended her description by asking her mother, "Will it not be nice to have all that colour down in Southwark?" (489).
She also encouraged the tenants to participate in a variety of activities in the hall, ranging from musical performances to army cadet training for the boys. She had great faith in this training as a discipline for the London lads, and in 1909, when she was alarmed to learn of new arrangements which would limit the upper age to seventeen, she wrote,
The First London Battalion, founded in 1887, has always been linked closely with our work in Southwark, two companies drilling in the Hall, and the headquarters of the battalion being quite near. The health, the physique, and the moral training of our lads have owed much to it. More than eight thousand boys have passed through its ranks; and many have done honourable service for their country both by sea and land. [571]
This is the work which is remembered, along with her housing project here, on the blue plaque shown above (this image too comes, with thanks, from Octavia Housing).
Related Material
Bibliography
Darley, Gillian. "Hill, Octavia (1838–1912), housing and social reformer." Oxford Dictionary of National Biography. Online ed. Web. 1 August.
Hill, Octavia. The Life of Octavia Hill as Told in Her Letters. Ed. Charles Edmund Maurice [F. D. Maurice's son]. London: Macmillan, 1913. Internet Archive. Contributed by Robarts Library, University of Toronto. Web. 1 August 2018.
"Redcross Cottages, Redcross Way, Southwark, Greater London." Historic England. Web. 1 August 2018.
---
Created 1 August 2018