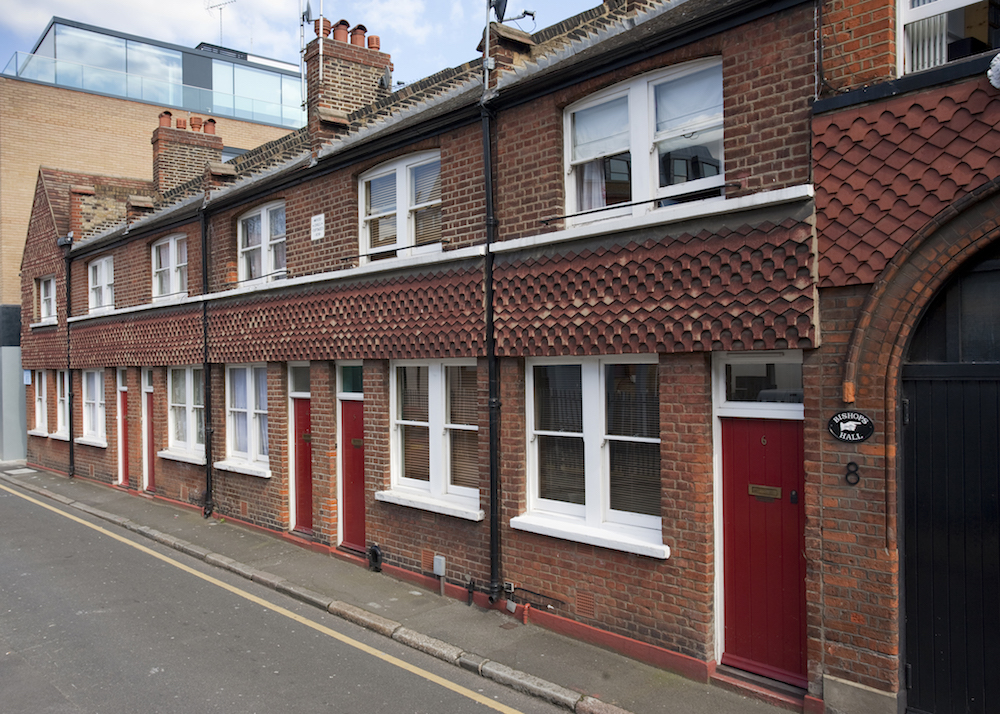 White Cross Cottages, Ayres Street, Southwark, London SE1. Architect: Elijah Hoole (1838-1912). Completed 1890. This row of Grade II listed six two-storey cottages is part of a larger group, which includes Bishop's Hall (partly visible on the far right here) and George Bell House, the hall leading through to the Red Cross Hall on the other side, with Redcross Gardens behind it. They are of red brick, tile-hung and with pitched tiled roofs, again showing the influence of the Arts and Crafts movement. The adjacent hall and house are gabled, the large door of the hall now giving access to studios.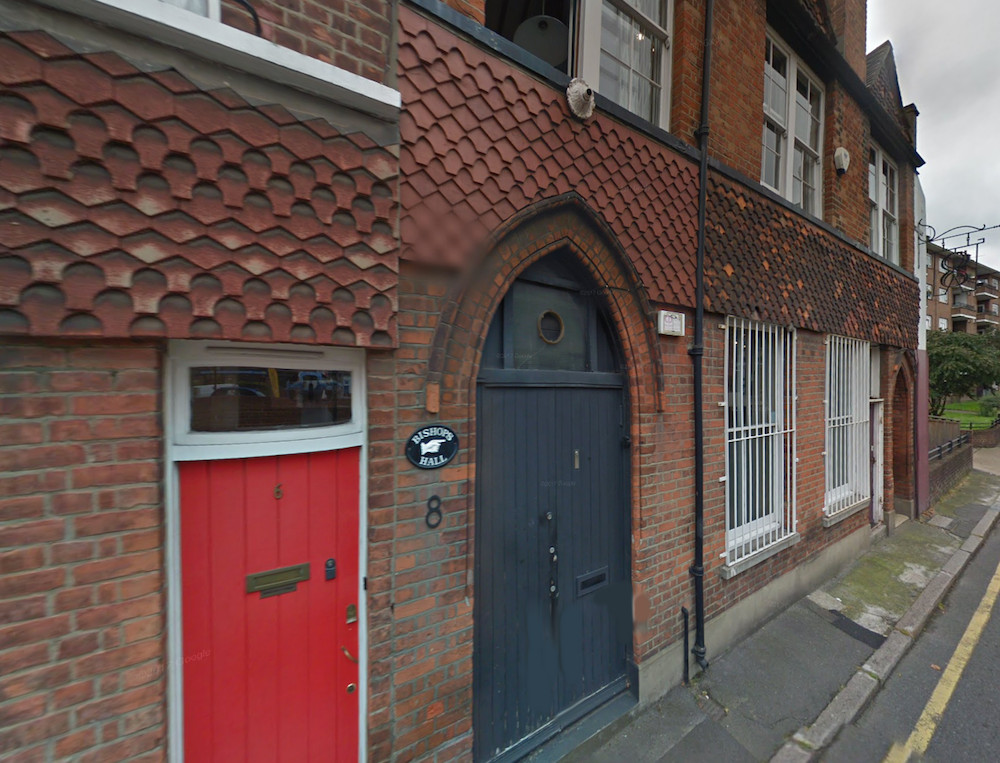 The rest of the row, following on from the sixth cottage. Source: Google Earth, displayed on the British Listed Buildings website, which gives an all-round view.
Octavia was delighted when the Ecclesiastical Commissioners' representative proved amenable to her ideas here. She wrote to her mother on 12 Novemeber 1880,
I saw him about what I call White Cross Cottages; and I think they will meet me most kindly about it. It will be very delightful if I can get six cottages there. It will widen the passage, preserve light and sight of sky in the garden, make the approach to the hall [of the Red Cross group] by night much better, besides providing six more pleasant homes for people near the garden. I am so very happy about it! I also had a very useful talk about the whole estate. [503]
The area had not been a salubrious one, so Octavia was pleased and relieved when two of the new cottages were let even before the work was complete (see 513).
Main photograph kindly provided by Octavia Housing. Caption and commentary by Jacqueline Banerjee. [Click on the images for larger pictures.]
Related Material
Bibliography
"Bishop's Hall and George Bell House". British Listed Buildings. Web. 1 August 2018.
Darley, Gillian. "Hill, Octavia (1838–1912), housing and social reformer." Oxford Dictionary of National Biography. Online ed. Web. 1 August 2018.
Hill, Octavia. The Life of Octavia Hill as Told in Her Letters. Ed. Charles Edmund Maurice [F. D. Maurice's son]. London: Macmillan, 1913. Internet Archive. Contributed by Robarts Library, University of Toronto. Web. 1 August 2018.
"White Cross Cottages." Historic Englnd. Web. 1 August 2018.
---
Created 1 August 2018