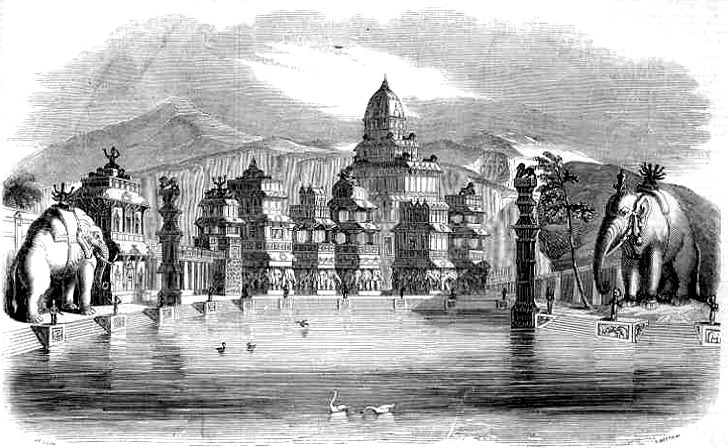 Panomarama: Temples of Elora at the Surrey Zoological Gardens. 1843. Illustrated London News. Scanned image and text by Philip V. Allingham.
The picture on the cover of the
Illustrated London News
for 10 June 1843 is associated with the .75 column story "New Picture-Model at the Surrey Zoological Gardens." (p. 396):
The Whitsun fetes at this very intellectual place of amusement, in addition to the menagerie (including the five giraffes lately engraved in our paper), and an al fresco concert, have introduced a pictorial novelty of great merit, upon the same extensive scale as the panoramas of Vesuvius, Hecla, and Rome, in former seasons. The new picture, by the same artist as its predecessors, Mr. Danson, is a stupendous representation of "the Wonders of Elora;" perhaps the most extensive and surprising monuments of ancient Hindoo architecture. They are situated about a mile to the east of Elora, a town near the ancient city of Dowletabad, in the East Indies; and the design has been executed by Mr. Danson, from a series of sketches taken on the spot by an officer of the Indian army. It is a vast mountain range, wrought into temples and palaces, partly subterraneous and partly isolated, hewn out of solid granite rock, highly sculp tured and profusely decorated. . . . . The great central object in the view is the gorgeous Temple of "Keylas the Proud." (396)
These buildings were explored several years earlier by a party under the command of Captain Seeley, who was much impressed by the "stupendous temple, with a large open court, hewn out of solid rock, with all its parts perfect and beautiful, standing proudly alone upon its native bed, and detached from the neighbouring mountain by a spacious area all round, nearly 250 feet deep, and 150 broad." Thus, the British public's taste for exotic locals and ancient buildings, so clearly evident in the popularity of Coleridge's Xanadu and George IV's Brighton Pavillion decades earlier, had not waned by the early 1840s, when Victorian Gothic was beginning to replace the staid University of London of the eighteenth century, as witnessed by the reconstruction of Cologne Cathedral in Germany (the front of which appeared on the cover of the 27 May 1843 "Supplement" to The Illustrated London News) and the Houses of Parliament at Westminster.
References
"Temples of Elora at the Surrey Zoological Gardens." Illustrated London News. (10 June 1843): 396.
---
Last modified 5 October 2006