Photographs, captions and commentary by the author. [You may use this image without prior permission for any scholarly or educational purpose as long as you (1) credit the photographer and (2) link your document to this URL in a web document or cite the Victorian Web in a print one.]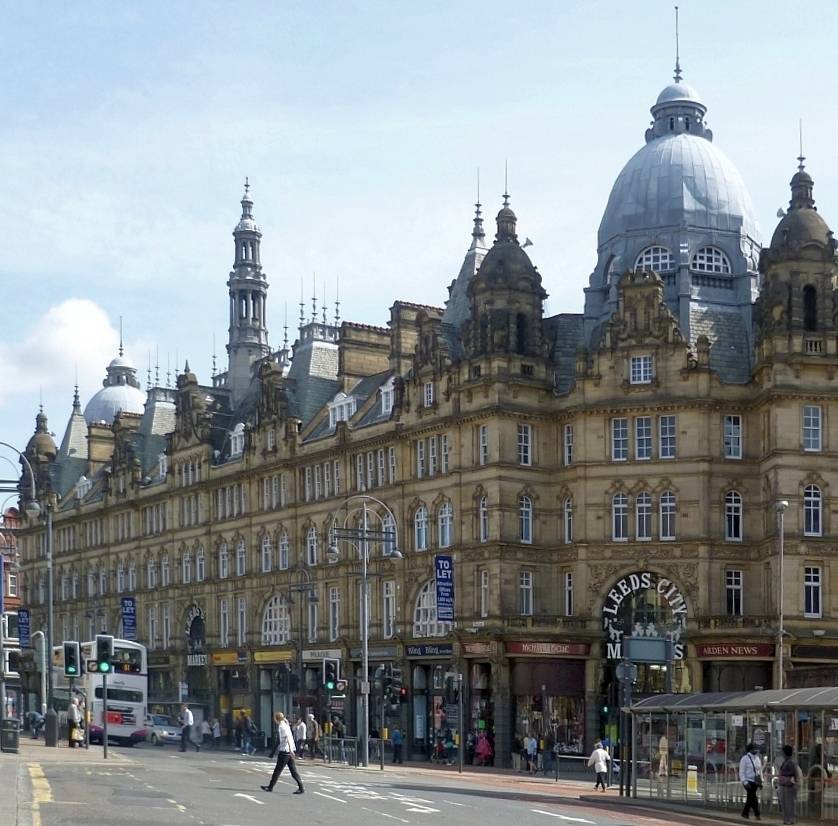 Leeds City Markets. Listed Building. Designed by John (1849-1931) & Joseph (1850-1929) Leeming — though their assistant Richard Fielding Farrar (1860-1948) was "responsible for much of the design work of the practise" ("Leeming & Leeming"). 1901-04. Ashlar, carved stone with granite, slate for roofing and lead casing for domes. Kirkgate and Vicar Lane, Leeds.
The Leemings had a London office, but were from Halifax. They won the competition to replace an earlier market hall of 1875 with this bold design for a massive building (eleven bays with four storeys and an attic), incorporating some additions to the earlier market on the east side. Peter Leach and Nikolaus Pevsner describe the Leemings' new complex as "[a]n extravagant display in Flemish style with Art Nouveau detailing, from draped well-fed putti ... supporting the entablature between shops on the ground floor, to the elaborate chimneys, balustrades, domes and steeple of the skyline" (426). Amongst other amenities, the complex includes eighteen shops and a hotel on the street frontage, and offices above.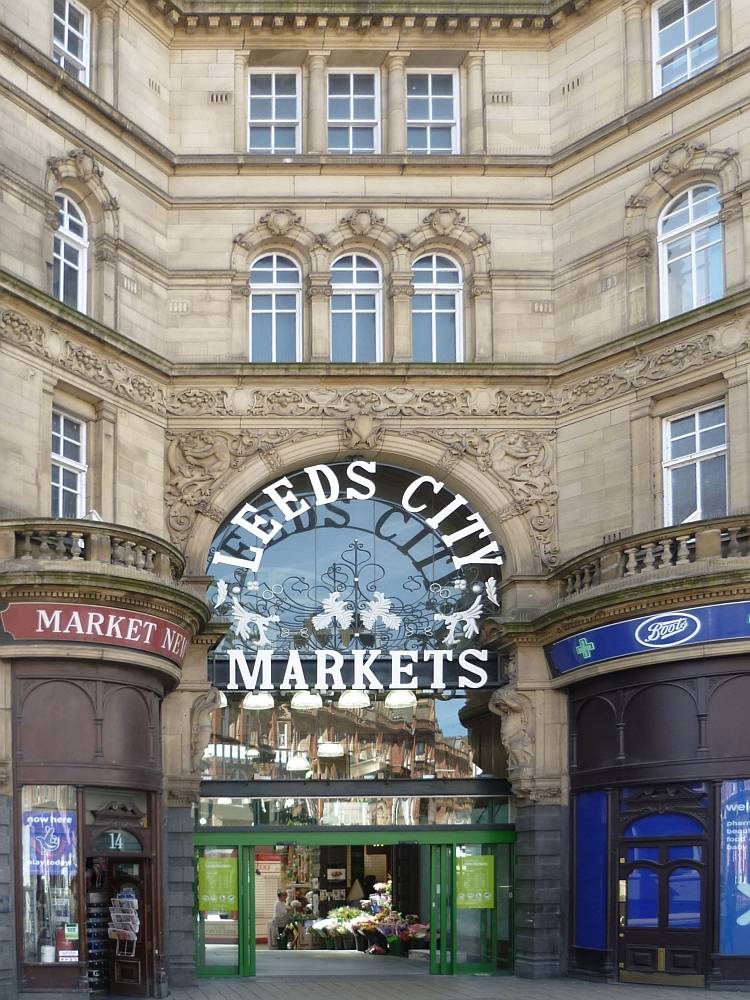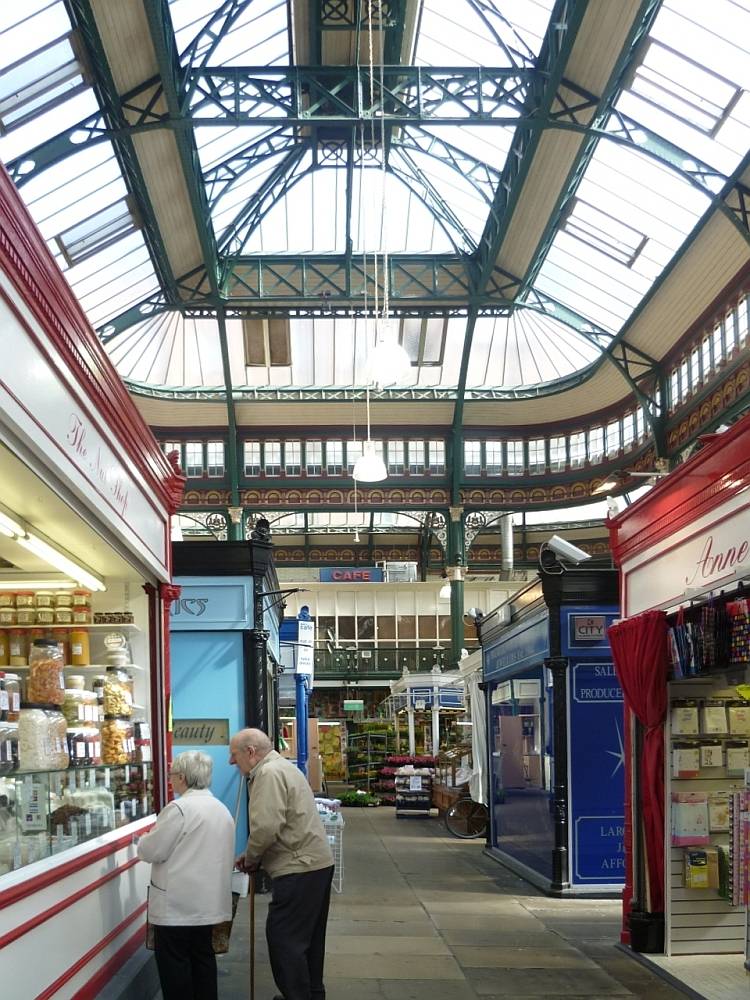 Left to right: (a) Vicar Lane entrance. (b) Podgy strategically-draped putti serve as little Atlantes for the ground floor entablature. (c) Bright interior of the market hall.
The front elevation stone-carving by (Joseph) Thewlis & Co. is elaborate but (apart from the rather overblown Baroque putti) delicate and somehow festive, with scrolling plant forms, fruit, goblet-like motifs and so on. In the spandrels of the entrance are Art Nouveau maidens bearing cornucopia. The whole suggests plenty — the same message as that conveyed by Thewlis's relief on Abtech House in Park Row, Leeds, with its representative groupings of realistic figures involved in turn-of-the-century international trading. Leeds had become a city by Royal Charter in 1893, and these are some of the grand new buildings that demonstrated its prosperity. The delicacy of the low-relief carving here helps lighten the rather overwhelming mass of the Markets' exterior.
The interior by engineers J. Bagshaw & Sons is bright and open, a spacious cast iron, steel and glass structure, with Corinthian columns, a gallery, clerestory and lantern roofs. The market hall was restored in the 1990s, much of the original design being retained.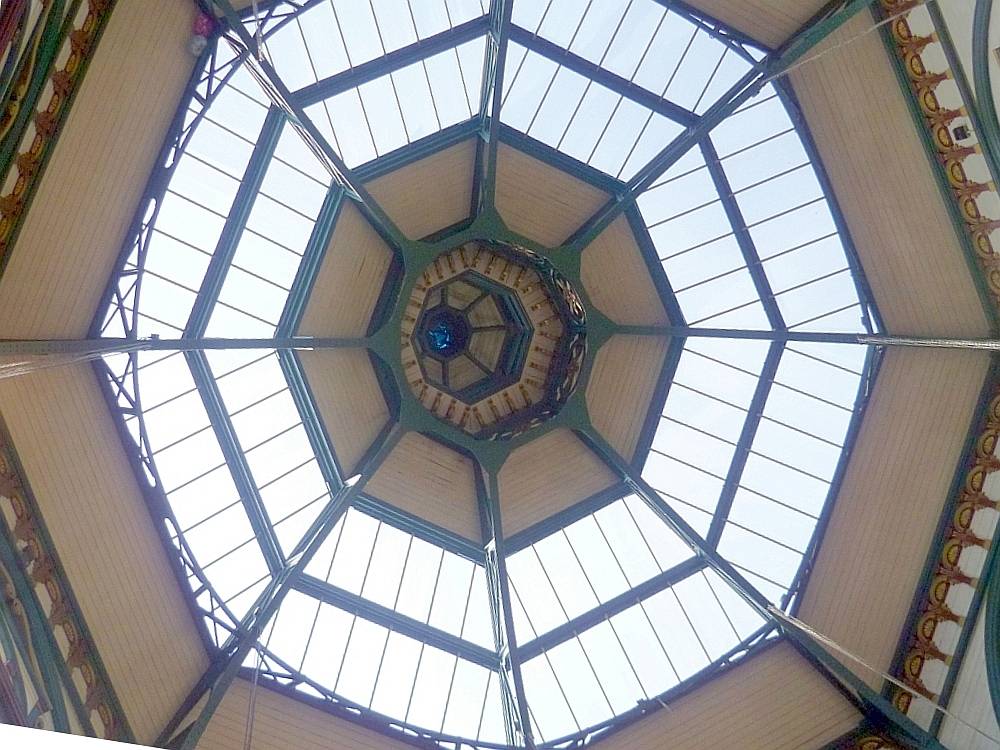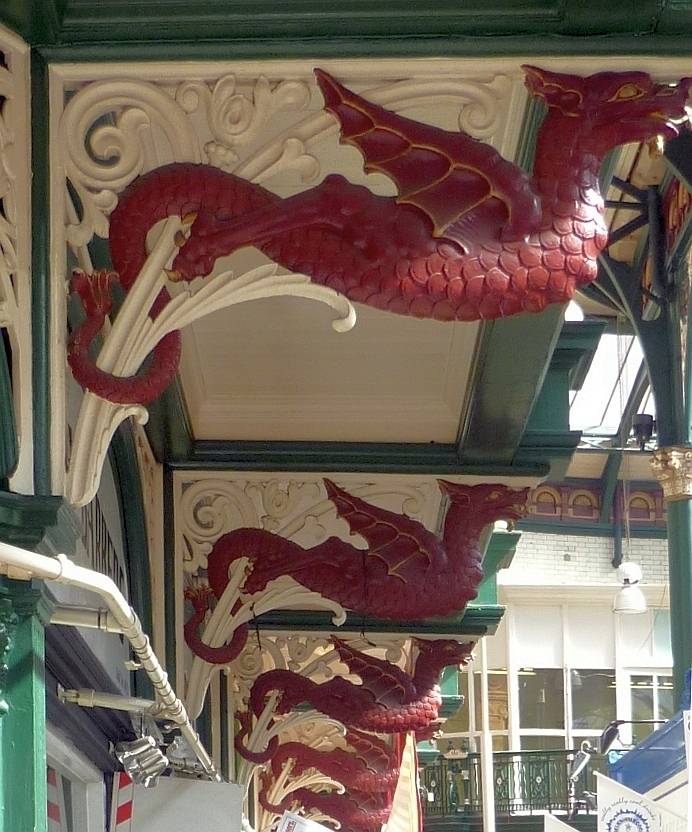 Left: The central octagon. This is very light, reminiscent of a Chinese parasol, perhaps because of its thin painted "spokes" and narrow panels. Right: The cast-iron brackets supporting the gallery. These take the form of rows of splendid wyverns — winged dragon-like creatures found in heraldry, with only two limbs — at first glance this seems to be another Eastern touch. Like London, Liverpool, and other port cities, Leeds had trading interests with China (note the Chinese trader in Thewlis's frieze on Abtech House, mentioned above) and was attracting Chinese immigrants during this period. But by making them wyverns rather than dragons, the designer has perhaps intended to distinguish Leeds from the capital with its ubiquitous city dragons, and establish its separate identity (see Dobraszczyk 223).
The 1875 market building that preceded this one has a special place in retail history because it was the first location of the firm of Marks and Spencer, which opened its first Penny Bazaar there in 1884. But, as the listing text reports, the new vast, impressive market, a showpiece of contemporary design in different materials, "was a spectacular addition to the shopping centre of the city which was transformed during the period 1875-1909." The complex is now a Grade 1 listed building.
Related Material
Bibliography
"1-21, Leeds" British Listed Buildings. Web. 15 October 2011.
Dobraszczyk, Paul. Iron, Ornament and Architecture in Victorian Britain: Myth and Modernity, Excess and Enchantment. London and New York: Routledge, 2016. [Review]
Leach, Peter, and Nikolaus Pevsner. Yorkshire West Riding, Leeds, Bradford and the North. The Buildings of England series. New Haven & London: Yale, 2009.
"Leeming & Leeming." Dictionary of Scottish Architects. Web. 15 October 2011.
Marks and Spencer Timeline. Your M&S. Web. 15 October 2011.
---
Last modified 27 April 2018