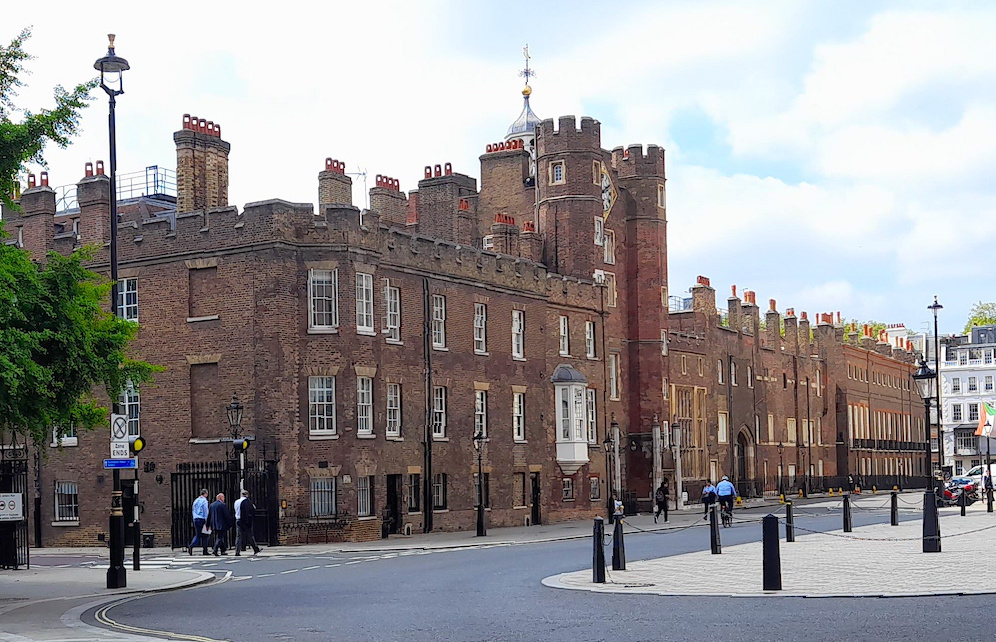 St James's Palace, seen from the west end of Pall Mall, on the north side. Built c. 1533-35 for Henry VIII, possibly to the design of Hans Holbein, the palace underwent later alterations, and needed much rebuilding after a major fire in 1809. But it remained one of the main royal residences for over 300 years. Since then the Grade I listed St James's has continued to be used for special functions (see Weinreb et al. 767).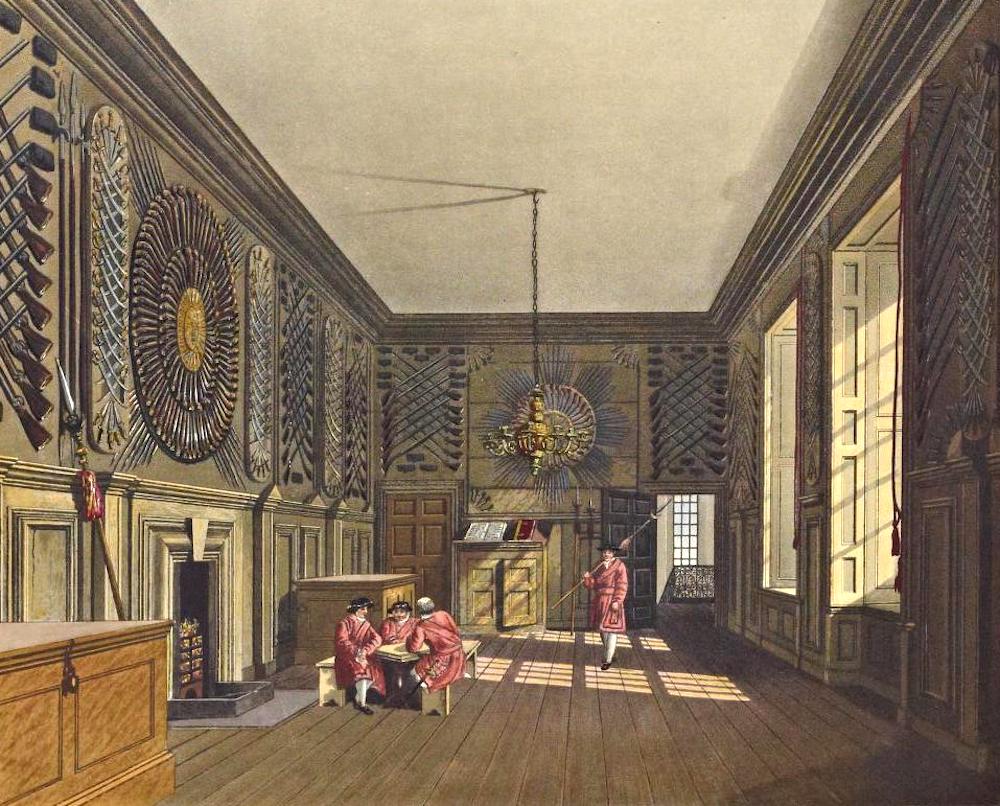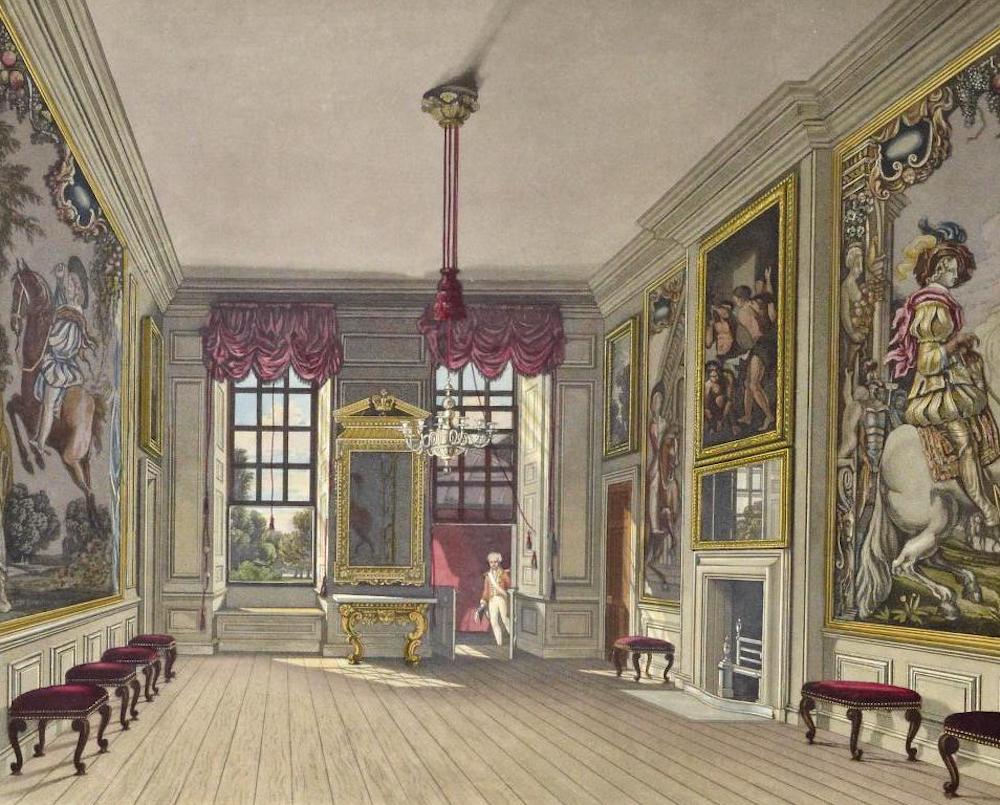 Two views of the original interior, by C. Wild. Left: The Grand Chamber (described in the text as the "Great Guard Chamber"). Source: Pyne, facing p. 9. Right: The Queen's Levee Rooms. Source: Pyne, facing p. 15.
One of the earliest references to the palace in Queen Victoria's journals comes from her entry on her fourteenth birthday, on 24 May 1833:
At ½ past 7 we went with Charles, the Duchess of Northumberland, Lady Catherine Jenkinson, Lehzen, Sir George Anson, & Sir John, to a Juvenile ball that was given in honour of my birth-day at St. James's by the King & Queen. We then went into the closet. Soon after the doors were opened & the King leading me, went into the ball-room. Mad. Bourdin was there as dancing-mistress. Victoire was also there, as well as many other children whom I knew. Dancing began soon after. I danced first with my cousin George Cambridge, then with Prince George Lieven, then with Lord Brook, then Lord March, then with Lord Athelone, then with Lord Fitsroy Lenox, then with Lord Emlyn. We then went to supper. It was ½ past 11. The King leading me again. I sat between the King & Queen. We left supper soon. My health was drunk. I then danced one more quadrille with Lord Paget. I danced in all 8 quadrilles. We came home [to Kensington Palace] at ½ past 12. I was very much amused. I was soon in bed & asleep. [152-53]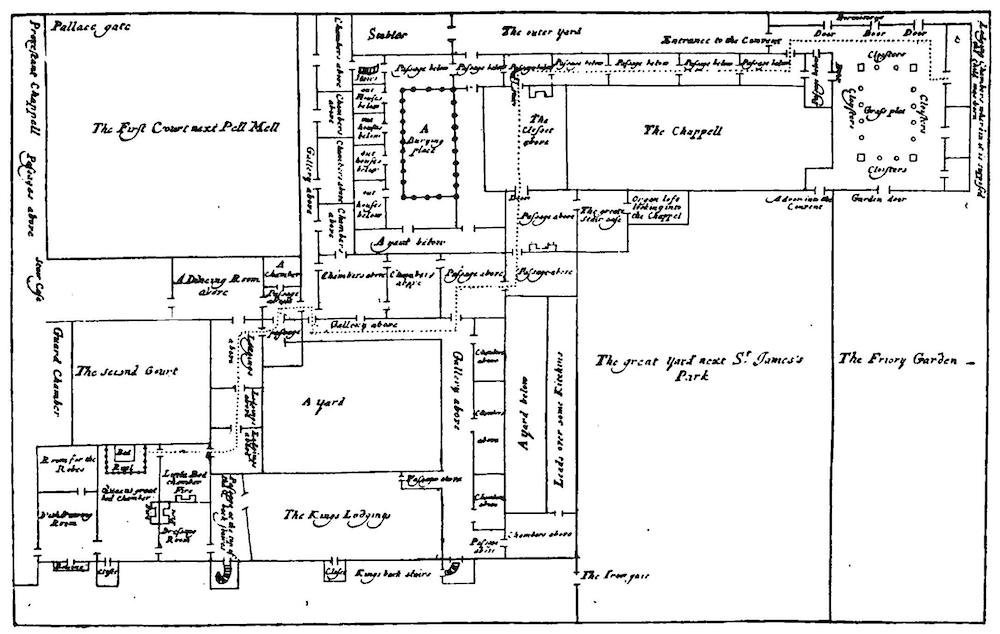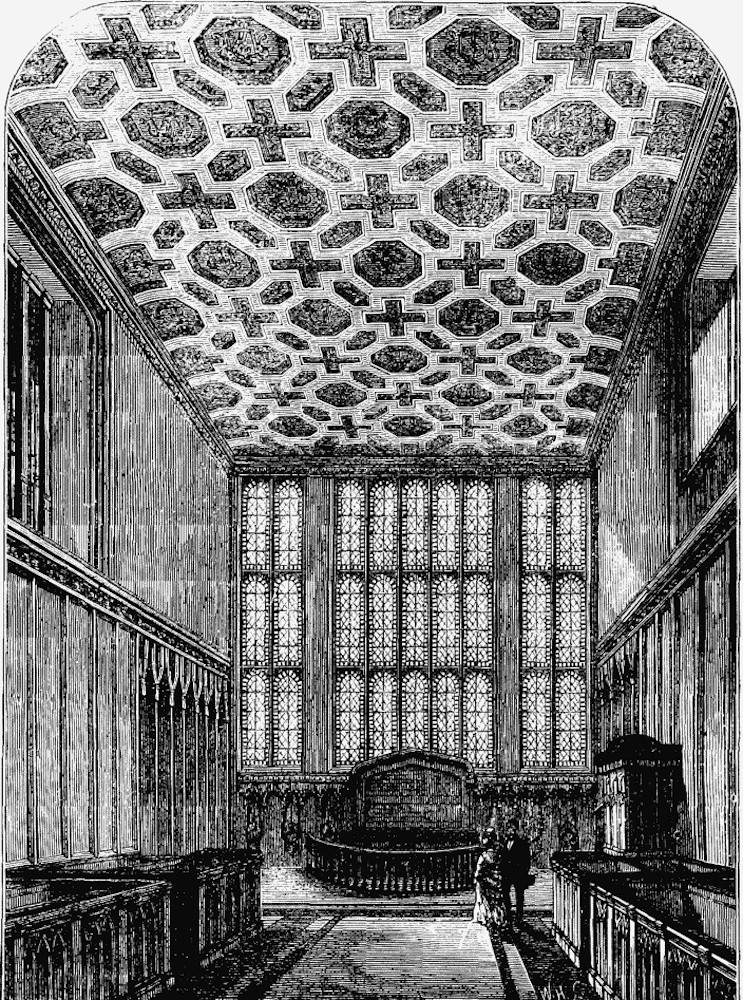 Left: Floor plan of the palace by Simon Burgis, 1689, from Sheppard, facing p. 12. This shows the location of the Chapel Royal in the palace complex. Right: Chapel Royal, St James's. Source: Walford.
The palace's Chapel Royal and gatehouse survived the fire of 1809, making them the most authentic parts of the original structure. Although the latter was redecorated in about 1836, the ceiling is still thought to be as Holbein (probably) designed it (see Mee 181). Queen Victoria would never live at St James's, but she would be married at the chapel in 1840, as would Princess Victoria in 1858 and the future George V in 1893. Royal christenings still generally take place there (see Weinreb et al. 148).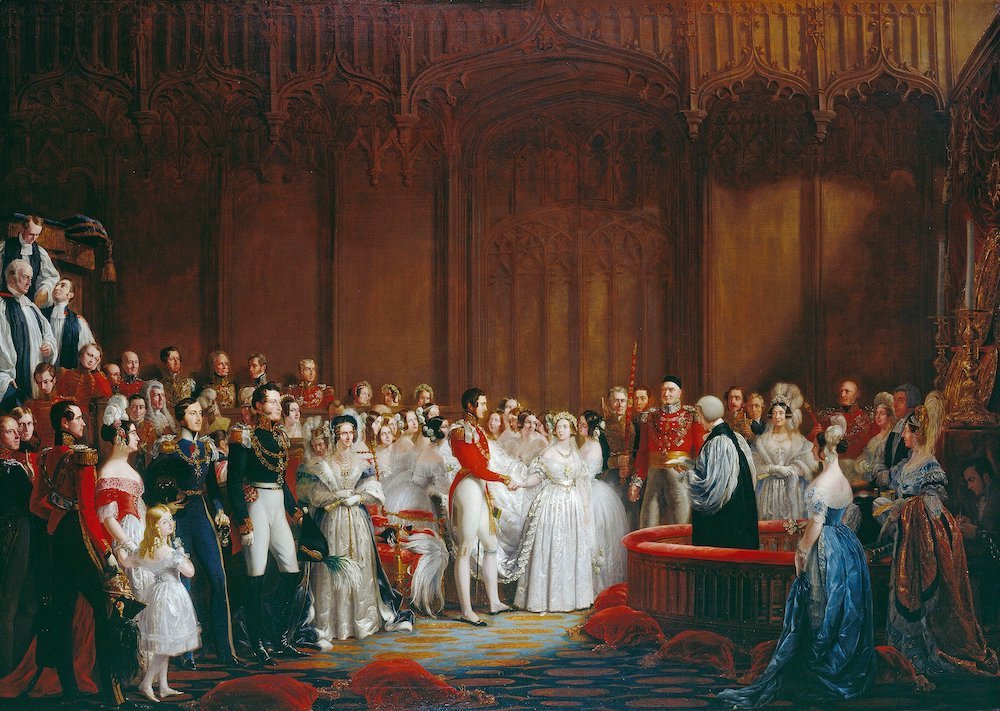 The Marriage of Queen Victoria, 10 February 1840, by George Hayter from the Royal Collection Trust (click on this for more information).
Talking of redecoration, "The Armoury and Tapestry Rooms retain their Tudor fireplaces and were redecorated by William Morris and the firm in 1866-67" (listing text). Among the many art treasures in the palace is Valentine Prinsep's huge work, The Imperial Assemblage held at Delhi, 1 January 1877, occupying the whole wall on one side of the Banqueting Chamber.
Related Material
Bibliography
Mee, Arthur. London: Heart of the Empire and Wonder of the World. The King's England series. London: Hodder and Stoughton, 1937.
Pyne, W. H. The History of the Royal Residences of Windsor Castle, St James's Palace, Carlton House, Kensington Palace, Hampton Court, Buckingham House and Frogmore, Vol. III. London: A. Dry, 1819. Internet Archive. Contributed by the Getty research Institute. Web. 2 August 2021.
Queen Victoria's Journals. Web. 2 August 2021.
"St James's Palace, Garden Walls, etc." Historic England. Web. 2 August 2021.
"St James's Wallpaper, 1881. King & McGaw. Web. 2 August 2021.
Sheppard, Edgar. Memorials of St James's Palace, Vol. 2. London: Longmans, Green & Co., 1894. Internet Archive. Contributed by Harvard University. Web. 2 August 2021.
Walford, Edward. "St James's Palace." Old and New London: Volume 4. London: Cassell, Petter & Galpin, 1878. 100-122. British History Online. Web. 2 August 2021.
Weireb, Ben, Christopher Hibbert, Julia Keay and John Keay, eds. The London Encyclopaedia. 3rd edition. London: Macmillan, 2008.
---
Created 2 August 2021