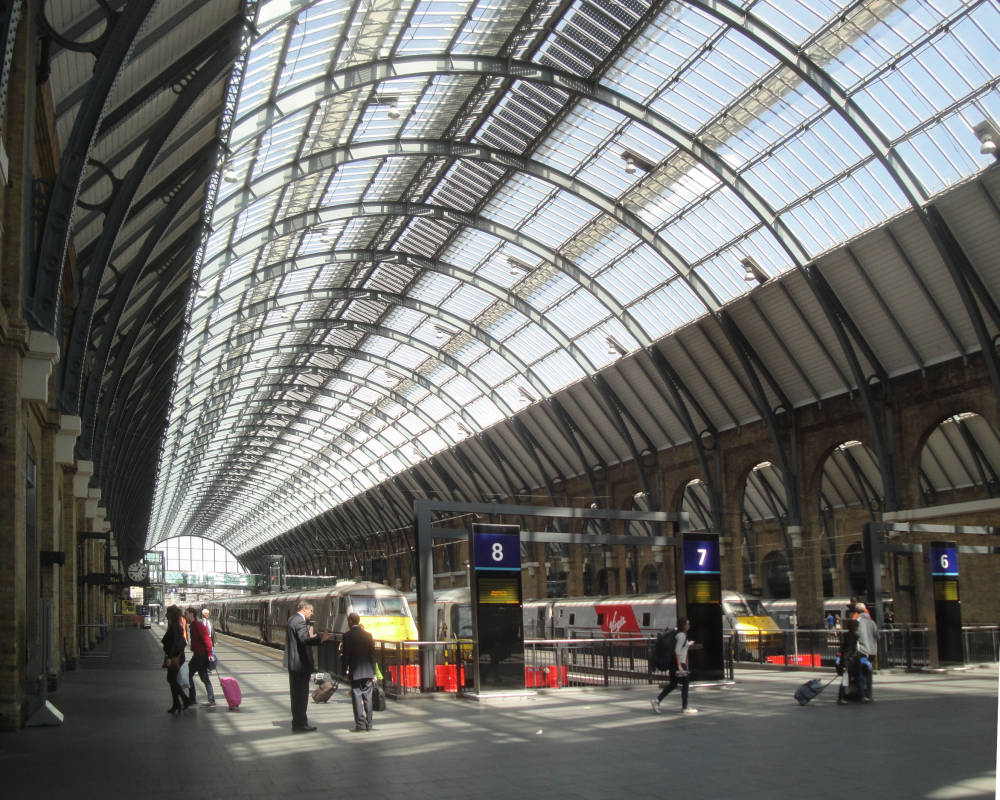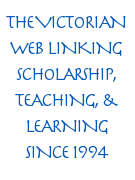 King's Cross Station designed by Lewis Cubitt. Source: Illustrated London News 23 October 1852. Builders: John and William Jay, Euston Road. 1852. Exterior view — Interior
"The ribs supporting the roof covering were originally of laminated timber but were replaced in steel. The roof spans are 105ft wide by 800ft long" [www.networkrail.co.uk].
Image scanned by Philip V. Allingham. This image may be used without prior permission for any scholarly or educational purpose.
Commentary by Stuart Durant
The London terminus of the Great Northern Railway was completed when the GNR reached Doncaster. Services were later extended to Bradford, Cambridge, Halifax, Leeds, Manchester, Nottingham, and Sheffield. All the important Yorkshire manufacturing towns were eventually served by the GNR. During the ascendancy of the Modern Movement, King's Cross was frequently cited as an example of proto-modernism and compared favourably with Euston's classicism — "display" as Nikolaus Pevsner described it — and the brilliant, though misguided, mediaevalism of St. Pancras. John Betjeman captured prevailing attitudes in architectural circles towards King's Cross in the 1930s: " . . . we were all told to admire King's Cross for its functional simplicity, an earnest of the new dawn. We were told to despise St Pancras for its fussiness though we were allowed to admire the engineer's roof. All the same I have an idea that St Pancras is the more practical station." (London's Historic Railway Stations, 1972)
In his account of London in his Buildings of England, 1952, Pevsner wrote "
Cubitt, perhaps because he came from a family of builders and engineers, looked at his job with equal pride but no romanticism. [He was comparing King's Cross with Hardwick's Euston.] The two arched roofs . . . are frankly displayed as the predominant motif of the fa�ade . . . The roof of the clock tower heralds the coming of the new Italian villa ideals. Otherwise one does not look for �motifs' at King's Cross. The architect was satisfied to depend, as The Builder put it in 1851, 'on the largeness of some of the features, the fitness of the structure for its purpose, and a characteristic expression of that purpose'
It is worth pointing out that the Italianate features of King's Cross — notably the tower as cited by Pevsner — could well reflected Prince Albert's enthusiasm for Karl Friedrich Schinkel's Italianate designs for the Prussian royal family — notably his work at Charlottenhof. Albert, incidentally, had chosen Lewis' alder brother Thomas as his architect for Osborne House (1845-48), the summer home of the royal family on the Isle of Wight. Thomas Cubitt (1788-1855), who had begun his career as a carpenter, was the greatest London speculative builder and developer of the 1820s. Belgravia, Bloomsbury, Pimlico and Tyburn were largely built by him and he made an immense fortune. Lewis Cubitt also built the Great Northern Hotel (1854) — the oldest hotel in central London — which adjoins King's Cross. Unlike the station, it is of no remarkable architectural distinction, though the passing years have given it a charming patina. It is recommended for those wishing to spend a night in London before going on to Luton Airport. When King's Cross is restored the space between King's Cross and St Pancras International will form a magnificent piazza. The two stations will supply a vivid lesson in the polarities of nineteenth-century architecture. (Lewis Cubitt was a very successful bridge designer — much of his work was overseas. He deserves more attention than he has received from historians.)
---
Last modified 3 April 2010