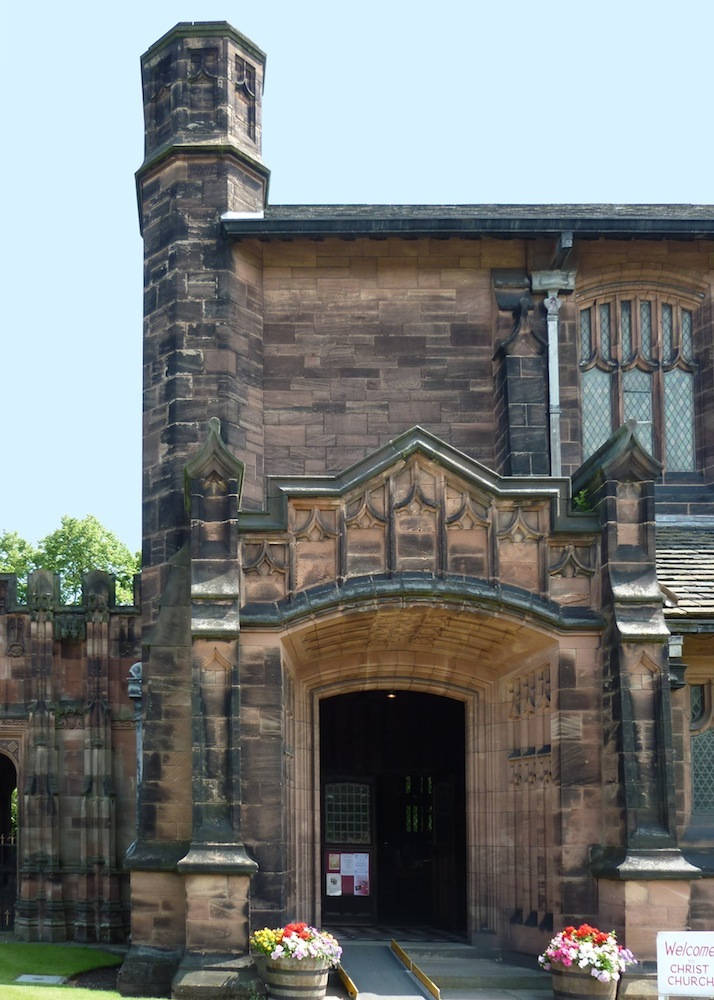 William Owen, F.R.I.B.A (1846-1910) was born in Latchford, Warrington, Cheshire, and trained as an architect under John Lowe (1828-1920) of Manchester, becoming his assistant, and later, for a few years, assistant to another architect, James Redford (c.1836-1911). He travelled to Europe, taking in Belgium and Holland as well as France and Switzerland, after setting up his own practice in Warrington in 1869. In 1896 he went into partnership with the elder of his two architect sons, Segar Owen, F.R.I.B.A. (1874-1929). Their partnership was based in Warrington, though they also had an office in Manchester (see "Brooklands Road Conservation Area"), and were kept busy at Lord Leverhulme's model village, Port Sunlight, on the Wirral peninsula in Cheshire. William died in Warrington in 1910. His younger son Geoffrey (1887-1965), who also joined the firm, became a partner in it two years later in 1912. He was involved in designing the Lady Lever Art Gallery there (see Hartwell et al. 536) and is sometimes credited entirely with it (see"Port Sunlight").
Although the Owens are best known for their work at Port Sunlight, William's obituary in The Builder of 30 April 1910 makes it clear that their practice in the Warrington area was just as important (see p. 500). Their works there included St Barnabas Church (Bank Quay, 1879), the School of Art (Museum Street, 1883), Parr Hall, an important concert and theatre hall (Palmyra Square South, 1895), St Clement's Chapel and mission buildings (Bank Street, 1897, since demolished) and Warrington Technical School (Palmyra Square South, 1900-02). Parr Hall and the Technical School are both now Grade II listed buildings.
The conservation report mentioned above comments aptly on a hotel built by the partnership in Manchester in 1898: "Normanhurst was designed by the local architect William Owen, whose office was in Deansgate in the City Centre. Although his work lacks the originality of the nationally celebrated Arts and Crafts architects of the period (such as Norman Shaw, Voysey, Lethaby and Ashbee), his work on Normanhurst is influenced by that of Shaw, clearly employing elements of the Arts and Crafts style in the use of red 'Accrington' brick for the lower half of the building and for the vertically-enhanced and detailed chimneys, and white render with black-painted half-timber details in the upper half." This is true also of the firm's housing at Port Sunlight. However, both the church and art gallery there, in their very different styles, are very distinguished and striking buildings. — Jacqueline Banerjee (with many thanks to the kind people at the Warrington Museum and Art Gallery, who answered some of my questions).
Works
Sources
Beeson, Edward William. Port Sunlight, the Model Village of England: A Collection of Photographs by Edward Beeson. New York: The Architectural Book Publishing Company, 1911. Internet Archive. Web. 1 September 2013.
Brodie, Antonia. Dictionary of British Architects 1834-1914. Vol. 2, L-Z. London: Continuum, 2001.
"Brooklands Road Conservation Area: Architectural and Historic Qualities of the Buildings." Manchester City Council. Web. 1 September 2013.
Curl, James Stevens. Oxford Dictionary of Architecture and Landscape Architecture. 2nd ed. Oxford: Oxford University Press, 2006.
_____. Victorian Architecture. Newton Abbot: David & Charles, 1990.
Davison, T. Raffles. Port Sunlight: A Record of its Artistic & Pictorial Aspect. London: Batsford, 1916. Internet Archive. Web. 1 September 2013.
George, Walter Lionel. Labour and Housing at Port Sunlight. London: Alston Rivers, 1909. Internet Archive. Web. 1 September 2013.
Hartwell, Clare, Matthew Hyde, Edward Hubbard and Nikolaus Pevsner. Cheshire . The Buildings of England series. New Haven & London: Yale University Press, 2011.
Hubbard, Edward, and Michael Shippobottom. A Guide to Port Sunlight: Including Two Tours of the Village. Rev. ed. Liverpool: Liverpool University Press, 1996.
Obituary. Mr William Owen." The Builder. 30 April 1910: 500 (available at Google Books, but on a very, very restricted view). Web. 1 September 2013.
"Parr Hall, Warrington." British Listed Buildings. Web. 1 September 2013.
Pevsner, Nikolaus. South Lancashire: The Industrial and Commerical South. The Buildings of England series. New Haven & London: Yale University Press, 2002.
"Port Sunlight: How One Man Had a Dream — And Built It." Merseysider Magazine. Web. 1 September 2013.
"Technical School, Warrington." British Listed Buildings. Web. 1 September 2013.
---
Last modified 1 September 2013