Photographs and image capture by the author. [You can use these images without prior permission for any scholarly or educational purpose as long as you (1) credit the photographer or source and (2) link your document to this URL in a web document or cite the Victorian Web in a print one. Click on the images for larger pictures.]
Two different styles of houses in Queen Mary's Drive, an idyllic corner of Port Sunlight on the Wirral peninsula in Cheshire. Their traditional "Old English" feel contrasts effectively with the more austere dignity of the neoclassical Lady Lever Art Gallery nearby (see Curl 172).
As well as the factory, an entrance lodge and offices, the Warrington architect William Owen (1846-1910) designed the first twenty-eight houses at Port Sunlight, which were built in about 1889-90. He designed some of the later ones as well — from 1896 in partnership with his elder son Segar Owen (1874-1929). William's other architect son Geoffrey (1887-1965) joined the family firm after his father's death. But, as might be expected of a village with some 900 houses and various public buildings, spanning several decades, many other architects were involved too. Those working alongside Owen in the early stages included the Liverpool-based partnership of Grayson & Ould: George Enoch Grayson (1833/4-1912), his son George Hartwell Grayson (1871-1951), and Edward Augustus Lyle Oulde (1852-1909). Ould had once practised in nearby Chester, and was known for his skill in designing the kind of half-timbered housing for which Chester is so famous (see Brodie 10, Hubbard and Shippobottom 68).
Although most of the architects working at Port Sunlight were local like these two family partnerships, some were of national importance, notably Ernest Newton, Sir Ernest George and Sir Edwin Lutyens. It is a testimony to the quality of the regional architects' work, then, that "Port Sunlight is all worth seeing" (Hartwell et al. 537), and that nearly all the buildings are Grade II listed. Some areas of it are also considered "Parks and Gardens of Special Historic Interest" ("Port Sunlight Village Conservation Area").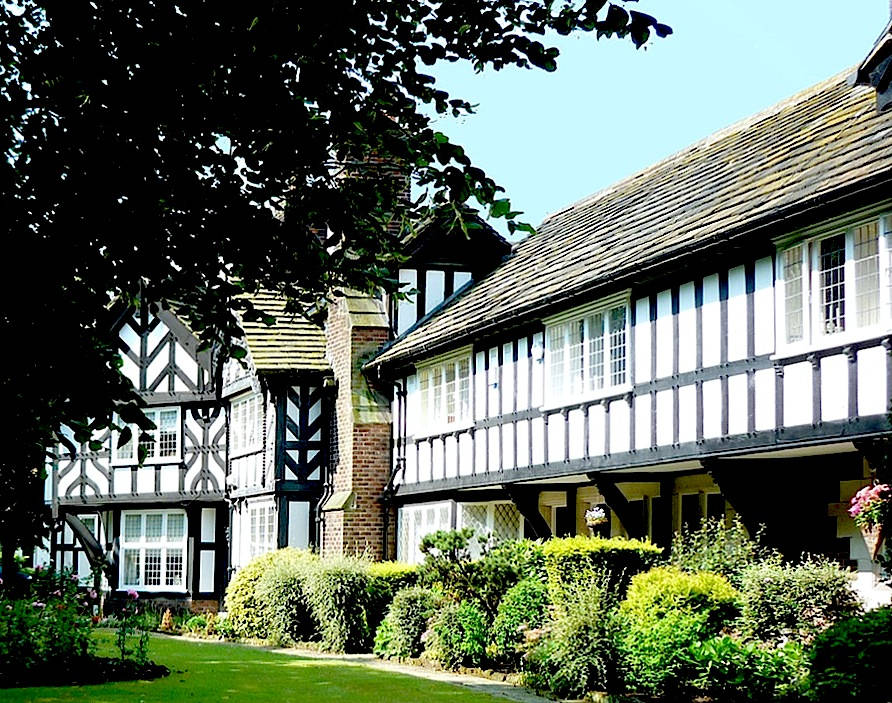 Left to right: (a) Some of the earliest cottages on Park Road, by William Owen. Source: Davison 8. (b) A row of later cottages by James Lomax- Simpson (1882-1977). (c) Semi-detached houses on Brook Street by Grayson & Ould (1906).
Owen's trend-setting cottages on Park Road (above left) have gables with finials and bargeboards. The upper storeys are half-timbered and jettied, with mullioned windows, and the lower storeys are of red brick. There is a clear continuity between these and the later homes (above centre) designed by James Lomax-Simpson (1882-1977), Lever's godson, who became Company Architect in 1910 (Hubbard and Shippobottom 25). Houses built in the intervening period, such as Grayson & Ould's semi-detached pair on Brook Street (above right) also harmonise well. Along with tile-hanging, and pebbledash for the lower floor and chimneystacks, these two houses still have timbered gables (see Taylor).
The materials used were "seven in number," writes Walter George: "brick (Ruabon), roughcast (grey, white, or yellow), tile, slate, beams (brown or green), plaster (white), and sandstone (red)." As George says, "This affords scope for very varied combinations, many of which are very pleasing to the eye" (67).
Leverhulme himself was "disposed towards the 'Old English' of vernacular and Elizabethan revivalism and greatly admired the timber-framing of north-west England," so it is hardly surprising that from beginning to end the most prevalent style should have been Tudor revival in the Art and Crafts mode. The many variations on this style may also stem from from Leverhulme's own keen interest in "[q]uality of materials and craftsmanship and perfection of detail" (Hubbard and Shippobottom 4). Moreover, a number of quite different styles are picturesquely interspersed.
Grayson & Ould's Belgian-style houses on Windy Bank (1907).
The group of houses on Windy Bank shown above is a case in point. Built in 1907, the group is only a little later than the semi-detached houses on Brook Street designed by the same partnership, but it has stepped gables and a prominent turret, and was even built with bricks imported from Belgium. It represented a short-lived plan to design some of the houses in the styles of countries where Lever Brothers had established factories (see Hubbard and Shippobottom 27).
Two other blocks by Grayson & Ould. Left: 14-16 Church Drive (1900). Right: 6-13 Church Drive (1905).
Grayson & Ould employed different styles again on Church Drive. The block from 1900-01 (see "14-16, Church Drive") has brick banding and a dramatic rounded pediment with the initial "L" for Lever inside a cartouche. The year 1900 appears on either side of the cartouche, along with pargetted swags and ribbons — giving more than a hint of Belle Epoque, to which Leverhulme was also partial (this is observable in the layout too, Hartwell et al. 532). The sash windows, standing out in their white frames, are unusual at Port Sunlight. The plainer block at 6-13 Church Drive (above right) features a variety of gables, including tile-hung ones. Pebbledash has been used for the upper storey, with a mellower brick below. There was much rebuilding here because of war damage (see "6-13, Church Drive").
A block on Lower Road, by Grayson & Ould (1901)
The Lower Road block by the same partnership has a roughcast façade, featuring a tall chimneystack to the left side (almost matching that of the adjacent return), two gabled dormers of different sizes and heights, two bays with double rectangular bay windows, and tiled roofing of various depths. A contrasting band runs between the first storey and the attic storey. Not as showy as the block with the prominent date on its pediment, or some of the decoratively timbered cottages, it provides a good example of the subtler variations and inventive asymmetry found throughout Port Sunlight. The left return, not visible here, has an oriel (see "1-7, Lower Road").
It is sometimes pointed out that the interiors and backs of the houses were not designed to be as prepossessing as their frontages, and that the much-vaunted bathrooms were generally on the ground floor, some consisting only of a covered bath in the scullery (WCs were at the back; see the plan for Owen's 1-7 Park Road, Hubbard and Shippobottom 28). Nevertheless, Port Sunlight's low density housing, planned in small blocks set well back off the roads, with curves, corners and leafy interludes, could hardly contrast more with the kind of grim terraced housing previously available to workers in this area and elsewhere. It attracted much attention from the start, with Owen's design for the original houses winning the Grand Prix of the 1910 Brussels Exhibition. Ebenezer Howard (1851-1925), the architectural theorist and town planner who is generally considered the father of the garden suburb movement, called Port Sunlight a "most admirably planned industrial village" (106n.), and there is no doubt that it had a tremendous influence on the movement, in this country and beyond. More recently, it has been seen as "the most extensive and impressive" of the model housing estates established by industrialists towards the end of the Victorian period (Yarwood 247).
Close-up of a gable on a Lomax-Simpson group, with delicately carved bargeboard, many timber pins, and elegantly turned posts at the side of the windows.
Related Material
Sources
"6-13, Church Drive, Wirral." British Listed Buildings. Web. 3 September 2013.
"14-16, Church Drive, Wirral." British Listed Buildings. Web. 3 September 2013.
"1-7, Lower Road, Wirral." British Listed Buildings. Web. 3 September 2013.
Brodie, Antonia. Dictionary of British Architects 1834-1914. Vol. 2, L-Z. London: Continuum, 2001.
Curl, James Stevens. Victorian Architecture. Newton Abbot: David & Charles, 1990.
Davison, T. Raffles. Port Sunlight: A Record of its Artistic & Pictorial Aspect. London: Batsford, 1916. Internet Archive. Web. 3 September 2013.
George, Walter Lionel. Labour and Housing at Port Sunlight. London: Alston Rivers, 1909. Internet Archive. Web. 3 September 2013.
Hartwell, Clare, Matthew Hyde, Edward Hubbard and Nikolaus Pevsner. Cheshire. The Buildings of England series. New Haven & London: Yale University Press, 2011.
Howard, Ebenezer. Garden Cities of To-morrow (being the second edition of "To-morrow: a peaceful path to real reform"). London: Sonnenschien, 1902. Internet Archive. Web. 3 September 2013.
Hubbard, Edward, and Michael Shippobottom. A Guide to Port Sunlight: Including Two Tours of the Village. Rev. ed. Liverpool: Liverpool University Press, 1996.
"Port Sunlight Village Conservation Area." Wirral Borough Council. Web. 3 September 2013.
Taylor, Jonathan. "Edwardian Pebbledash and Roughcast." building conservation.com. Web. 3 September 2013.
Yarwood, Doreen. The Architecture of Britain. London: Batsford, 1976.
---
Last modified 4 September 2013