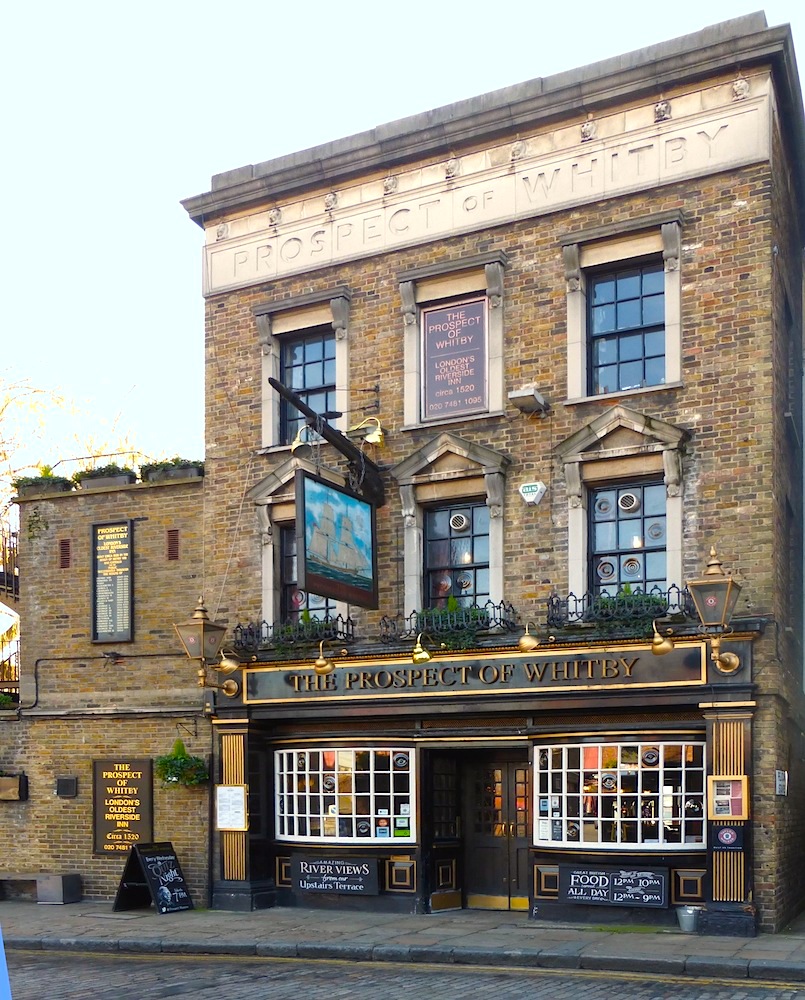 The Prospect of Whitby public house, seen from both sides.
The Prospect of Whitby, Wapping Wall, London E1. This three-storey Grade II listed building dates from the 1520s, when it was called "The Devil's Tavern" because it was the haunt of riverside ruffians, robbers and smugglers. But it was rebuilt after a fire in the eighteenth century (see Winn 148), and the listing text tells us that the yellow-brick front was refaced in the early nineteenth century. By then it had taken its present name from a ship called The Prospect, registered in Whitby, which was moored by the bank here for a long time and became a local landmark (see Weinreb et al., 667). The rear elevation is right on the Thames, and has a much patronised covered balcony. Flagging inside is said to be original (A Historical Riverside Walk) and the dado panelling on the first floor dates from the eighteenth century, so parts of the older building/s remain intact.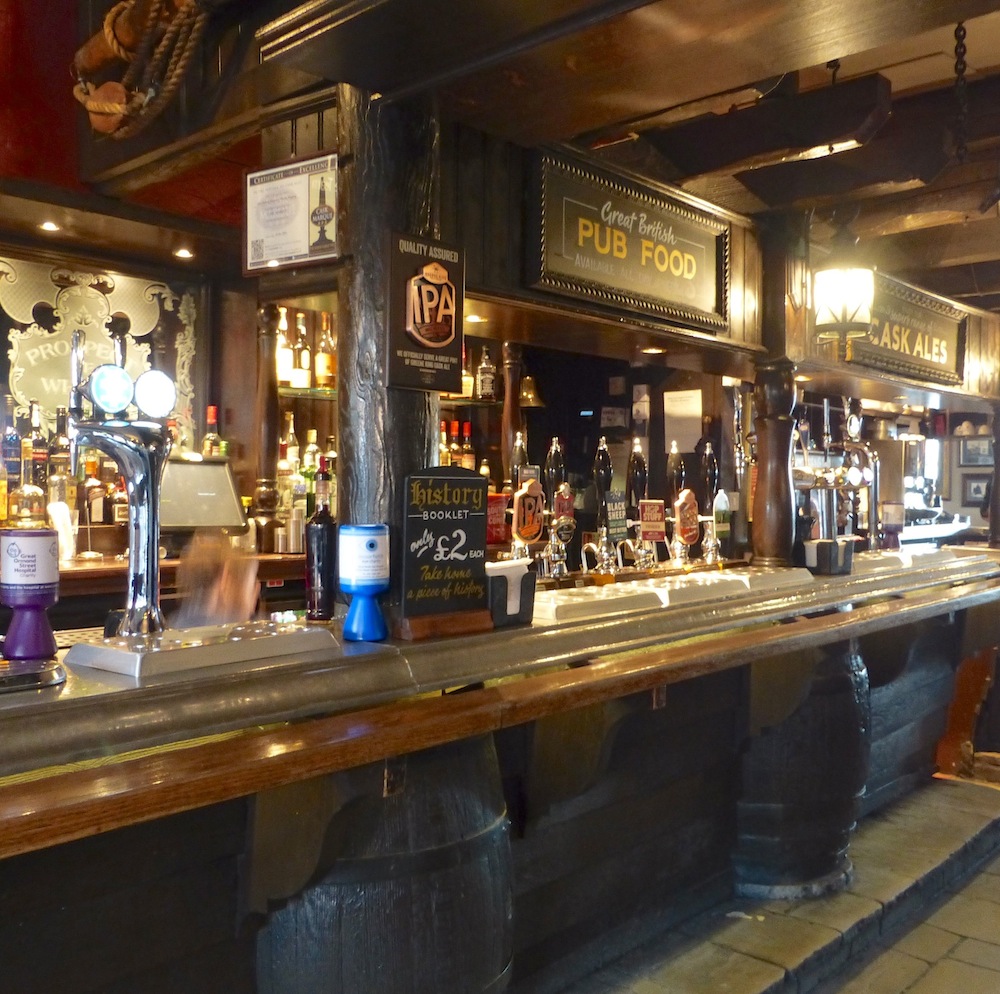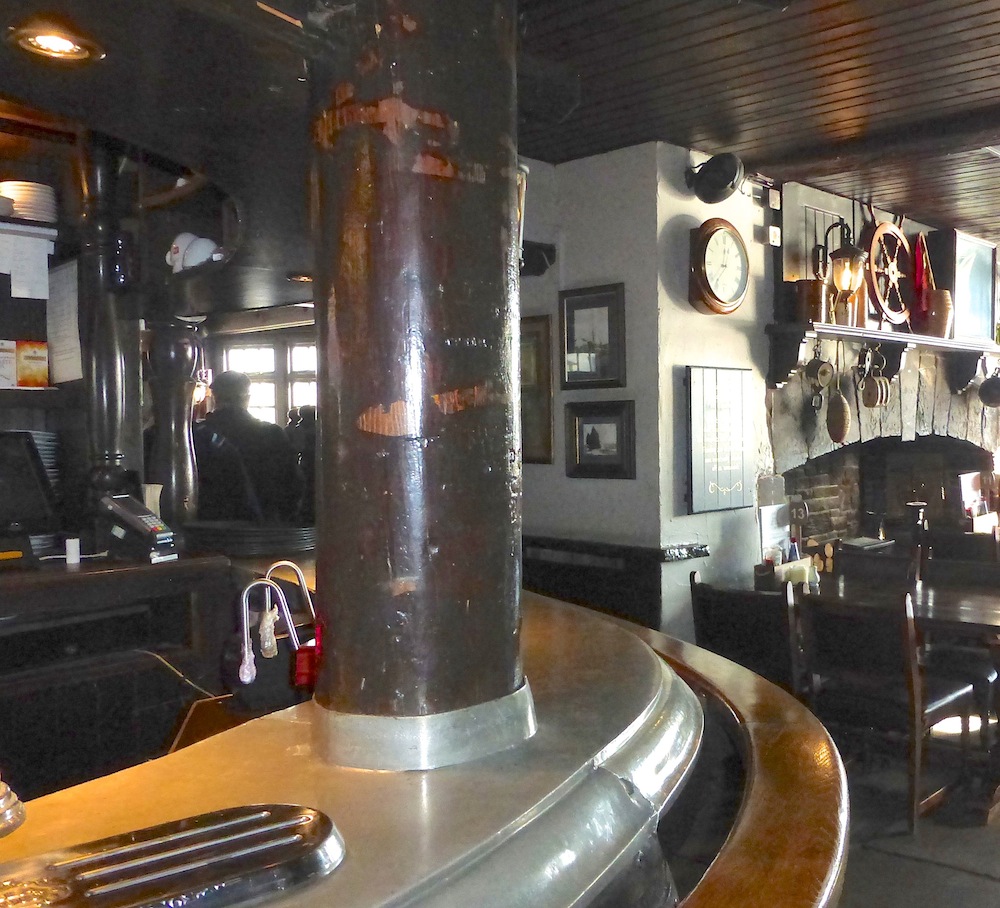 Two views of the bar, which has "a very rare pewter bar-top" (A Historical Riverside Walk).
The pub is important for two main reasons: first, because it is one of the few survivors from the past, amid all the refurbishment and re-purposing around it (principally, of warehouses converted into apartments); and secondly, because it has been frequented by various famous people, from Samuel Pepys and "Hanging Judge" Jeffreys earlier on, to Turner, David Cox, Dickens and Whistler in the nineteenth century. For example, Whistler's biographers, the etcher Joseph Pennell and his wife Elizabeth, say that he "stayed for months at Wapping to be near his subjects"; and Pennell heard that he stayed there "in a little inn, rather rough, frequented by skippers and bargees, close to Wapping steamboat pier" (62) — just such a place as this.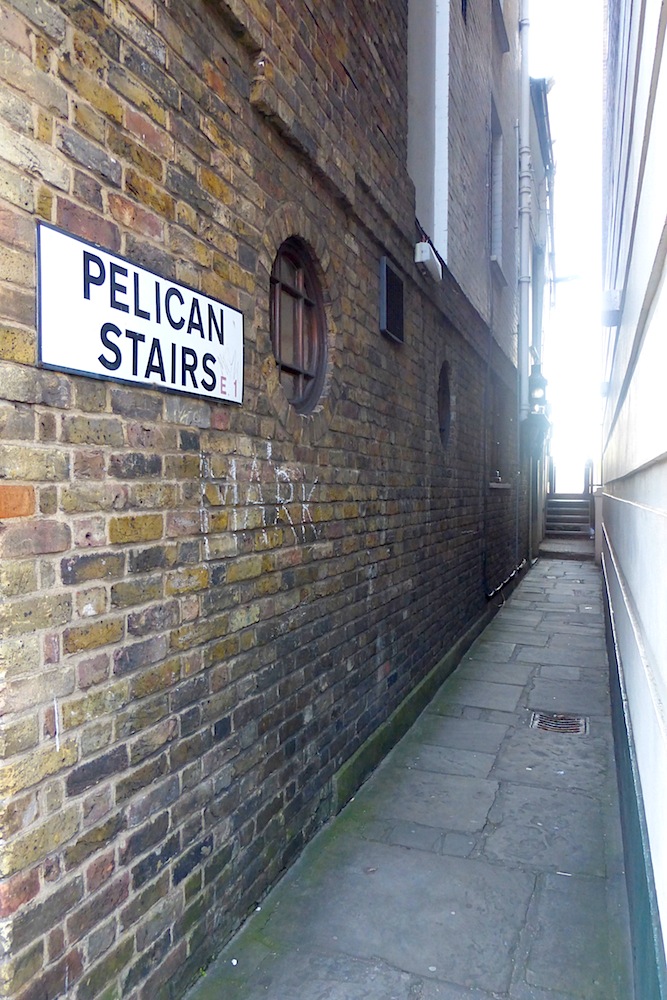 After a few steps up, the narrow Pelican Stairs passageway adjoining the pub leads down a longer and more perilous flight to the Thames shore.
The Prospect of Whitby has long been seen as a picturesque remnant of old London. It was described in 1915 as "an old inn right on the river" where "customers sit with their pipes and their pots of beer in an open balcony, hanging over the water, and stare at the barges" ("Discovering London"). But the days when Judge Jeffreys would sit here to watch the men he had condemned to death being hung at Execution Dock are (thankfully) well and truly gone!
Photographs and text by Jacqueline Banerjee. You may use these images without prior permission for any scholarly or educational purpose as long as you (1) credit the photographer and (2) link your document to this URL or cite the Victorian Web in a print document.
Related Material
References
"Prospect of Whitby Public House, Tower Hamlets" British Listed Buildings. Web. 13 February 2016.
"Discovering London: Fascination of the Riverside. Wapping Old Stairs." The Times. 31 August 1915: 9. Times Digital Archive. Web. 13 February 2016.
A Historical Riverside Pub Walk. Louis' London Walks series, available at the pub.
Pennell, E. R. and Joseph. The Life of James McNeill Whistler. Philadelphia: Lippincott, and London: Heinemann, 1909. Internet Archive. Contributed by the Universal Digital Library. Web. 13 February 2016.
Weinreb, Ben, et al., eds. The London Encyclopaedia. Third ed. London: Macmillan, 2008.
Winn, Christopher. I Never Knew That about London. London: Ebury Press, 2007.
---
Created 13 February 2016