Except for the image of the book cover, and the one showing the door at St Christopher, Gunnerton, the illustrations in this review come from our own website. Click on them for more information, and to enlarge them. They can be used without prior permission for any scholarly or educational purpose as long as you (1) credit the photographer and (2) link your document to this URL in a web document or cite the Victorian Web in a print one.
All over the country, churches are being deconsecrated and repurposed as homes, shops, offices, community hubs and so on. What else can you expect, in our increasingly secular age? Yet, so far at least, many have survived. Some are looked after by the faithful few who hold or attend services in them. Others are in the care of local groups, or charitable organisations like Friends of Friendless Churches and the Historic Chapels Trust. In both cases, they may be regularly open for visitors, or can be opened by arrangement — because, for believers and non-believers alike, these buildings are special. They are, without doubt, unique repositories of our spiritual and cultural heritage. Such indeed is their aesthetic appeal that "church-crawling" has become a popular pastime. Alec Hamilton's book, the first of its kind, introduces a wide selection of the most appealing churches, and is so pleasantly written, and so comprehensively and beautifully illustrated, that it will surely attract many new enthusiasts.
Part I, "The Context," of Hamilton's book is only about thirty pages long, but with double columns on each page it covers a vast amount of ground. He first sets out to establish his parameters by asking: "What is an Arts & Crafts Church?" and "Who was Arts & Crafts?" As for the former, he admits at the outset that it is "elusive and arguable" as a category (12); but soon afterwards he gives us all the definition we need: "churches built after about 1875 and up until about 1925 ... that were the work of architects and designers influenced by the various and visionary ideas of William Morris and John Ruskin; who were members of the AWG [Art Workers Guild] and/or the ACES [Arts and Crafts Exhibition Society]; or might have been, or should have been" (14). He then goes on to consider religious and social factors, contending that, unwittingly, the architects and artists who built, restored, extended and decorated these churches during the heyday of what we call the Arts and Crafts movement expressed a turning-point in modern life. This was when, in the ecclesiastical sphere, form began to do more than house and clothe meaning. It became valuable in and of itself. Much as the American poet Wallace Stevens suggested in his prescient poem, "The Man with the Blue Guitar," art was filling the space left in "empty heaven."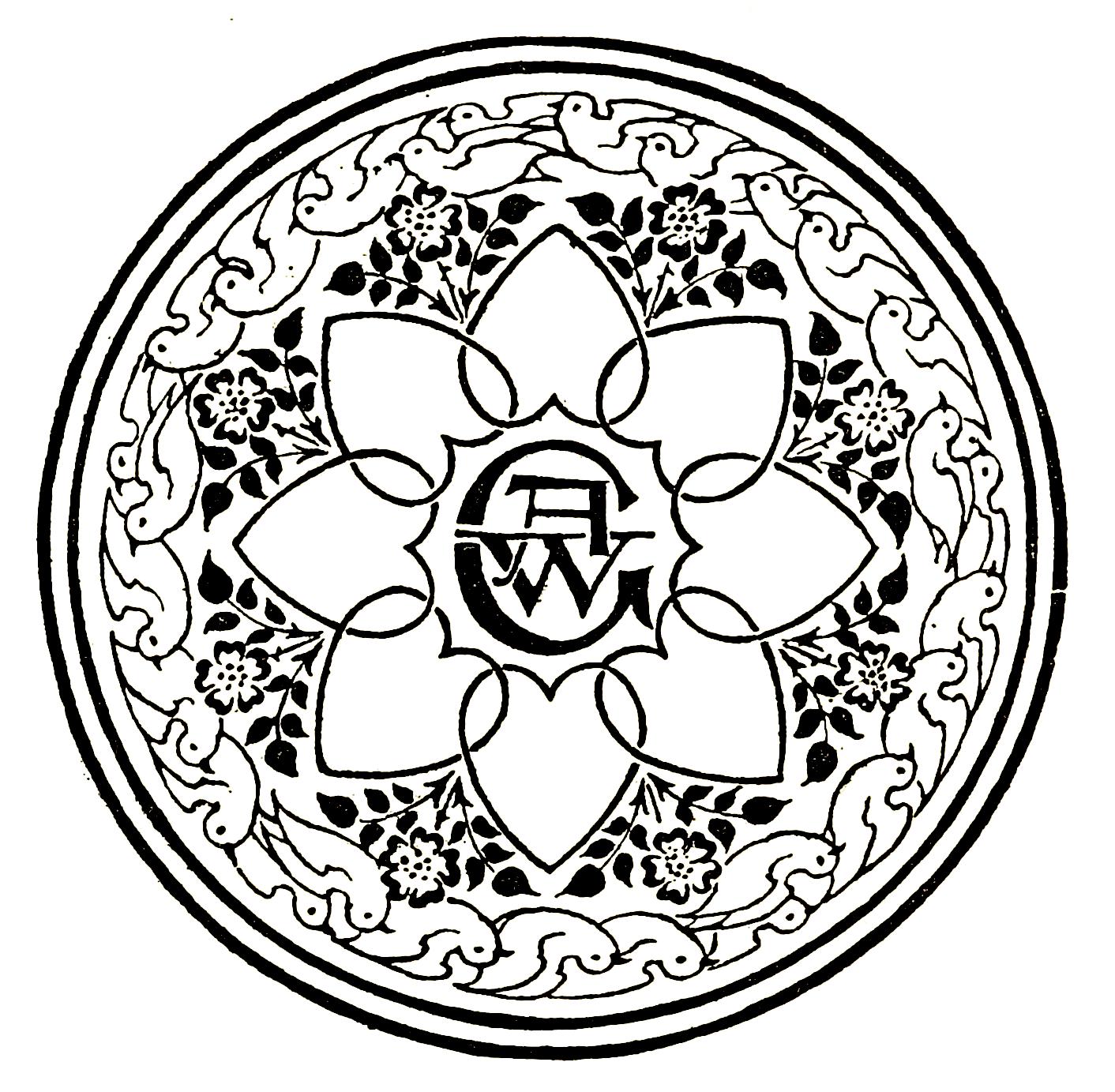 Device with the Art Workers' Guild's initials
Hamilton's style is friendly and relaxed, but his arguments are as well supported as any in a more strictly academic book. His survey has its full complement of endnotes as well as everyday examples. One interesting note, for example, gives the following statistics to back up his argument about the "loosening of central orthodoxy" (29): "In 1800 there were seventeen places of worship representing eight nonconformist denominations in Birmingham. By the end of the century (1892) there were 220 places representing 21 denominations" (qtd. p 322, n. 41). He adds to the same note, "The total of CofE churches for the period was about 60." As this suggests, Hamilton has a gift for picking out the telling detail to illustrate the larger picture. While statistical proofs might be offered in the notes, in the text itself he appeals to general knowledge — pointing out, for instance, that "passingly few Edwardian country houses were built with chapels, but most had billiard rooms" (32). What has happened, he says, is not so much "secularisation" as "irrelevancisation" (35). Of course some of the architects and designers Hamilton discusses were as devout as the benefactors who made their work possible — a surprising number of whom were wealthy women, determined to express their own religious impulses in tangible form, to the benefit of the community. But Hamilton is talking of the general trend in society as a whole, and its shift away from church-going altogether.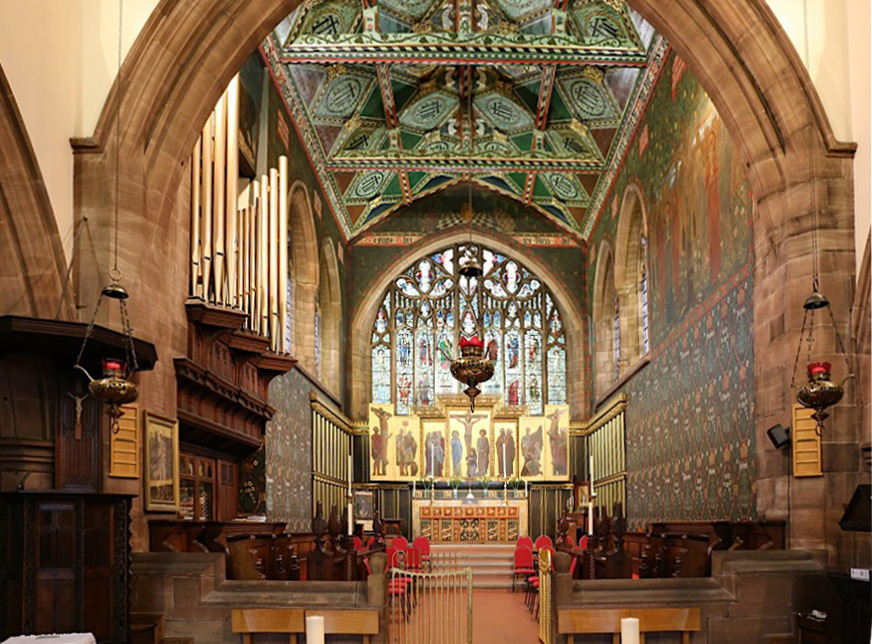 Left to right: (a) The exterior of W. R.Lethaby's All Saints, Brockhampton. (b) The interior of Richard Norman Shaw's All Saints, Compton. (c) Finely wrought light-fitting in J. D. Sedding's Holy Trinity, Sloane Street, Chelsea.
After these thought-provoking chapters comes by far the longest part of the book, the gazetteer, divided into fourteen geographical areas with simplified maps at the back. A "guide to churches worth seeking out, and why" (45), it covers well over two hundred places of worship (churches of all denominations are included, and a few synagogues are also mentioned), drawing particular attention to the lesser-known ones. To prevent the star attractions, like William Lethaby's All Saints, Brockhampton and Norman Shaw's All Saints, Compton, from stealing the show, entries for these are comparatively modest, although there is always more than enough in them to whet the appetite. As an unexpected bonus, separate pages are devoted to important architects or designers like John Dando Sedding, giving a sense of their whole oeuvre, and to a specific group of churches, such as Byzantine churches in Birmingham (164), or to colliers' churches (194-95), or even to a topic, like "Craft Skills" (264-65). These are not listed in the "Contents" but some can be found by going to the pages in bold type in the index, indicating longer entries. No need to search, though: keep reading, and you will come across them with pleasure.

Carving on the south door of St Christopher, Gunnerton, Northumberland. The beautifully designed carving is tacked to the door, but slides under the vertical strips of wood. The text is from Psalm 122, "I was glad when they said unto me, let us go into the house of the Lord." Many thanks to Friends of Chollerton Churches for the photo and information (Gunnerton Church is a daughter church to St Giles, Chollerton).
The selection of churches is rich and varied. It was surely right to exclude those built by architects like G. E. Street and J. L. Pearson, who worked at pace from large offices, although it seems a shame that the inspirational G. F. Bodley is represented only by two Gloucestershire churches. This means that Bodley's glorious All Saint's, Jesus Lane, Cambridge, with its 1904 Arts and Crafts chancel screen, and so much other fine work, is absent. But there is a reason: what Hamilton is really after is the less traditional, sometimes even idiosyncratic, vision, both in the building itself and in its decoration and fittings. And here he introduces some absolute gems. Take the church of St Christopher in Gunnerton, Northumberland, for instance. This was designed at the turn of the century by John Hawes (1876-1956), a lay minster and would-be architect who went on to be ordained as a priest, and built fifteen churches in Australia, ten in the West Indies, and the hermitage in the Bahamas where he saw out his last days. The south door of St Christopher, with its attached wood carving (seen above), is just an example of the local craftsmanship that makes it unique.
Not far away to the east is Thomas Spence's St George, Jesmond, with (among much else) its suite of dazzling mosaics, and further to the south-west is Sarah Losh's St Mary, Wreay, not at all an Arts and Crafts church by date (it was built at the beginning of the 1840s) but expressing in its every detail the "new spirit of individuality in religious observance" that marks out such churches (258). If you feel ready for some church-crawling, these would make a great group to visit on a trip.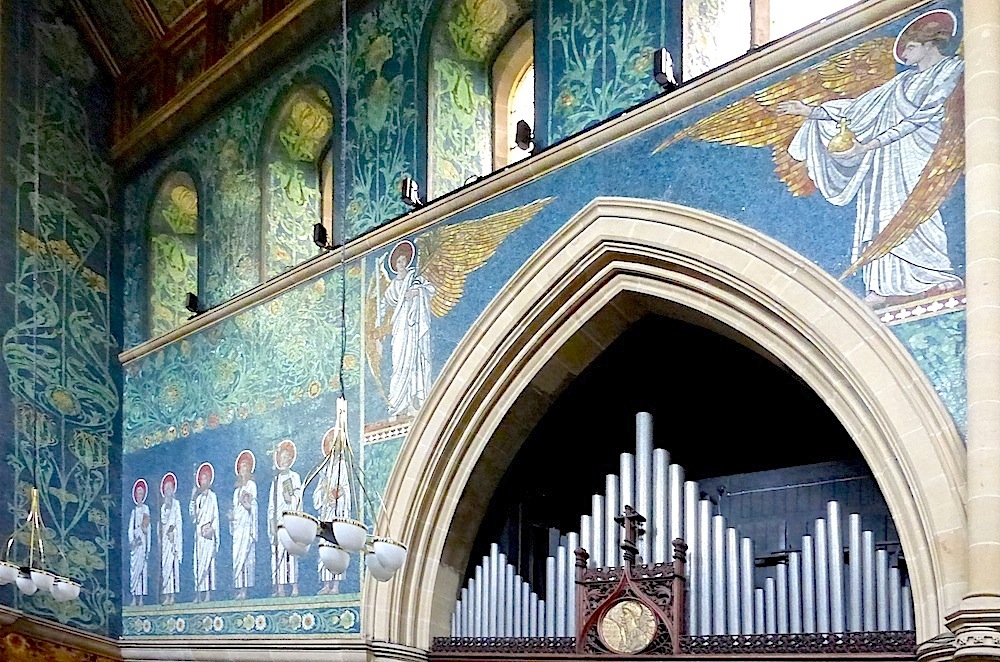 Left: The unusual altar, supported by eagles, of Sarah Losh's church at Wrey, with the glowing apse in the background. Right: Mosaics in the sanctuary of T. R. Spence's St George, Jesmond.
Such possibilities can be found throughout the country, from London and the Home Counties to the furthest corners of Wales and Scotland, by consulting Hamilton's useful maps. Three caveats. First, follow his common-sense advice: consult the web for a contact number or address well in advance, to be sure of getting access to these very special places (see p. 47). Then, leave room in your backpack for Arts & Crafts Churches. Or, since all those entries and illustrations have inevitably given it the dimensions and heft of a coffee-table book, do your research first, and leave it at home, ready for planning the next "special interest" trip. Finally, and perhaps most importantly, "Look now, before it is all too late" (275).
Book under Review
Hamilton, Alec. Arts & Crafts Churches. London: Lund Humphries, 2020. 352pp. with 250 colour illustrations. £45.00. ISBN 978-1-84822-321-9.
---
Created 30 August 2020