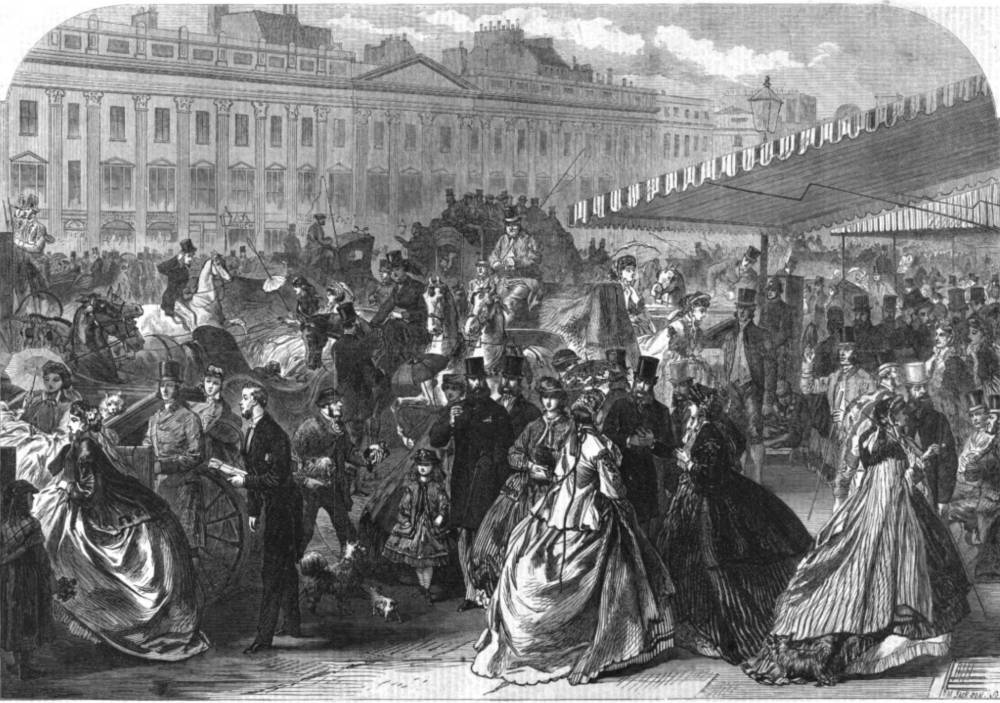 Regent-street in the season. 1866. Source: Illustrated London News. Click on image to enlarge it.
Article on following page
London proper is but little, if at all, affected by what is known as the season. In other words, it is always the season in the City. Every week-day morning throughout the year the same great human tide sets Cityward from all points of the compass, and, after eddying and whirling about for some hours in narrow lanes and alleys, in banks, offices, and warehouses, flows back in the evening to its suburban creeks. With the West-End, however, the case is different. No contrast can well be greater than that presented by fashion's haunt in and out of the season. In the former case all is bustle and gaiety; in the latter, gloom and desolation. Of course, the trade streets of the West-End partake in these alternations; so that every year Bond-street, Regent-street, and Oxford-street, after some months of feverish activity, subside into a state of torpor.
To a dweller in the far east of London going westward, the West-End may be said to retire from him, as the North is said by the poet to fly ever northward of its pursuer. At Temple Bar he thinks himself on the threshold, but he finds when be has reached Charing-cross that the charmed circle lies still before him, though it is now close at hand. He has nearly touched a point in its circumference. Fashion has for more than an age been pushing its haunt further and further from the City — its cry has ever been "Westward Ho!" But in its progress thitherward there will doubtless be a pause, at any rate whilst the abode of Royalty remains where it is. Drawn thus far, it is fair to suppose, by a spirit of loyalty, the world of fashion will, it is equally fair to assume, settle around its queen bee. Although the bounds of the West-End are somewhat vague — as, indeed, are those of the City — to persons living at a distance, yet the dwellers therein, "those to the manner born," can draw the lines of demarcation with rigid accuracy. Without presuming to fix the limit westward, or north and south, of the region in which Fashion delights to dwell, it may be drawn readily enough eastward. Regent-street is certainly its limit that way. East of that is, to fashionable folk, a matter of geography: they hear and read of it occasionally, but have no acquaintance with it, no sympathies in common with its inhabitants. Of the City, indeed, they have a slight knowledge, for at dividend-paying times the carriages of noble lords and ladies may be seen rolling towards the Bank.
As Regent-street forms the boundary-line eastward of the West-End, the question suggests itself whether this street and its more aristocratic Fister Bond-street will long continue to be the fashionable trading streets they now are. It is reasonable to suppose that they will, if the theory just announced as to the check in the westward progress of fashion be accepted as true. Many of our young readers who know Regent-street well may not be aware that the Quadrant had originally two Doric colonnades, projecting the extent of the foot pavement; the columns, of cast-iron, 16 ft. 2 in. high, exclusive of the granite plinth, supporting a balustraded roof. These colonnades were removed in 1848, and balconies were added to the principal floors. As Regent-street has remained unchanged, with the exception of the alteration just alluded to, since it was built, from the designs of Nash, in 1813, under the patronage of the Prince Regent, from whom it takes its name, so it is likely to continue for a long period a street for fashionable lounging and shopping. A clear notion of the brilliant, ever-shifting scene presented daily in Regent-street during the season (which has just begun) may be gained by those unacquainted with it from the Engraving on page 397. All is dizzying confusion. For, unlike the City in respect of its two daily tidal streams, already referred to, at the West-End, even when fullest, there is no definite progression one way, except on days of Court ceremonial, when strings of carriages, filled with beauty, rank, and fashion, creep at a snail's pace towards St. James's or Buckingham Palace. At other times, the fireflies of fashion glance rapidly hitner and thither, and the West-End streets are thronged with a promiscuous jumble of carriages, horsemen and horsewomen, cabs, omnibuses, and waggons; the pavements being crowded with fashionable loungers. Our Artist has depicted among this motley throng a well-known character — a dog-dealer, who among the wealthy finds purchasers for his fancy articles in the bow-wow line. It is not meet that his customers should inquire too curiously into right of ownership, for, unless the tribe be greatly belied, dealing much with dogs — even more than with horses — vitiates the conscience and gives a twist to correct notions of meum and tuum. So, young ladies, having obtained your heart's desire — "such a dear duck of a dog!" — be it Skye terrier, King Charles spaniel, poodle, or any other variety of the pet dog, "rest and be thankful." Surely, Flunkeyism is in its glory here. With what dignified ease these gorgeously-bedizened footmen attend to their mistresses or lounge about in attitudes of studied grace. Let ns not, however, overlook among this gay, fluttering throng the poor fragment of humanity who, seated on his wheeled tray, with his breast covered with trifling articles for sale, as with orders, drags himself along at their feet, thankful if at times a stray halfpenny fall to his lot. Such as our Artist has depicted it is the scene presented daily in Regent-street during the Season.
You may use this image without prior permission for any scholarly or educational purpose as long as you (1) credit the Hathi Trust Digital Library and The University of Michigan Library and (2) link your document to this URL in a web document or cite the Victorian Web in a print one.
Bibliography
"Regent-street in the season." Illustrated London News. 48 (21 April 1866): 397-98. Hathi Trust Digital Library version of a copy in the University of Michigan Library. Web. 22 December 2015.
---
Last modified 22 December 2015