Leeds General Infirmary (central block, with left wing). Sir George Gilbert Scott. 1863-69. The matching wing to the right (see first picture below) was complemented with another block by George Corson in 1891-92, and further buildings followed in the twentieth century. Red brick with Bramley Fall stone dressings, Venetian Gothic windows and red granite pillars (see Leach and Pevsner 419). Great George Street, Leeds. Photographs and text by Jacqueline Banerjee, 2011. [You may use these images without prior permission for any scholarly or educational purpose as long as you (1) credit the photographer and (2) link your document to this URL or cite it in a print one.]
Central block and right wing, which is then followed by Corson's in a similar style. From this angle, the pavilion-style arrangement can be seen more clearly.
This striking building supports Gavin Stamp's claim that Scott "displayed greater originality and resourcefulness" in his secular works than in his churches (5). The architect made full use of the sloping site, and produced one of the first and largest hospitals in the country to be designed on the pavilion plan which had been pioneered in France (see Leach and Pevsner 419 and Mitton 16). Accommodation for nearly 300 patients was divided between the separate wings, which Scott linked to the central block by long arcaded corridors running past courtyards (since filled in). The idea was to promote ventilation in order to prevent the spread of infection. Note that this building was being constructed just at the time of the competition for St Pancras Station in London, so similarities, such as the varied roofline with its turrets and pinnacles, and the patterning round the windows, are not unexpected. Both buildings also show an amazing attention to detail, as seen here in the entrance hall's fireplace. Further inside, the old infirmary building is equally impressive, with the main entrance hall and corridor leading to a fine cast-iron and stone stairwell. This is overlooked at the first turn by stained-glass windows of cathedral proportions, with stylised flower-patterning.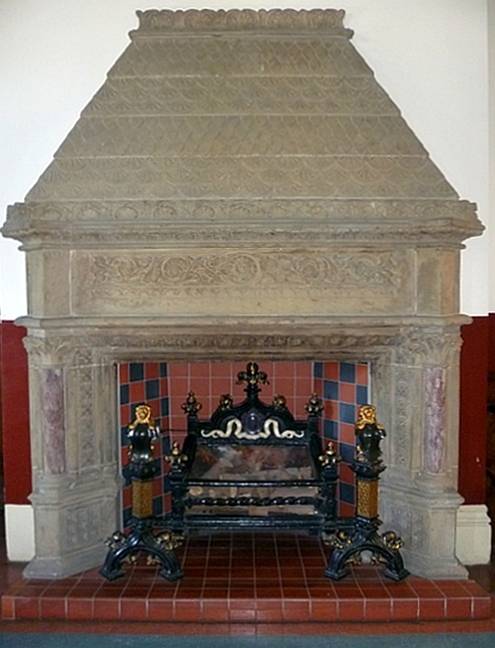 Left to right: (a) Closer view of highly detailed, decorative façade above the main entrance. (b) French Gothic fireplace in the entrance hall, with elegant stone carving, miniature marble pillars, tiling to match the floor tiles, and handsome ironware. (c) Light and attractively ornamented main corridor between entrance hall and staircase, with roof trusses.
Left to right: (a) Floor tiling. (b) Closer view of stone corbels carved with medicinal herbs by William Brindley.
Left to right: (a) Stylised flower-/medicinal herb-patterned stained glass lancets above the first flight of stairs, by the London firm of O'Connor, 1868. (b) Ironwork on the stairwell.
Related Material
Referencese
Mitton, Lavinia. The Victorian Hospital. Botley: Shire, 2008.
Leach, Peter, and Nikolaus Pevsner. Yorkshire West Riding, Leeds, Bradford and the North. The Buildings of England series. New Haven & London: Yale, 2009.
Stamp, Gavin. "Sir George Gilbert Scott, 1811-2011." The Victorian. No. 37 (George Gilbert Scott Bicentenary Issue), July 2011.
---
Last modified 19 September 2011