The former Royal Alfred Sailors' Home, Bombay. This was enlarged in 1928 by the construction of the Council Hall behind it, and is often found as the Council Hall in earlier sources; it is now the State Police Headquarters for Maharashtra. Designed by Frederick William Stevens (1847-1900), and built 1872-76 on the junction between Colaba Causeway and Frere Road at Apollo Bunder, Mumbai. The chunky stone façade with polychromatic detailing has architectural sculpture in Bath stone by Richard Lockwood Boulton & Sons of Cheltenham; capitals and cornices by Lockwood Kipling, then director of the Sir Jamsetjee Jeejebhoy School of Art in Bombay; and ironwork by Burjojie Nowrojie also of the JJ School. At front, the elaborate ironwork gates are by Macfarlane & Co. of Scotland (see Davies, Splendours, 173; information about Nowrojie added by Ramachandran Venkatesh).
An early photographic print of the Sailors' Home, courtesy of the British Library (slightly cropped).
The building was named after the "sailor prince," Queen Victoria and Prince Albert's second son and therefore Duke of Edinburgh, who had visited Bombay in 1870, and its original purpose was to provide accommodation for up to 350 men, both officers and seamen (see "Proposed design"). It was Stevens's first important building in Bombay, while he was still with the Public Works Department, and was working under the supervision of Colonel James Augustus Fuller (see Davies, Monuments, 442). As Davies says elsewhere, this is not one of his best compositions: its pediment is perched on top rather incongruously. But it is of special interest as "an early attempt to infuse Gothic architecture with Muslim nuances" (Splendours, 173).
Venkatesh explains that the building is "on a central axial road of the city that was built just after the Bombay Fort was demolished in late 1860s, freeing space to lay out a new city and its grand monuments..."; he adds that at this early stage the aim was
to develop it as a big maritime trade centre that connected the western parts of the country to the global economy that the city had already become part of. Of the grand buildings created in that phase of development (like the Chhatrapati Shivaji Terminus (former Victoria Terminus), the High Court, University, Secretariat building, Public Works Department etc.) the Royal Alfred Sailors' Home was one among that series of monumental constructions.
This series was one of the fullest expressions of what Jan Morris calls the "civic pretensions" of the British at this stage of empire (109).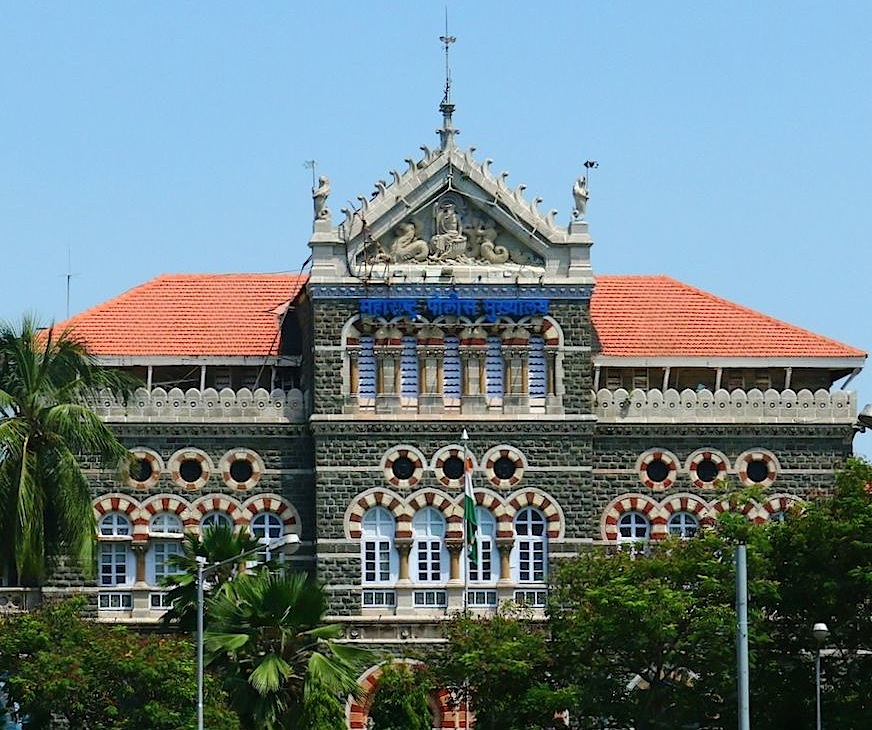 Left: Close-up of the central part of the façade. Right: The central pediment, with its maritime motifs: a wavy-bearded Neptune with nymphs, seahorses etc., flanked at either side of the pediment by sea-lions with curled tails each holding a pennant. The crocketing is designed to look like waves just about to turn and break.
Although the exterior is exuberantly and sometimes fancifully embellished, the building has an appropriately solid presence, and the interior too was laid out with careful concern for its purpose — especially taking into account the humid climate of the area. Venkatesh tells us that it provided "maximum ventilation and space to move around," and that there was, for instance, "a small recreation ground." He adds, "A corridor of about 10 feet depth encircles the entire building which provided convenience as well as fresh air. A centrally placed staircase provides access to higher storeys, supported by round arches of blue basalt." Interestingly too, he says that there was a "library and well-furnished baths." As well as having an artistic vision, which would allow him in his later buildings to integrate elements of eastern and western architecture to greater effect, Stevens had a keen eye for practicalities. Unfortunately, it is not possible for non-official visitors to go inside this high-security building now.
Text by Jacqueline Banerjee, who added the historic photograph (with thanks to the British Library Online Gallery), and arranged and formatted this entry. Many thanks to Ramachandran Venkatesh, who has kindly contributed the recent photographs, and allowed us to draw on his commentary. Readers may wish to see the original version on his own "Heritage Traveller" website, and explore that website further. You may use the images without prior permission for any scholarly or educational purpose as long as you (1) credit the photographer or source and (2) link your document to this URL in a web document or cite it in a print one. [Click on all images for larger pictures.]
Bibliography
Davies, Philip. Penguin Guide to Monuments of India 2: Islamic, Rajput, European. London: Viking, 1989.
_____. Splendours of the Raj: British Architecture in India, 1660-1947:. London: Penguin, 1987.
Morris, Jan. Stones of Empire: The Buildings of the Raj. Oxford: Oxford University Press, 1983.
"Sailors' Home [Bombay]." British Library Online Gallery. Web. 26 June 2016.
Tindall, Gillian. City of Gold: The City of Bombay. New Delhi: Penguin, 1992. [Tindall explores the site's historical background as a graveyard, see p. 58.]
"Proposed design for the Royal Alfred Sailors' Home, Apollo Bunder, Mumbai (Bombay): perspective view." RIBA Px. Web. 26 June 2016.
---
Last modified 26 June 2016