Frederick William Stevens's work in India signalled a complete shift in architecture, in terms of adapting the Gothic Revival in Victorian England to the Bombay Gothic, which retains the essentials but is quite distinctive. The flexibility of his style to suit the city and the purpose of a building was his biggest achievement. In all practical senses, he is the father of Victorian Bombay public buildings. — Ramachandran Venkatesh.

orn in Bath on 11 May 1847, Frederick William Stevens attended the King Edward VI Grammar School there, and trained locally as a pupil of Charles Edward Davis, who was the Surveyor of Works to the city. Then, in 1867, Stevens passed a selective examination to become an Assistant Engineer in the Public Works Department of the Government of India, and entered the office of Colonel Fuller of the Royal Engineers. After a spell in Poona and Bombay, he was made an assistant to the Architectural Executive Engineer and Surveyor in Bombay, and in 1876 became the Government Examiner to the famous JJ (Jamsetjee Jijibhai) School of Art there (see Brodie et al. 697, and his obituary in The Engineer).
His first major work was the Royal Alfred Sailors' Home (1872-76) in the city. Just before he turned thirty, came an even more important commission. According to The Engineer obituary again,
in the following year his services were placed at the disposal of the Great Indian Peninsula Railway for the purpose of designing the terminal station at Bori Bunder, which is a fine example of his creative skill. This terminus, which is stated to be the largest building erected in Asia in modern times, was constructed in 1879 under his superintendence, and his public services were acknowledged by his being elected a Fellow of Bombay University.
The terminus at Bori Bunder, with its fine array of domes that look more Indian than European, was better known as the Victoria Terminus. In our own times, it has been renamed, and is now called the Chhatrapati Shivaji Terminus, or CST for short.
Although the station (shown on the right here) is widely considered to be his masterpiece, it was by no means his only triumph. Stevens was also responsible for some other fine buildings. After retiring from the PWD in 1884, and establishing his own practice, he designed the grand Municipal Corporation Building (1888-93), with its impressively tall staircase tower capped by an imposing Indo-Saracenic dome. Other major works followed, notably the Post-Office Mews at Apollo Bunder; the remodelling of the Cathedral High School site at the Flora Fountain into the Oriental Life Assurance Offices; and, at around the same time, the head offices of the Bombay, Baroda and Central India (BB&CI) Railway (1894-99) at Churchgate. A smaller landmark structure was the fountain he himself designed, in collaboration with the long-time principal of the JJ School of Art, John Griffiths (1837-1918). This was the triple-tiered Mulji Jetha Fountain at the Mint Road junction (1894). At one point Stevens was joined in his flourishing practice by B. G. Briggs and T. S. Gregson, and later, more permanently, by his son Charles Frederick Stevens, born in 1872. David Ebenezer Gostling, another thriving Bombay architect, joined him for a few years in 1897. With these associates, as his obituary in The Engineer pointed out, Stevens "may be said to have contributed towards the embellishment of that city much that is best in its architectural beauty." His last works were to design the Standard Chartered Bank Office (1899-1902) and the British India Steam Navigation Building (1900-03; see London 116). But his practice was not confined to Bombay: according to his obituary in the RIBA journal, he also designed the palatial Government House at Nainital, the Standard Life Offices in Calcutta, waterworks buildings in Cawnpore and elsewhere, and so on.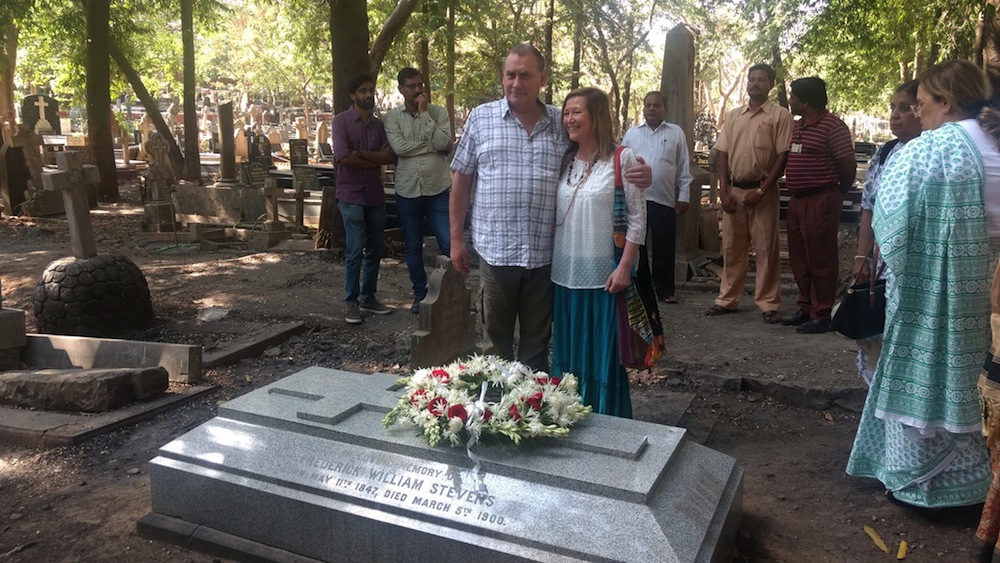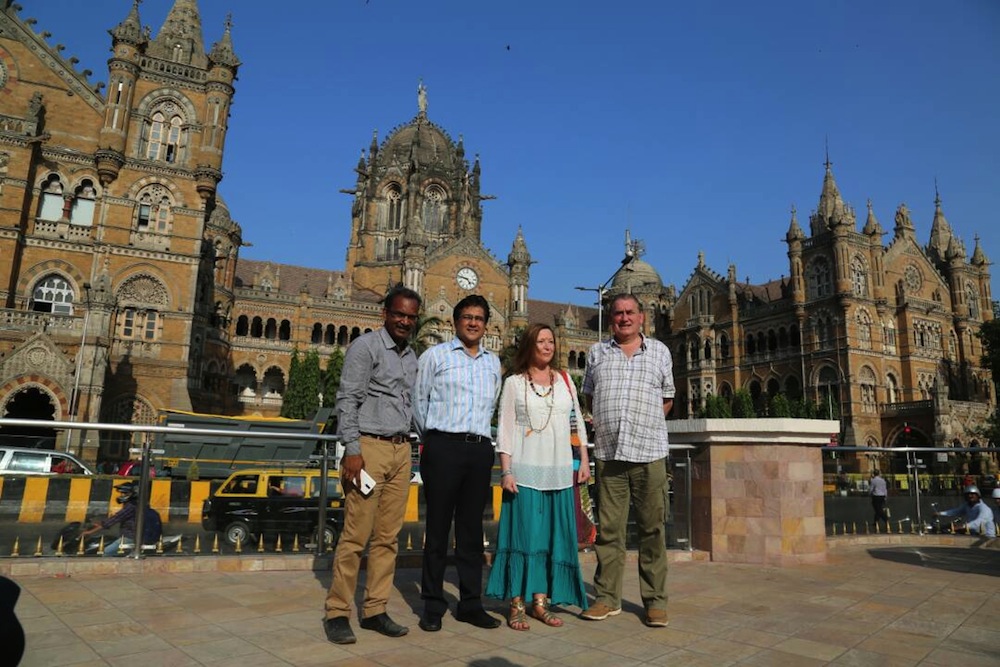 F. W. Stevens's great-granddaughter, Diana Robertson, visiting Mumbai with her husband in April 2017. Left: Paying her respects at Stevens's recently restored grave. Right: The Robertons with Indian railways historian Rajendra B. Aklekar, and the Chief Public Relations Officer of the Central Railways, outside the CST. Photographs kindly provided by Aklekar, the first one reproduced from his article in The Wire by kind permission. [Click on these pictures, and the one on the right above them by Ramachandran Venkatesh, to enlarge them.]
Stevens received various honours. He was made a Companion of the Order of the Indian Empire "for services rendered in connection with public buildings in Bombay," and gained medals for his designs in exhibitions held in Bombay in 1872 and 1879, as well as becoming a Fellow of the Royal Institute of British Architects. He was only 52 when he died of malaria at his home in the Malabar Hills in 1900, and was buried in Bombay's Sewri Christian Cemetery, where his grave carries the inscription, "In loving memory of Frederick William Stevens, born May 11th 1847, died March 3rd 1900." His son, an able young man who had been educated in Bath and then at Bristol University, successfully continued the practice (see Brodie et al. 696, and Davies 175). In April 2017, F. W. Stevens's great-granddaughter, Diana Robertson, visited Mumbai to pay her respects at his grave and look at the station and other buildings that he designed there: "Diana knew her illustrious ancestor had made some well known buildings in Mumbai, but had no idea that he was so loved and regarded by the city," writes Aklekar in The Wire.
According to the Engineer obituary, the elder Stevens "was an artist in the true sense of that term; his profession was not merely the labour, it was also the delight of his life; and even when on leave he was not happy unless accompanied by his drawing-board." Philip Davies says that if Stevens had practiced over here, "he would be venerated as an equal of Scott, Burges or Butterfield (176). It is too bad that, as it is, he is hardly remembered at all in the country of his birth. — Jacqueline Banerjee
Works in Mumbai
Bibliography
Aklekar, Rajendra B. "After Marathi pride, MNS fights for Brit architect's honour." Mumbai Mirror. 7 April 2015. Web. 21 June 2016.
_____. "A Sentimental Visit to Mumbai to See Her Great Grandfather's Magnificent Buildings." The Wire (founding editors Siddharth Varadarajan, Sidharth Bhatia and M. K. Venu), 22 April 2017. Web. 23 April 2017.
Brodie, Antonia, et al. Directory of British Architects 1834-1914. Vol. II (L-Z). London: Continuum / RIBA, 2001.
Davies, Philip. Splendours of the Raj: British Architecture in India, 1660-1947. London: Penguin, 1987.
"Frederick William Stevens." Death Records: His grave in Sewri Christian Cemetery, Mumbai. Web. 21 June 2016.
"Frederick William Stevens." Grace's Guide to British Industrial History. Web. 21 June 2016. [This includes Stevens's obituary, which appeared in The Engineer on 3 March 1900: 335.]
"Frederick William Stevens." Journal of the Royal Institute of British Architecture. Vol. 7: 374-75.
Lalvani, Kartar. The Making of India: The Untold Story of British Enterprise. Kindle ed. London and New York: Bloomsbury Continuum, 2016. [See Appendix B.]
London, Christopher. Bombay Gothic. Mumbai: India Book House, 2002.
Morris, Jan. Stones of Empire: The Buildings of the Raj. Oxford: Oxford University Press, 1983.
---
Last modified 23 April 2017