Photographs by the author. You may use these images without prior permission for any scholarly or educational purpose as long as you (1) credit the photographer and (2) link your document tto this URL, or cite it in a print one. [Click on the images to enlarge them.]
Left: Front view of all floors. Right: View south-west down Stonegate.
10 and 10A Stonegate, York. The original architect or architects are unknown, but the Victorian shopfront dates to about 1875, and was probably by Edward Taylor. The heritage listing describes this property as probably early seventeenth century, remodelled with a new front in the late nineteenth century. The timber-framed building, with two jetties or successively projecting floors, is typical of late medieval buildings in York. The frontage is covered with encaustic tiles by Maw & Co. It appears "completely mid-Victorian" (Pevsner and Neave 234) because of the tiles and elaborately-carved woodwork.
Tiles
The gable or attic floor.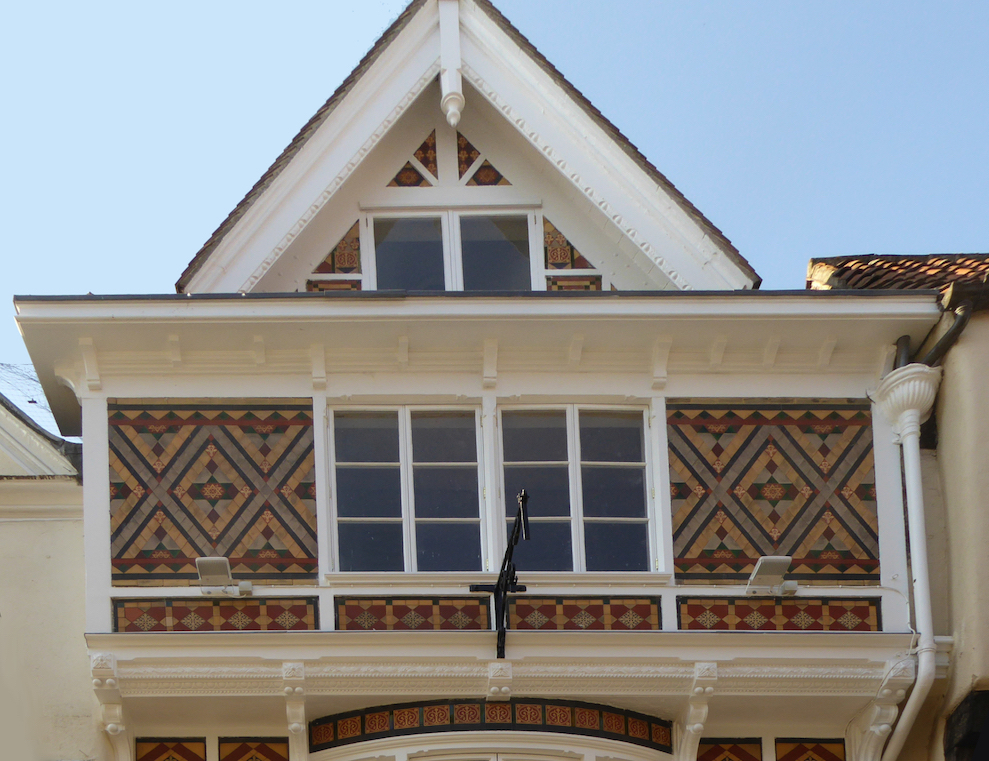 Tiling on the second floor. The downpipe can be seen on the right.
Tiling on the first floor
Lynn Pearson says the façade "dates from about 1875 and is covered with encaustic and geometric tiles made by Maw & Co; this is an unusually complete and early attempt to add colour to buildings by using ceramic cladding" (374).
Woodwork
Closer views of the white-painted woodwork around the windows and between the floors.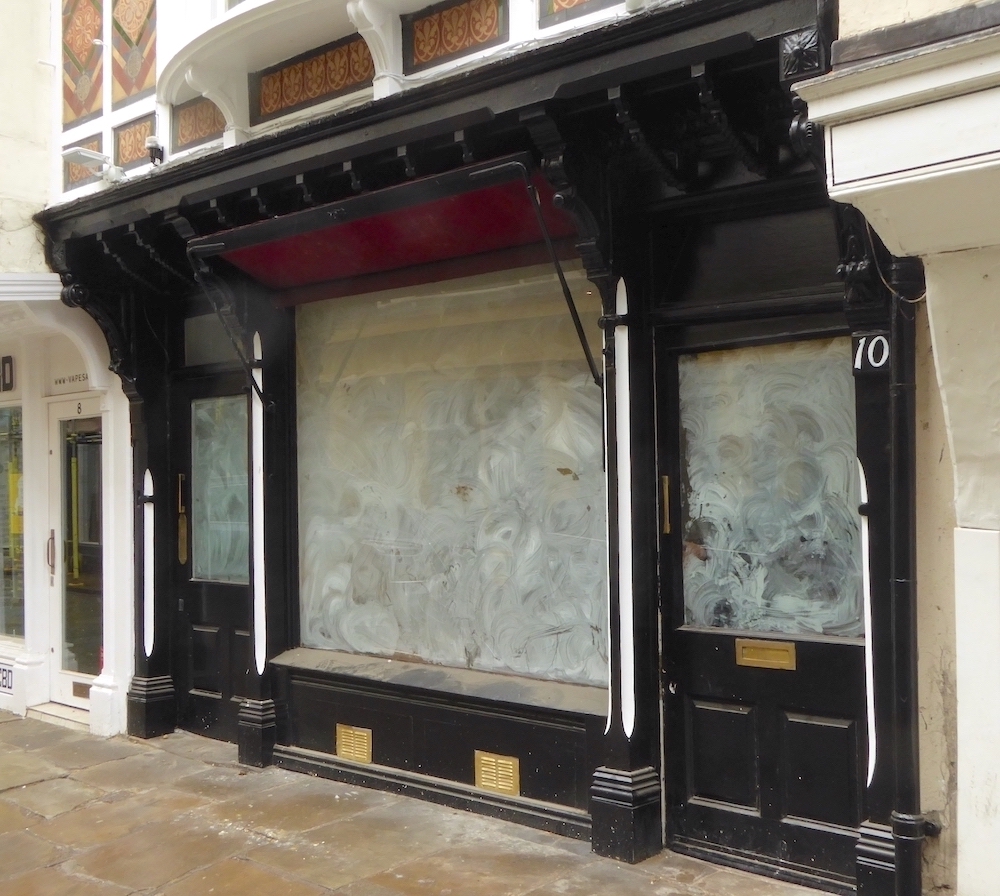 Left: Closer view of the black-painted woodwork on the ground floor. Right: Details of the woodwork over the right-hand doorway, again with the "elaborate carved brackets" mentioned by Pevsner and Neave (234), and a great deal of other, intricate carving along the width.
The woodwork is finely detailed throughout and especially detailed on the ground floor, though black paint makes detail hard to see. Small sconces for tapers remain on the upper part of the door posts. The frontage has recently been redecorated: the future use of the shop is unknown.
It is interesting to consider what business might have been carried on behind this shop-front. The number '10' carved, or affixed, on the right doorway, is the modern street-numbering, perhaps dating from the 1950s; it does not fit with a York Street Directory of 1885, in which the numbers in this length, from Hornby's Yard south to Blake Street and St Helen's Square, run continuously from 50 to 58. Modern numbers for these properties run from 16 to 2 (evens only). Because of variations in the subdivisions of properties or their groupings, it is not possible to match a business to the tile-fronted shop using the Directory alone. At no. 54 was Mrs Emma Morrall, "milliner and dressmaker," while at no. 53 was Orlando Wright, "jeweller and electro plater." Notes on Stonegate by J. W. Knowles tell us that Orlando Wright trained in Birmingham as a jeweller, during which period his father moved to York, c.1864. Orlando himself moved to York "having [completed] his engagement with Mr Steene, about the year 1870. One of the old houses at the lower end of the street [Stonegate] had just undergone a sort of restoration by Mr Taylor, the architect, and here Orlando Wright opened out a jeweller's shop... [at some time before 1887] he removed his business into Blake Street" (143-44 and 159). The only shop-front looking distinctly different is no. 10.
If the date suggested by Pearson, c.1875, is linked to dateable tiles by Maw's, then Knowles' information, that Orlando Wright arrived in York in 1870 and took this shop, might be inaccurate. But there is very little doubt that these were the premises that Edward Taylor restored.
Bibliography
10 and 10A Stonegate. Historic England. Web. 1 July 2020.
Knowles, J. W. Stonegate. KNO-6-14. Archives of York Explore Library. Probably written c.1925.
_____. York Artists. Vol 2. KNO-3-6. See p. 59/91 on Richard Wright and the early life of Orlando his son. Archives of York Explore Library. Probably written c.1925.
Pearson, Lynn. Tile Gazetteer: A Guide to British Tile and Architectural Ceramics Locations. Tiles and Architectural Ceramics Society, 2005.
Pevsner, Nikolaus, and David Neave. Yorkshire: York and the East Riding. New Haven and London: Yale University Press, 2002.
---
Created 1 July 2020