Edward Taylor (1831-1908) was the second son of Francis Taylor, the manager of the York Union Bank at 1 Parliament Street, York, in 1851; the family was living at this address too. Bank mergers have meant that this site is now occupied by Barclays Bank in a building of 1901. The family were Wesleyan Methodists who had recently moved from the West Riding. Edward trained as an architect under George Fowler Jones, who had practiced in York from about 1844. John Ward Knowles says Taylor then went to London, but no material evidence of such a period has been found. An early design by Taylor (1861) is a bank in Driffield, but Knowles indicates more, including Easingwold Town Hall, private houses and several Methodist chapels. Pocklington Methodist chapel, in Chapmangate, is dated to 1864. Taylor was the designer of the temporary exhibition building for the first Fine Art and Industrial Exhibition in York (1866), and then of York Art Gallery (1879) which housed the second such exhibition. The development of the permanent Art Gallery had included plans for "well-equipped schools for Art students and, likewise, a large hall for exhibitions and other educational purposes" (Knowles 34-5). The Gallery housed the art school until 1974 when that moved to new premises on the Tadcaster Road. The large gallery at the upper level was redeveloped and opened up in 2015.
Taylor is listed as "architect and surveyor" in the York Street Directory of 1885 (248), with premises at no. 7 Stonegate — that is, somewhere between the Punch Bowl and Little Stonegate. His involvement at no. 10-10A Stonegate could account for its decorative tiles and woodwork - "a sort of restoration" as Knowles describes it in "Notes on Stonegate." One building doubtless designed by Taylor is the "semi" now known as nos. 2 and 4 Sycamore Place. According to the 1881 census, Taylor and his second wife Emma lived there with five children, while next door lived Edward's father Francis, now retired, and his second wife. The Clifton Methodist Church was still being completed at the time of his death. — Rita Wood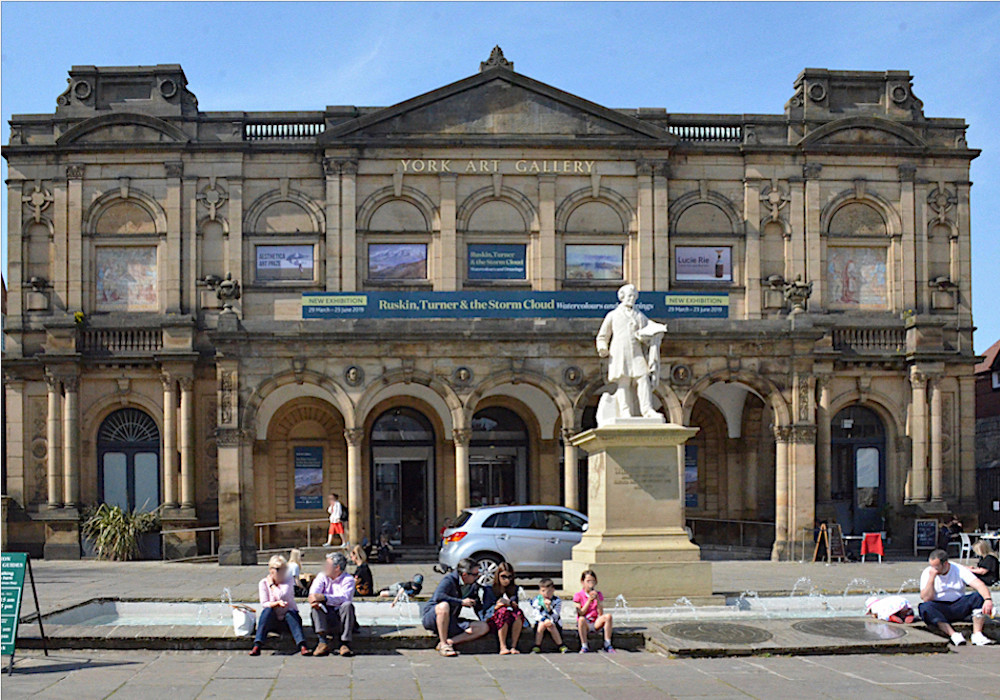 Works
Bibliography
Knowles, John Ward. Stonegate. KNO-6-14. Archives of York Explore Library. Probably written c.1925.
_____. York Artists. Vol 2. KNO-3-6. See pp. 33-34, 35/91 on Edward Taylor. Archives of York Explore Library. Probably written c.1925.
Pevsner, Nikolaus, and David Neave. Yorkshire: York and the East Riding. New Haven and London: Yale University Press, 2002.
Taylor, Jeremy. "The Yorkshire Fine Art and Industrial Exhibition Building 1879: Designing for an Historic Setting in York." Architectural History 27 (1984): 356-67. Accessed via Jstor. July 1, 2020.
York Street Directory, 1885. University of Leicester Special Collections Online. Web. 1 July 2020.
Recommended reading
Link suggested by the Explore Library: scroll down the alphabetical list to reach a useful biography of Taylor.
---
Created 1 July 2020