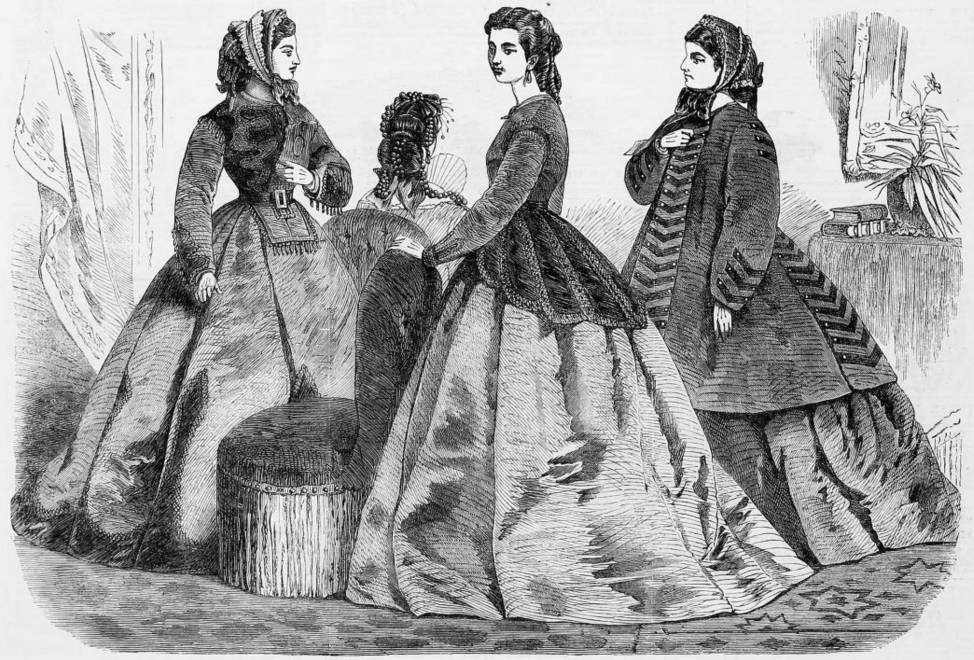 Paris Fashions for January 1865. Source: Illustrated London News (31 December 1864): 673. [Click on image to enlarge it.]
Commentary from the
Illustrated London News
For the soirées and fêtes of the winter season just inaugurated, the modes are remarkable for the luxury and complication of the ornaments and arrangements of drosses and coiffures; moreover, if all that rumour predicts should prove to be true, the year of grace 1865 will compete with its predecessor in the extravagance of its fashions, and especially in the profusion of articles which might be dispensed with, and which have but little merit in their employment other than that of "doing good for trade," which thrives gloriously in these times of showy Parisian display. Brocaded silk, satin, and velvet dresses abound; but plush velvets are preferred to the ordinary plain velvets or cloths, the last being almost entirely confined to morning dress, or the incognito, as it is now prettily called in Paris. As for bonnets they are reduced almost to simple fanchons, and leave but little space for the exercise of the decorative imaginatiou of the modistes, who, however, by the introduction of peacocks' and other feathers, rich flowers, and laces, still contrive to render their productions as costly as before.
Short paletots and short rotondes, with or without hoods, are the pardessus de préference; but the hood, or capuchin, will be a special characteristic of the '65 winter season, and is very gracefully shaped and ornamented with niching in silk or in swandown.
In the way of furs, Astrakan, particularly for trimming, is much patronised, and deservedly so, for it is always elegant in appearance, and admits of very general application to different parts of a lady's toilet.
Long waistbands of lace are generally cn vogue for the present season ; they are mostly black, but white ones are*also worn, ror the toilet of a bride the white lace waistband over a satin robe is extiemely elegant and tasteful.
THE ILLUSTRATIONS.
Fig. 1. Evening Dress.—Robe of pale rose-coloured taffety, the corsage d ccmturc ornamented with a sort of bosquine composed of black velvet bands trimmed with lace. The sleeves are provided with a narrow trimming to match, designed os shown in our Illustration.
Fig. 2. Visiting Dress,-Fawn-coloured robe of poplin or taffety, with trimmings either in moire antique or velvet, several shades darker than that of the dress. Sometimes a plain light-coloured silk is chosen for this style of robe, and then the trimmings just mentioned are advantageously replaced by black satin ornaments. Velvet waistband, fastened with buckle in mother-of-pearl. Light-brown velvet bonnet, trimmed with a white lace fanchon and a twisted feather.
Fig. 3. Walking Dress.—Plain but ample black silk dress. The principal feature of this toilet is the blue velvet pile-cloth mantle, which is thickly trimmed with brandebourgs attached by large mother-of-pearl buttons.
The Coiffure.—The head-dress depicted in the background of our Engraving is the most novel as to arrangement, and has been frequently executed with success by one of the principal hairdressers in Paris: the ornamentation consists of black velvet and an abundance of imitation coral beads.
Related material
You may use this image without prior permission for any scholarly or educational purpose as long as you (1) credit the Internet Archive and (2) link your document to this URL in a web document or cite the Victorian Web in a print one.
---
Last modified 21 November 2015