Photographs and captions by the author. The photographs are all reproduced here by kind permission of Workspace Management Ltd. Many thanks. [Click on the thumbnails for larger pictures.]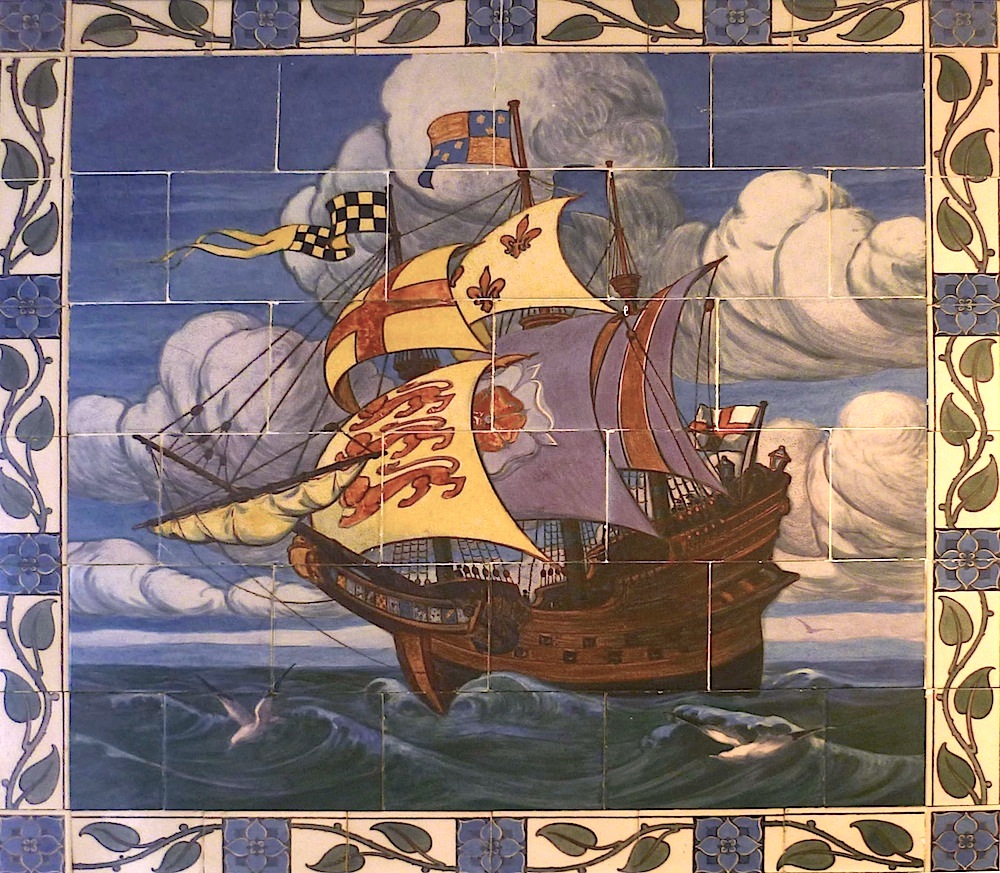 A lively ceramic tile panel showing an English galleon decked with flags, in full sail on tossing waves, with billowing clouds and swooping seagulls. This is framed on a ground floor wall of Southbank House, the only surviving part of the Doulton Pottery complex in Lambeth, south London.
Southbank House on the corner of Lambeth High Street and Black Prince Road, close to the Albert Embankment in south London, was originally the Doulton Pottery's museum and art school (Dixon and Muthesius 135), and served to display the company's finest work. By the early 1860s, Doulton had branched out from manufacturing industrial ceramics, such as glazed earthenware plumbing fittings, into the familiar "Doulton Ware," salt-glazed stoneware for a variety of domestic and ornamental purpose. Some of its lines featured marine art, showing galleons and seagulls like the ones on this tile panel.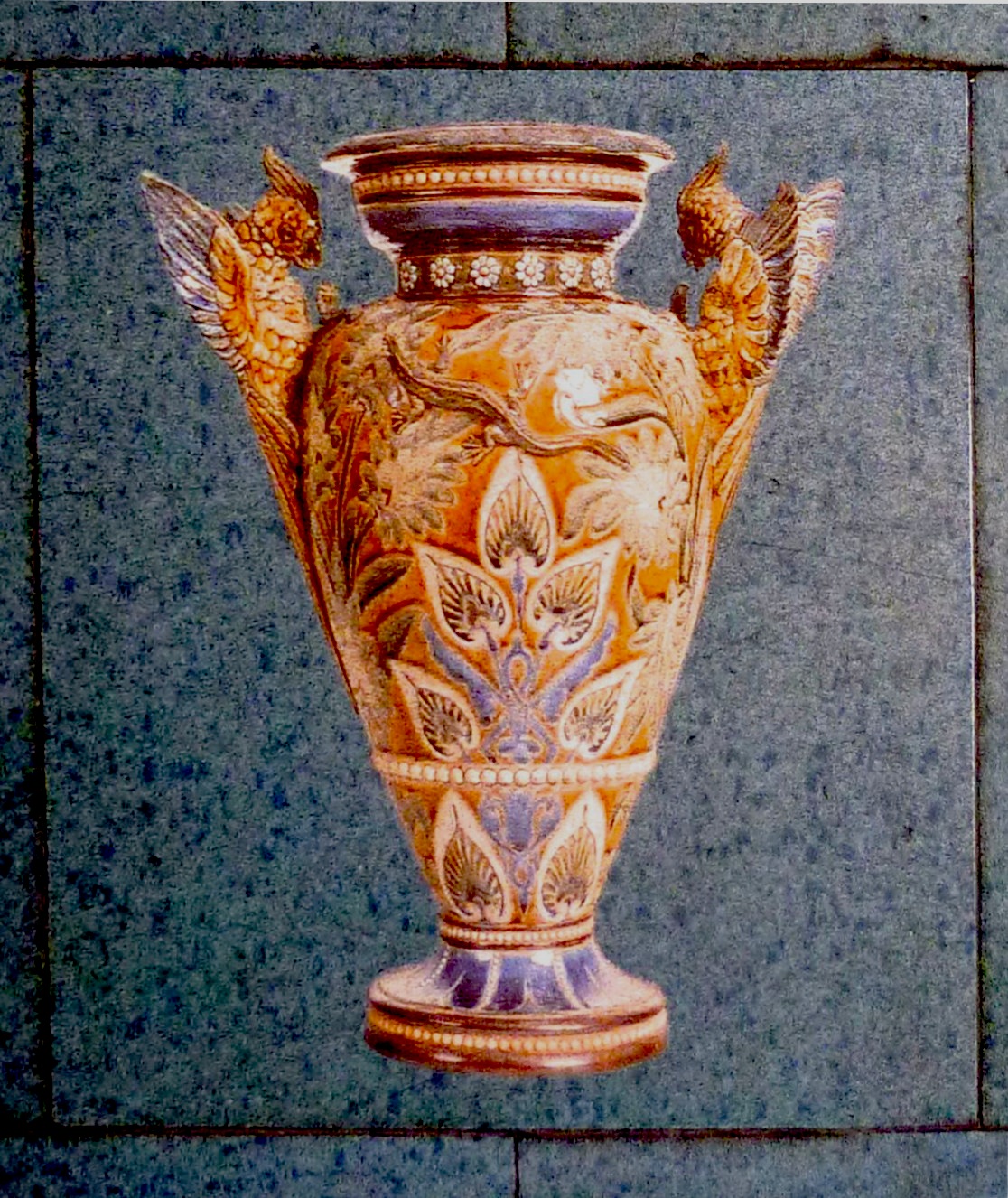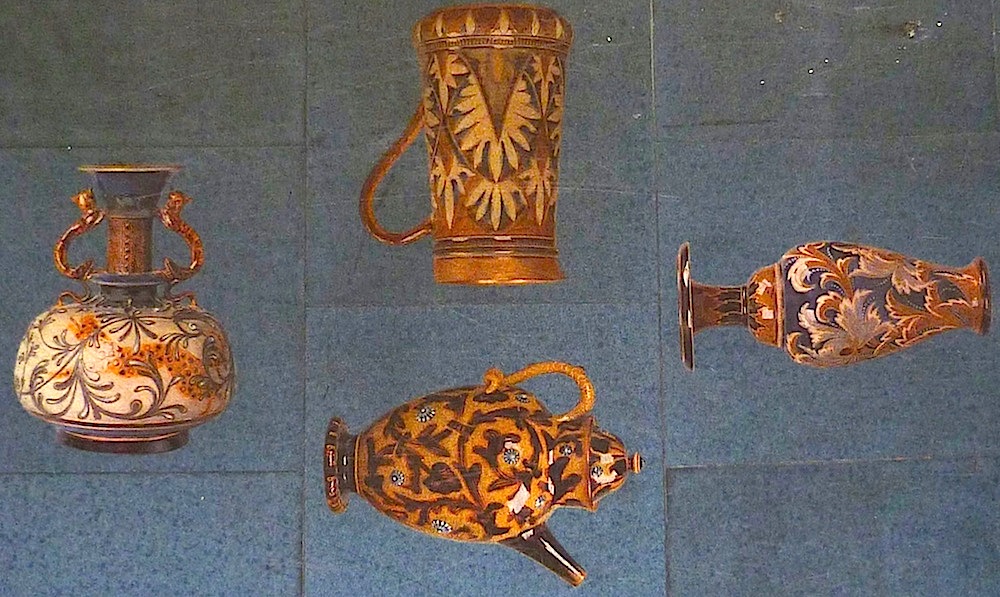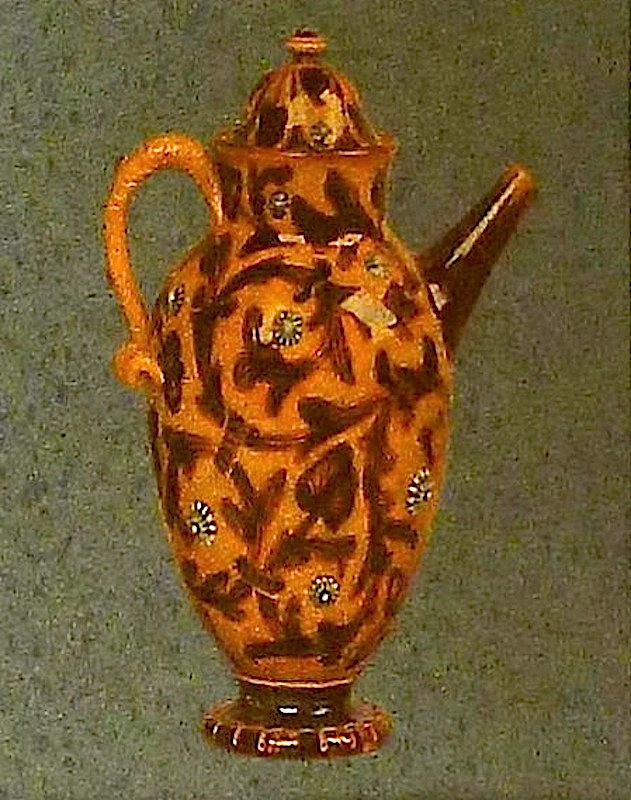 Doulton vases as design motifs in the tiling on the ground floor, and on a small landing on the stairs to the basement.
Vases depicted in the well-trodden floor tiles in Southbank House give an idea of the range of Doulton's designs, and the use of the building itself to advertise the artists' decorative skills. Such was the company's reputation and popularity that by the end of the century about 370 artists were working here at Lambeth to produce these sought-after products (see Perry).
A picture of four magnificent Doulton vases on a ground floor wall.
Inside the surviving part of the complex, a number of framed pictures, including the lovely colour one above, illustrate the pottery's proud tradition. Julie McKeown explains that magnificent vases and jugs like these "were hand-thrown by potters in the factory, using a cream or buff stoneware body.... Each pot was given a unique design of hand-applied relief motifs such as bosses (moulded clay dots), beaded runners and foliate scrolls" (11). Southbank House is now used for office space, but its management still honours the premises' history.
This was taken from one of Southbank House's framed black-and-white historic photographs. It is captioned, "At the Potter's Wheel, Doulton, 1910."
Related Material
Sources
Dixon, Roger, and Stefan Muthesius. Victorian Architecture. 2nd ed. London: Thames and Hudson, 1985. Print.
McKeown, Julie. Royal Doulton. Princes Risborough, Bucks: Shire, 2004. Print.
Perry, Mike. "Pottery Histories: Royal Doulton." Web. 20 December 2013.
---
Last modified 20 December 2013