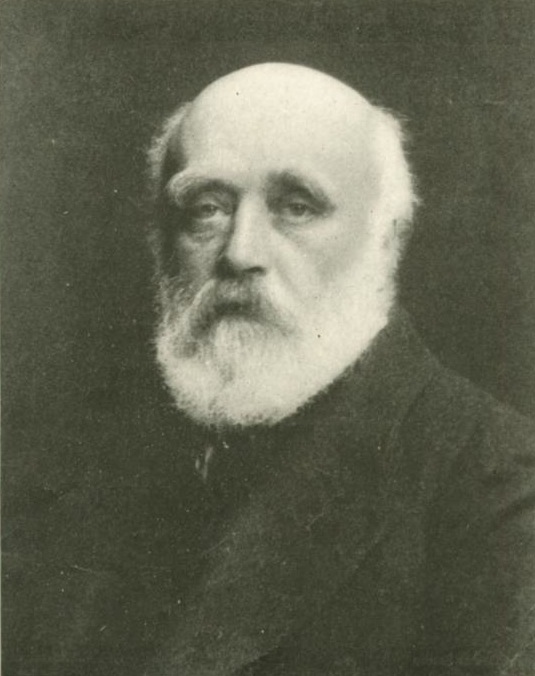 A photograph of John Rudyard Kipling by Hollinger & Co., for The Critic. New York Public Library, image ID 1549644.
John Lockwood Kipling, who was born in Kirbymoorside, near Pickering in Yorkshire, on 6 July 1837, is best known in England as the father of the writer Rudyard Kipling. But he was tremendously gifted in his own right. Until recently, this has been more fully recognised in India and Pakistan, where he has left much of his own remarkable legacy in the fields of design and school administration.
Lockwood Kipling was the eldest child of Joseph Kipling, a Methodist minister, and his wife Frances, née Lockwood, the daughter of a builder and architect from Cleveland. There was possibly a family link to the more famous Victorian architect, Henry Francis Lockwood (see Bryant, "The Careers and Character of 'J. L. K.'," 40). He attended the Wesleyan Woodhouse Grove school near Bradford, but a trip to London for the Great Exhibition pointed him in the direction of the arts and crafts, and he was apprenticed to a ceramics firm, taking evening classes in the Potteries, where one of his instructors was Hugues Protât. In 1859 he went to London, where he worked first with John Birnie Philip and John Thomas, before assisting Godfrey Sykes with the exterior terracotta decoration of the future Victoria and Albert Museum. Then came marriage to his wife Alice, and in the same year, 1865, the couple left for Bombay where he had agreed to teach at the new Jamsettjee Jeejeebhoy (now simply Sir J. J.) School of Art. It was here in Bombay, at the end of the same year, that his first child Joseph Rudyard was born. The School of Art had a department of architecture, embracing also architectural sculpture, and it was here too that Kipling, and the students working under his direction, embellished some of the great buildings of the later nineteenth century. Those were the glory days of "Bombay Gothic," and their external decoration was a vital aspect of its unique character. In 1875, he was made a fellow of the University of Bombay.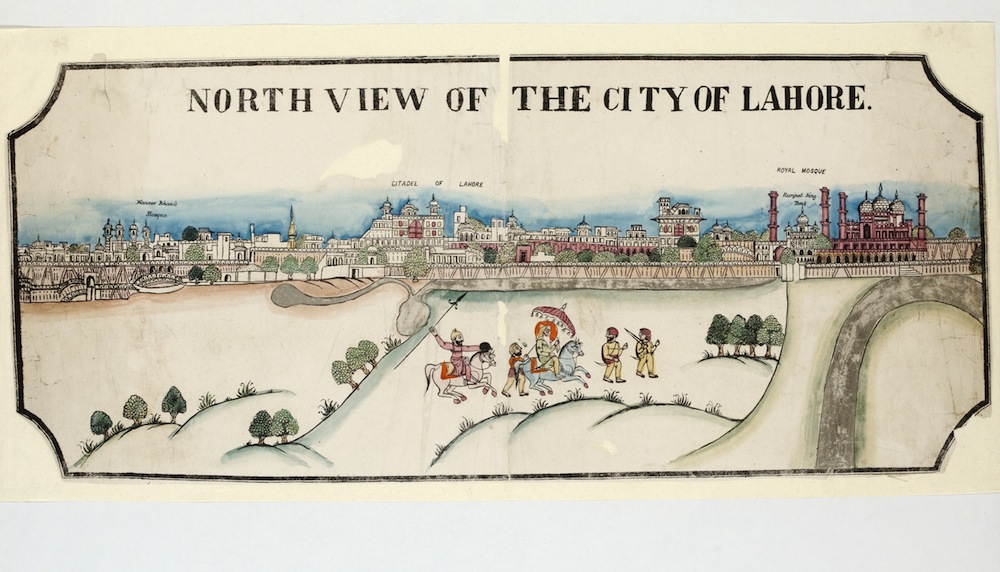 View of Lahore with Maharajah Ranjit Singh — a woodcut of about 1870 by an unknown artist, © Victoria and Albert Museum, London, on display at the 2017 exhibition of Lockwood Kipling's work there. In this ancient "hub of hereditary craftsmen," Kipling encountered a "different set of cultural and social dynamics" (Khan 469).
Further proof of Lockwood Kipling's skills, both in school administration and design, as well as in the enlightened promotion of traditional crafts, came with his appointment in 1893 as principal of the Mayo School of Art in Lahore in the Punjab, now the National College of Arts, Pakistan. He was also appointed curator of the Lahore Central Museum. Now he was called upon to design the various exotic banners and hangings for the first Delhi Durbar of 1877, and became a first class curator, promoting Punjabi art and crafts in particular at the various late-Victorian international exhibitions. Thoroughly imbued with the spirit of local crafts, in Lahore he produced wonderfully intricate decorative woodcarving in the traditional manner. He not only ran the educational establishment and museum here, but rebuilt them, making this "cultural quarter of the capital of the Punjab" his "most visible legacy" (Bryant, "Kipling and Architecture," 109).
Lockwood Kipling had not cut himself off from England. His wife had gone home to give birth to their daughter Alice in 1868 (the couple sadly lost a second, prematurely born son in 1870), and his children were sent there early on, and educated there. At the time, at least, his fame spread there too. He was made a Companion of the Order of the Indian Empire (CIE) in 1887, and received his most important commission in England when Queen Victoria requested him to design a Durbar Room at Osborne in 1890-92.
Lockwood Kipling's In Good Season, an illustration including his son's verse in his own book, Beast and Man in India (1891).
Both Lockwood and his wife had published in local papers from the beginning of their time in India, and Lockwood had been much involved in journalism and illustration throughout. In his writing he expressed the prejudices of his time, but in his drawing and painting, as in his leadership as teacher and curator, he had a wonderful inwardness with the people and ways of the subcontinent. Both these aspects are shown in his Beast and Man in India (1891) for which he provided over eighty of the illustrations. After the couple's retirement to Tisbury in Wiltshire in 1893, the "Pater," who had always been deeply interested in his son's work, continued to keep himself busy by illustrating his and various other writings, including Rudyard's Kim (1901).
Lockwood Kipling died on 26 January 1911, shortly after his wife. His legacy, however, remains. As for the English side of it, through his tangible contributions to the institutions with which he was involved, and by fulfilling his commissions on or relating to the subcontinent, he added "significantly to English knowledge of the sense and style of Indian art, particularly in the area of traditional handicrafts. His reports from the field on Indian handicraft practice were an important source for British craftsmen and designers in the late nineteenth century" (Tharapur 54). The 2017 exhibition of Lockwood Kipling's work at the Victoria and Albert Museum, and later at the Bard Graduate Centre in New York, should help to raise his profile considerably.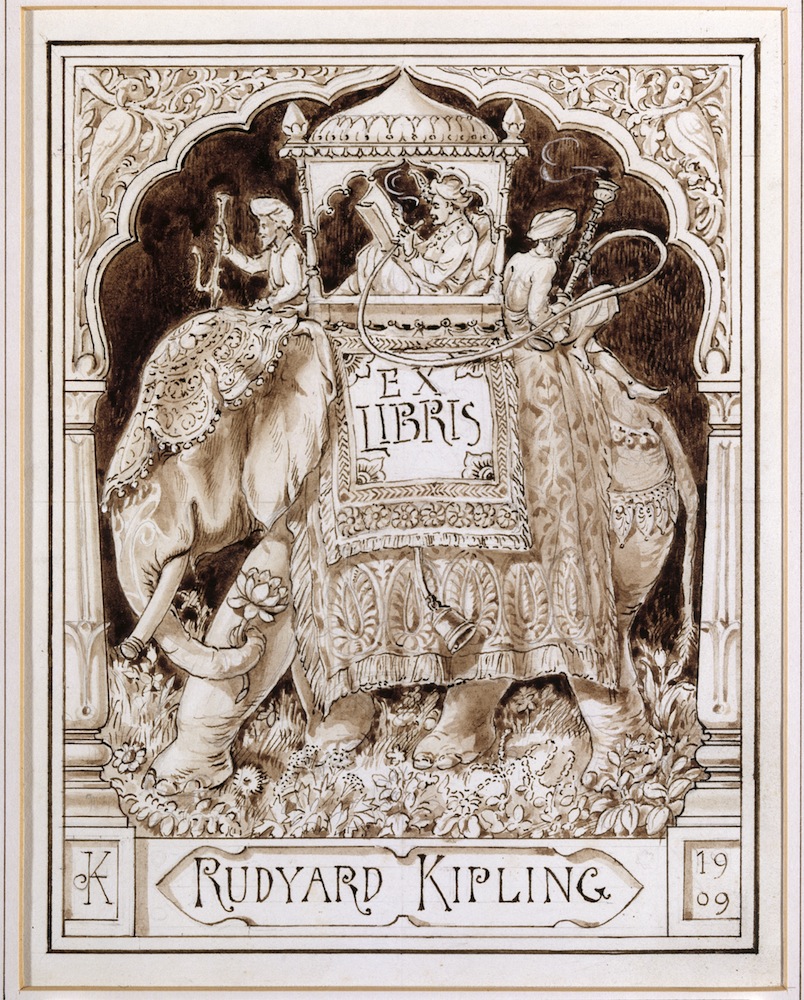 On display at the exhibition, among many exquisite artefacts: the bookplate that Kipling designed for his son in 1909. © National Trust/John Hammond.
Bibliography
Bryant, Julius. "The Careers and Character of 'J. L. K.'" In Bryant and Weber. 37-59.
_____. "Kipling as a Sculptor." In Bryant and Weber. 81-105.
_____. "Kipling, John Lockwood (1837–1911)." Oxford Dictionary of National Biography. Online ed. Web. January 19, 2017.
Bryant, Julius, and Susan Weber, eds. John Lockwood Kipling: Arts and Crafts in the Punjab and London. New York: Bard Graduate Centre Gallery; New Haven and London: Yale University Press, 2017. [Review]
Kemp, Sandra. "My Bread and Butter: Kipling's Journalism." In Bryant and Weber. 301-27.
Khan, Nadhra Shahbaz. "Industrial Art Education in Colonial Punjab: Kipling's Pedagogy and Hereditary Craftsmen." Bryant and Weber. 469-87.
Kipling, John Lockwood. Beast and Man in India: A Popular Sketch of Indian Animals in Their Relations with the People. London: Macmillan, 1891. Internet Archive. Contributed by the Royal College of Physicians in Edinburgh. Web. 19 January 2017.
Kipling, Rudyard. Something of Myself: For My Friends Known and Unknown. London: Macmillan, 1937.
Tarapor, Mahrukh. "John Lockwood Kipling and British Art Education in India." Victorian Studies 24/1 (1980): 53-81 (consulted here on JSTOR).
Weber, Susan. "Kipling and the Exhibitions Movement." In Bryant and Weber. 205-79.
---
Created 19 January 2017.