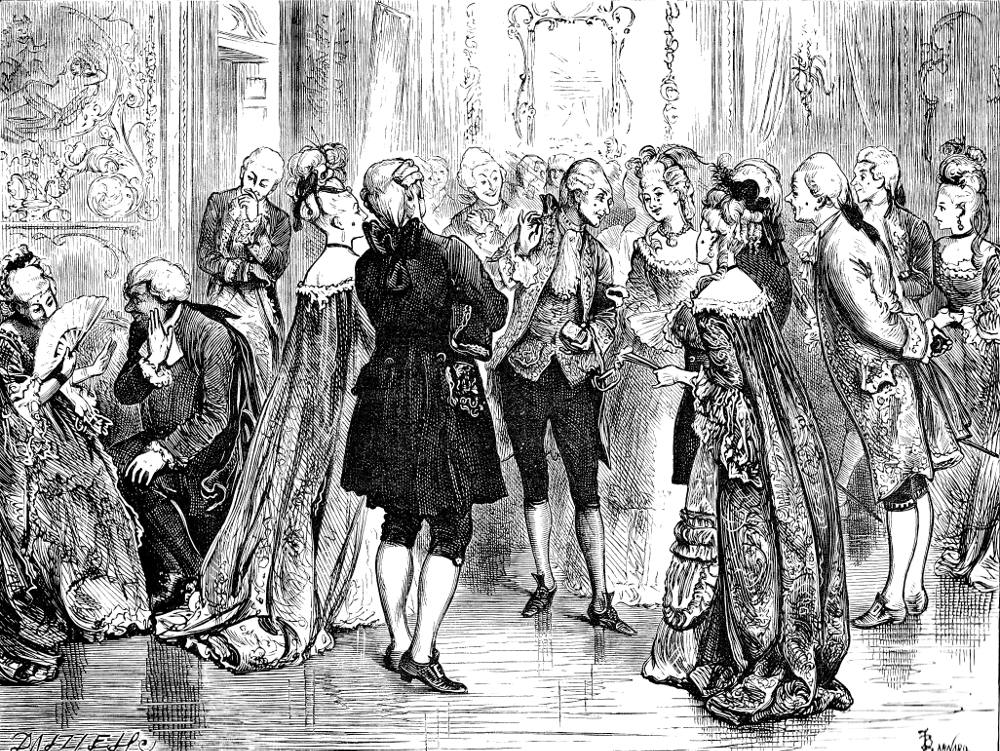 How the Accomplished Gentleman spent the Evening in the Midst of a Dazzling and Brilliant Circle by Fred Barnard. 1874. 5 ¼ x 6 ¾ inches (13.1 cm by 17.3 cm), framed. Mr. Chester, centre, is the focal point of the composition from Dickens's Barnaby Rudge: A Tale of the Riots of 'Eighty, Chapter XXIV, 93. Frontispiece: facing the title-page. [Click on the images to enlarge them.]
Passage Illustrated
How the accomplished gentleman spent the evening in the midst of a dazzling and brilliant circle; how he enchanted all those with whom he mingled by the grace of his deportment, the politeness of his manner, the vivacity of his conversation, and the sweetness of his voice; how it was observed in every corner, that Chester was a man of that happy disposition that nothing ruffled him, that he was one on whom the world's cares and errors sat lightly as his dress, and in whose smiling face a calm and tranquil mind was constantly reflected; how honest men, who by instinct knew him better, bowed down before him nevertheless, deferred to his every word, and courted his favourable notice; how people, who really had good in them, went with the stream, and fawned and flattered, and approved, and despised themselves while they did so, and yet had not the courage to resist; how, in short, he was one of those who are received and cherished in society (as the phrase is) by scores who individually would shrink from and be repelled by the object of their lavish regard; are things of course, which will suggest themselves. Matter so commonplace needs but a passing glance, and there an end. [Chapter XXIV, 93]
Commentary
The frontispiece for the seventh volume of the British Household Edition does not focus upon the main historical action of the story — the Gordon Riots of 1780 — or even such significant characters as the lovers (Dolly Varden, Joe Willet, Emma Haredale, and Edward Chester) or Barnaby, Grip, and Mrs. Rudge. Rather, Barnard transports readers to Mr. Chester's easy conquest of another evening gathering of London society. However, Barnard's choice of subject permits him to show eighteenth-century fashion in its highest form, and to introduce at the outset the story's aristocratic villain who manoeuvres to prevent his son from marrying his enemy's niece.
Relevant Illustration from the 1841 First Edition
Phiz's description of the scene that precedes the gathering of high society as, having acquired intelligence from Maypole Hugh, Mr. Chester departs from his chambers at The Paper Buildings in a sedan-chair: Purifying the Atmosphere in Ch. XXIII (8 May 1841).
Related Material including Other Illustrated Editions of
Barnaby Rudge
Scanned image, colour correction, sizing, caption, and commentary by Philip V. Allingham. [You may use this image without prior permission for any scholarly or educational purpose, as long as you (1) credit the person who scanned the image, and (2) link your document to this URL in a web document or cite the Victorian Web in a print one.]
Bibliography
Dickens, Charles. Barnaby Rudge in Master Humphrey's Clock. Illustrated by Phiz and George Cattermole. 3 vols. London: Chapman and Hall, 1841; rpt., Bradbury and Evans, 1849.
________. Barnaby Rudge — A Tale of the Riots of 'Eighty. Illustrated by Fred Barnard. The Household Edition. 22 vols. London: Chapman and Hall, 1874. VII.
---
Last modified 24 December 2020