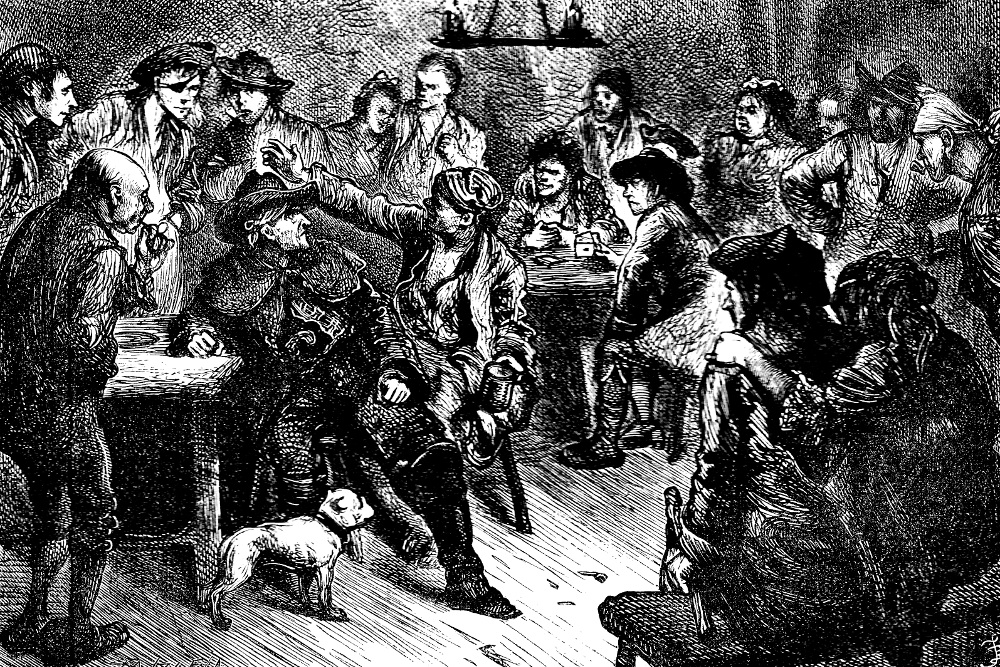 "Come, come, master," cried the fellow, urged on by the looks of his comrades, and slapping him on the shoulder; "be more companionable and communicative. Be more the gentleman in this good company." by Fred Barnard. 1874. 3 7⁄16 by 5 5⁄16 inches (10.7 cm by 13.7 cm), framed. Dickens's Barnaby Rudge: A Tale of the Riots of 'Eighty, Chapter XVI, 64. [Click on the image to enlarge it.]
Context of the Illustration: The Mysterious Stranger in a Rough Crowd
At last, one man — he was one of those whose commerce lay among the graves — resolved to question this strange companion. Next night, when he had eat his poor meal voraciously (he was accustomed to do that, they had observed, as though he had no other in the day), this fellow sat down at his elbow.
"A black night, master!"
"It is a black night."
"Blacker than last, though that was pitchy too. Didn't I pass you near the turnpike in the Oxford Road?"
"It's like you may. I don't know."
"Come, come, master," cried the fellow, urged on by the looks of his comrades, and slapping him on the shoulder; "be more companionable and communicative. Be more the gentleman in this good company. There are tales among us that you have sold yourself to the devil, and I know not what."
"We all have, have we not?" returned the stranger, looking up. "If we were fewer in number, perhaps he would give better wages."
"Do you threaten?" said the fellow.
"Yes," returned the other, rising and turning upon him, and looking fiercely round as if in apprehension of a general attack.
"His voice, and look, and bearing — all expressive of the wildest recklessness and desperation — daunted while they repelled the bystanders. Although in a very different sphere of action now, they were not without much of the effect they had wrought at the Maypole Inn.
"It goes rather hard with you, indeed," said the fellow, as the stranger disclosed his haggard unwashed face, and torn clothes. 'What of that? Be merry, master. A stave of a roaring song now" —
"Sing you, if you desire to hear one," replied the other, shaking him roughly off; "and don't touch me if you're a prudent man; I carry arms which go off easily — they have done so, before now — and make it dangerous for strangers who don't know the trick of them, to lay hands upon me." [Chapter XVI, 64]
Commentary: In the Thieves' Den
Barnard enables the viewer to find the stranger in the thieves' den by making his the largest figure, by placing him and his interlocutor in the centre of the composition, and by giving him that distinctive double-coat and head-covering — the bandana and the brimmed hat that Old Rudge wears when Barnard introduces him in the nocturnal scene "Stand — let me see your face" on the opening page. The hardened criminals, whom Barnard depicts as a throughly disreputable lot, are cautious in interacting with the menacing stranger who seems to possess supernatural powers of perception.
Related Material including Other Illustrated Editions of
Barnaby Rudge
Scanned image, colour correction, sizing, caption, and commentary by Philip V. Allingham. [You may use this image without prior permission for any scholarly or educational purpose, as long as you (1) credit the person who scanned the image, and (2) link your document to this URL in a web document or cite the Victorian Web in a print one.]
Bibliography
Dickens, Charles. Barnaby Rudge in Master Humphrey's Clock. Illustrated by Phiz and George Cattermole. 3 vols. London: Chapman and Hall, 1841; rpt., Bradbury and Evans, 1849.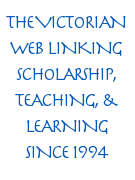 ________. Barnaby Rudge — A Tale of the Riots of 'Eighty. Illustrated by Fred Barnard. The Household Edition. 22 vols. London: Chapman and Hall, 1874. VII.
---
Created 20 August 2020

Last modified 18 December 2020