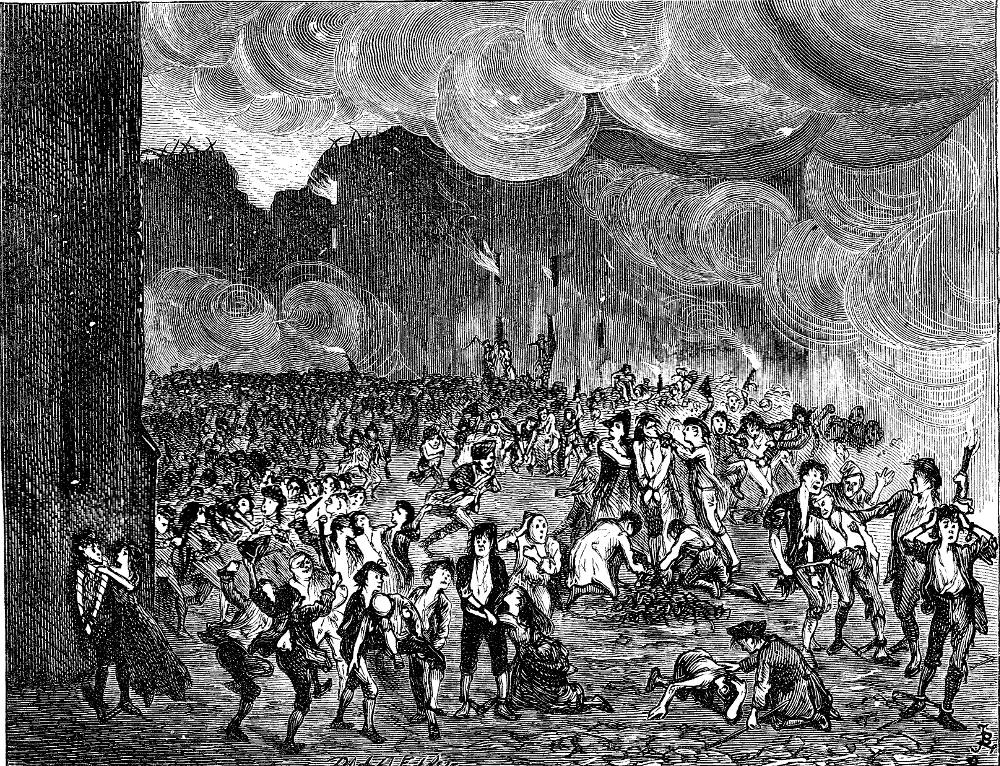 The Burning of Newgate by Fred Barnard. 1874. 4 1⁄16 x 5 ⅜ inches (10.4 cm by 13.5 cm), framed. Dickens's Barnaby Rudge: A Tale of the Riots of 'Eighty, Chapter LXV, 252.
Context of the Illustration: The Mob sets fire to Newgate to liberate Barnaby
Now, now, the door was down. Now they came rushing through the jail, calling to each other in the vaulted passages; clashing the iron gates dividing yard from yard; beating at the doors of cells and wards; wrenching off bolts and locks and bars; tearing down the door-posts to get men out; endeavouring to drag them by main force through gaps and windows where a child could scarcely pass; whooping and yelling without a moment's rest; and running through the heat and flames as if they were cased in metal. By their legs, their arms, the hair upon their heads, they dragged the prisoners out. Some threw themselves upon the captives as they got towards the door, and tried to file a way their irons; some danced about them with a frenzied joy, and rent their clothes, and were ready, as it seemed, to tear them limb from limb. Now a party of a dozen men came darting through the yard into which the murderer cast fearful glances from his darkened window; dragging a prisoner along the ground whose dress they had nearly torn from his body in their mad eagerness to set him free, and who was bleeding and senseless in their hands. Now a score of prisoners ran to and fro, who had lost themselves in the intricacies of the prison, and were so bewildered with the noise and glare that they knew not where to turn or what to do, and still cried out for help, as loudly as before. Anon some famished wretch whose theft had been a loaf of bread, or scrap of butcher's meat, came skulking past, barefooted—going slowly away because that jail, his house, was burning; not because he had any other, or had friends to meet, or old haunts to revisit, or any liberty to gain, but liberty to starve and die. And then a knot of highwaymen went trooping by, conducted by the friends they had among the crowd, who muffled their fetters as they went along, with handkerchiefs and bands of hay, and wrapped them in coats and cloaks, and gave them drink from bottles, and held it to their lips, because of their handcuffs which there was no time to remove. All this, and Heaven knows how much more, was done amidst a noise, a hurry, and distraction, like nothing that we know of, even in our dreams; which seemed for ever on the rise, and never to decrease for the space of a single instant.
He was still looking down from his window upon these things, when a band of men with torches, ladders, axes, and many kinds of weapons, poured into the yard, and hammering at his door, inquired if there were any prisoner within. [Chapter LXV, 251-52]
Commentary
Surprisingly, Barnard does not use the illustration of the prison yard filled with the rioters to advance readers' understanding of the plot or the characters. In fact, one cannot detect the presence of those characters in the opening pages of Chapter LXV: Dennis, Hugh, Sim, Old Rudge, and Barnaby are not immediately obvious. The picture does, however, give the reader a sense of the chaos that the rioters have caused by setting fire to the main gate in order to free their fellows.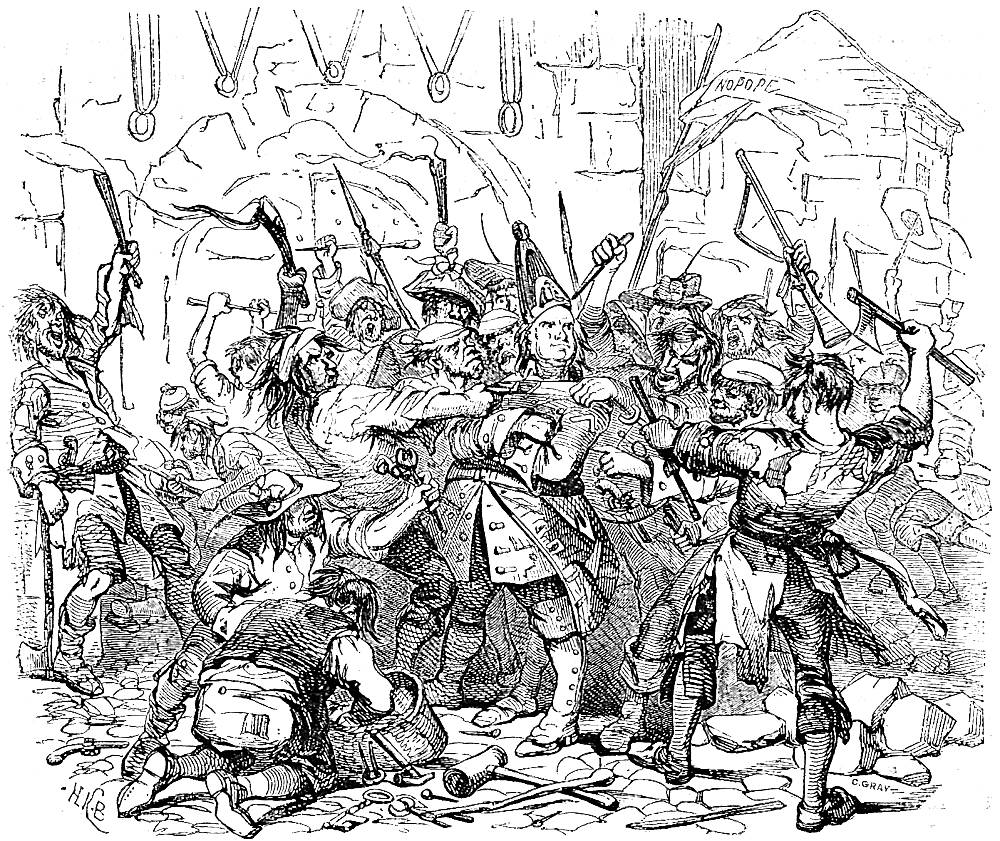 Above: Phiz's dramatic closeup of Varden's defying the rioters in Chapter LXIV: The Locksmith Undaunted (25 September 1841).
Related Material including Other Illustrated Editions of
Barnaby Rudge
Scanned image, colour correction, sizing, caption, and commentary by Philip V. Allingham. [You may use this image without prior permission for any scholarly or educational purpose, as long as you (1) credit the person who scanned the image, and (2) link your document to this URL in a web document or cite the Victorian Web in a print one.] Click on the image to enlarge it.
Bibliography
Dickens, Charles. Barnaby Rudge in Master Humphrey's Clock. Illustrated by Phiz and George Cattermole. 3 vols. London: Chapman and Hall, 1841.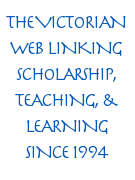 _______. Barnaby Rudge. Illustrated by Sol Eytinge, Jr. The Diamond Edition. 16 vols. Boston: Ticknor and Fields, 1867.
________. Barnaby Rudge — A Tale of the Riots of 'Eighty. Illustrated by Fred Barnard. The Household Edition. 22 vols. London: Chapman and Hall, 1874. VII.
________. The Dickens Souvenir Book. London: Chapman & Hall, 1912.
Hammerton, J. A. "Ch. XIV. Barnaby Rudge." The Dickens Picture-Book. The Charles Dickens Library Edition, illustrated by Harry Furniss. London: Educational Book Co., 1910. 213-55.
---
Last modified 20 October 2020