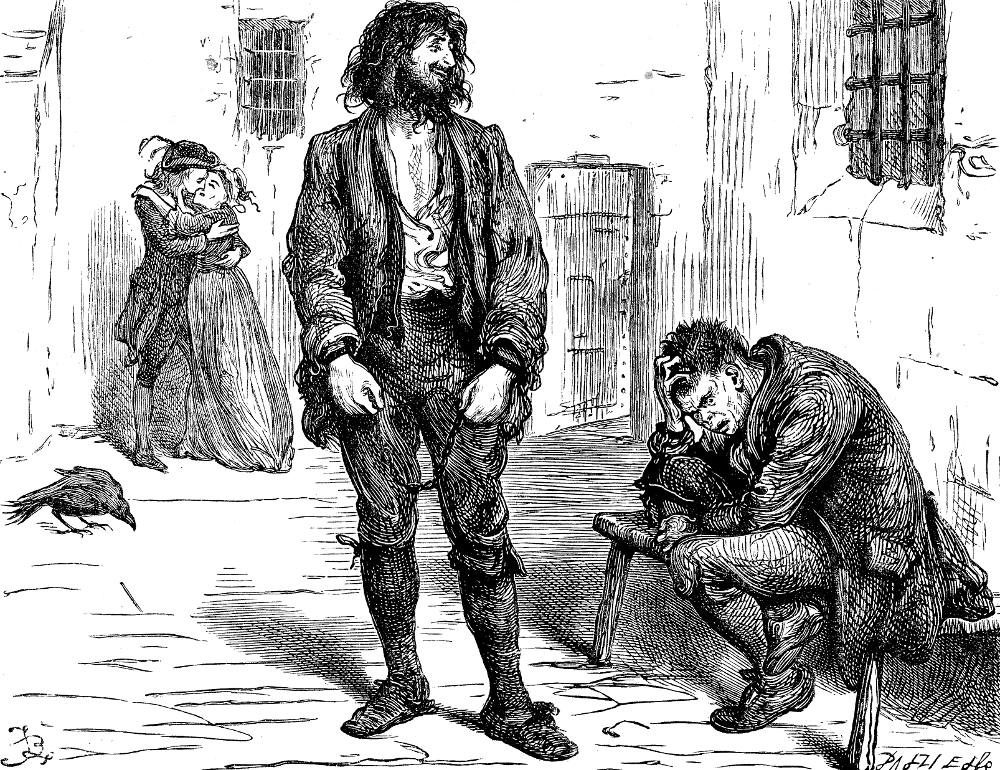 "You ought to be the bestbest, instead of the worst," said Hugh, stopping before him. "Ha, ha, ha! See the hangman, when it comes home to him!" by Fred Barnard. 1874. 4 ⅛ x 5 ⅜ inches (10.6 cm by 13.7 cm), framed. Dickens's Barnaby Rudge: A Tale of the Riots of 'Eighty, Chapter LXXVII, 300. [Click on the images to enlarge them.]
Context of the Illustration: Dennis fears his reprieve has been delayed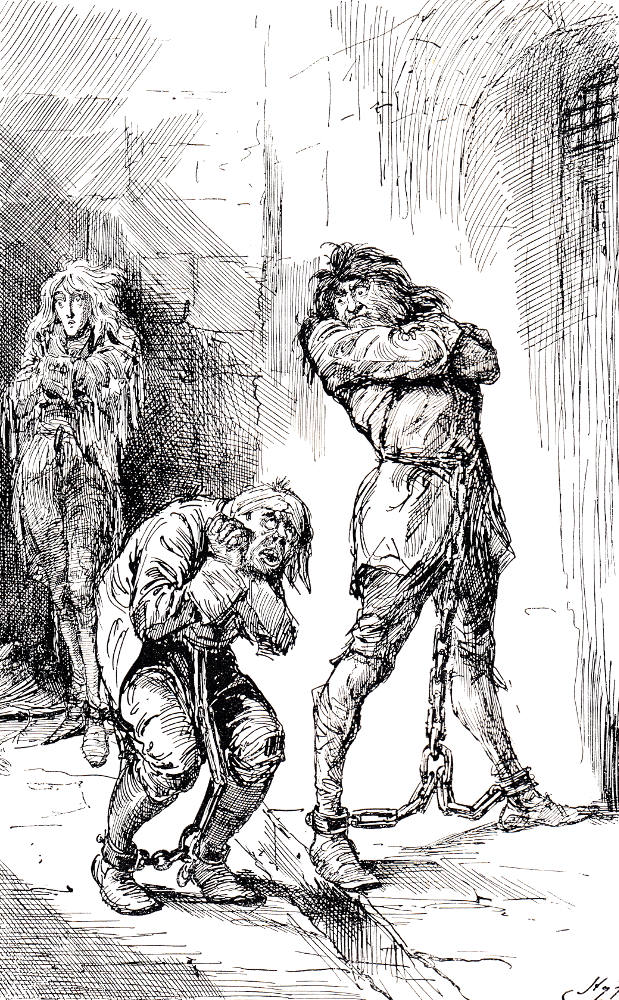 Harry Furniss's description of the reactions of the trio who shortly will face a public execution on a scaffold erected just outside Newgate: Dennis and Hugh Condemned (1910).
Dennis and Hugh were in the courtyard. Hugh came forth from his cell as they did, stretching himself as though he had been sleeping. Dennis sat upon a bench in a corner, with his knees and chin huddled together, and rocked himself to and fro like a person in severe pain.
The mother and son remained on one side of the court, and these two men upon the other. Hugh strode up and down, glancing fiercely every now and then at the bright summer sky, and looking round, when he had done so, at the walls. . . . .
"No reprieve, no reprieve! Nobody comes near us. There's only the night left now!" moaned Dennis faintly, as he wrung his hands. "Do you think they'll reprieve me in the night, brother? I've known reprieves come in the night, afore now. I've known 'em come as late as five, six, and seven o'clock in the morning. Don't you think there's a good chance yet, — don't you? Say you do. Say you do, young man,' whined the miserable creature, with an imploring gesture towards Barnaby, 'or I shall go mad!"
"Better be mad than sane, here," said Hugh. "Go mad."
"But tell me what you think. Somebody tell me what he thinks!" cried the wretched object, — so mean, and wretched, and despicable, that even Pity's self might have turned away, at sight of such a being in the likeness of a man — "isn't there a chance for me, —i sn't there a good chance for me? Isn't it likely they may be doing this to frighten me? Don't you think it is? Oh!" he almost shrieked, as he wrung his hands, "won't anybody give me comfort!"
"You ought to be the best, instead of the worst," said Hugh, stopping before him. "Ha, ha, ha! See the hangman, when it comes home to him!"
"You don't know what it is," cried Dennis, actually writhing as he spoke: "I do. That I should come to be worked off! I! I! That I should come!" [Chapter LXXVI, 297]
Related Material including Other Illustrated Editions of
Barnaby Rudge
Scanned image, colour correction, sizing, caption, and commentary by Philip V. Allingham. [You may use this image without prior permission for any scholarly or educational purpose, as long as you (1) credit the person who scanned the image, and (2) link your document to this URL in a web document or cite the Victorian Web in a print one.]
Bibliography
Dickens, Charles. Barnaby Rudge in Master Humphrey's Clock. Illustrated by Phiz and George Cattermole. 3 vols. London: Chapman and Hall, 1841.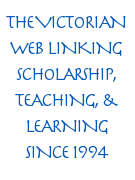 _______. Barnaby Rudge. Illustrated by Sol Eytinge, Jr. The Diamond Edition. 16 vols. Boston: Ticknor and Fields, 1867.
________. Barnaby Rudge — A Tale of the Riots of 'Eighty. Illustrated by Fred Barnard. The Household Edition. 22 vols. London: Chapman and Hall, 1874. VII.
________. The Dickens Souvenir Book. London: Chapman & Hall, 1912.
Hammerton, J. A. "Ch. XIV. Barnaby Rudge." The Dickens Picture-Book. The Charles Dickens Library Edition, illustrated by Harry Furniss. London: Educational Book Co., 1910. 213-55.
---
Last modified 18 December 2020