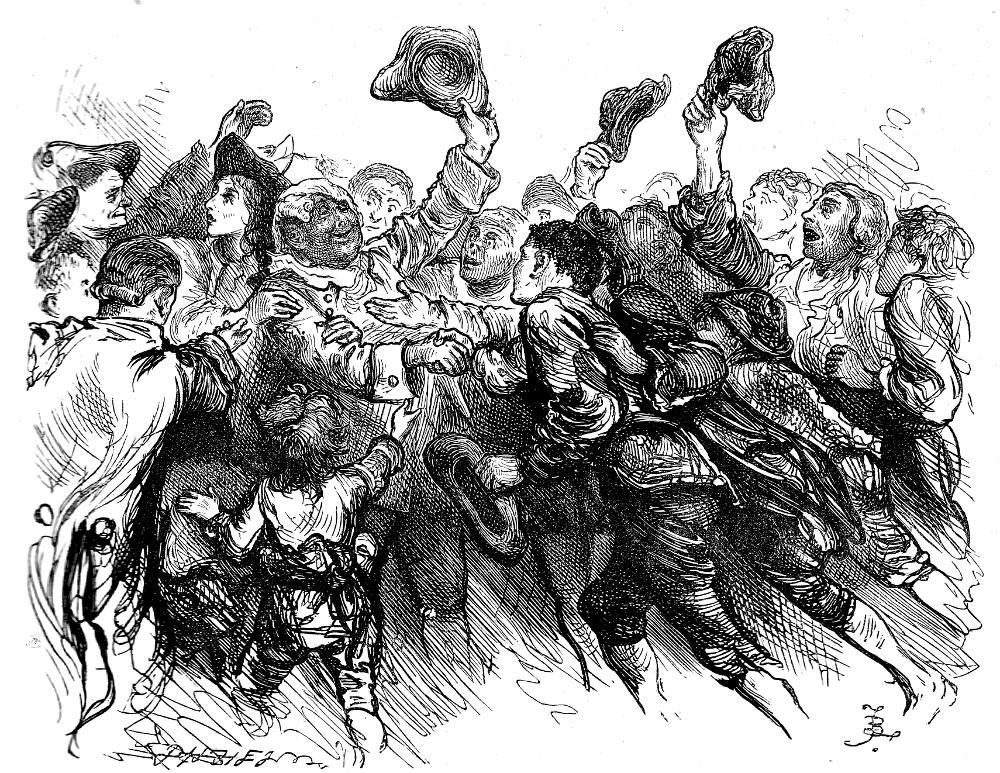 The locksmith's ruddy face and burly form could be descried, beating about as though he was struggling with a rough sea by Fred Barnard. 1874. 4 ¼ x 5 ⅜ inches (10.6 cm by 13.8 cm), vignetted. Dickens's Barnaby Rudge: A Tale of the Riots of 'Eighty, Chapter LXXIX, 309. [Click on the image to enlarge it.]
Context of the Illustration: Gabriel Varden celebrates Barnaby's reprieve
They ran to the window, drew up the sash, and looked into the crowded street. Among a dense mob of persons, of whom not one was for an instant still, the locksmith's ruddy face and burly form could be descried, beating about as though he was struggling with a rough sea. Now, he was carried back a score of yards, now onward nearly to the door, now back again, now forced against the opposite houses, now against those adjoining his own: now carried up a flight of steps, and greeted by the outstretched hands of half a hundred men, while the whole tumultuous concourse stretched their throats, and cheered with all their might. Though he was really in a fair way to be torn to pieces in the general enthusiasm, the locksmith, nothing discomposed, echoed their shouts till he was as hoarse as they, and in a glow of joy and right good-humour, waved his hat until the daylight shone between its brim and crown.
But in all the bandyings from hand to hand, and strivings to and fro, and sweepings here and there, which — saving that he looked more jolly and more radiant after every struggle — troubled his peace of mind no more than if he had been a straw upon the water's surface, he never once released his firm grasp of an arm, drawn tight through his. He sometimes turned to clap this friend upon the back, or whisper in his ear a word of staunch encouragement, or cheer him with a smile; but his great care was to shield him from the pressure, and force a passage for him to the Golden Key. Passive and timid, scared, pale, and wondering, and gazing at the throng as if he were newly risen from the dead, and felt himself a ghost among the living, Barnaby — not Barnaby in the spirit, but in flesh and blood, with pulses, sinews, nerves, and beating heart, and strong affections — clung to his stout old friend, and followed where he led. [Chapter LXXIX, 308-9]
Related Material including Other Illustrated Editions of
Barnaby Rudge
Scanned image, colour correction, sizing, caption, and commentary by Philip V. Allingham. [You may use this image without prior permission for any scholarly or educational purpose, as long as you (1) credit the person who scanned the image, and (2) link your document to this URL in a web document or cite the Victorian Web in a print one.] Click on the image to enlarge it.
Bibliography
Dickens, Charles. Barnaby Rudge in Master Humphrey's Clock. Illustrated by Phiz and George Cattermole. 3 vols. London: Chapman and Hall, 1841.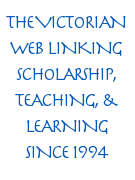 _______. Barnaby Rudge. Illustrated by Sol Eytinge, Jr. The Diamond Edition. 16 vols. Boston: Ticknor and Fields, 1867.
________. Barnaby Rudge — A Tale of the Riots of 'Eighty. Illustrated by Fred Barnard. The Household Edition. 22 vols. London: Chapman and Hall, 1874. VII.
________. The Dickens Souvenir Book. London: Chapman & Hall, 1912.
Hammerton, J. A. "Ch. XIV. Barnaby Rudge." The Dickens Picture-Book. The Charles Dickens Library Edition, illustrated by Harry Furniss. London: Educational Book Co., 1910. 213-55.
---
Last modified 18 December 2020