"Oh, really? You know how ignorant I am, and that I only ask for information, but isn't it always so? I thought that kind of life was on all hands understood to be — eh?" (1872). Twenty-second illustration by Fred Barnard for the Household Edition of David Copperfield (for Chapter XX, "Steerforth's Home," p. 137). 9.2 x 13.8 mm (3 ⅝ by 5 ⅜ inches) framed. Heading for p. 147: "Maternal Pride." [Click on the image to enlarge it.]
Passage Illustrated: Rosa Dartle Enjoys Embarrassing David
When the evening was pretty far spent, and a tray of glasses and decanters came in, Steerforth promised, over the fire, that he would seriously think of going down into the country with me. There was no hurry, he said; a week hence would do; and his mother hospitably said the same. While we were talking, he more than once called me Daisy; which brought Miss Dartle out again.
"But really, Mr. Copperfield," she asked, "is it a nickname? And why does he give it you? Is it — eh? — because he thinks you young and innocent? I am so stupid in these things."
I coloured in replying that I believed it was.
"Oh!" said Miss Dartle. "Now I am glad to know that! I ask for information, and I am glad to know it. He thinks you young and innocent; and so you are his friend. Well, that's quite delightful!" [Chapter XX, "Steerforth's Home," 148]
Studies of Rosa Dartle at the Steerforths' from Other Editions (1867 and 1910)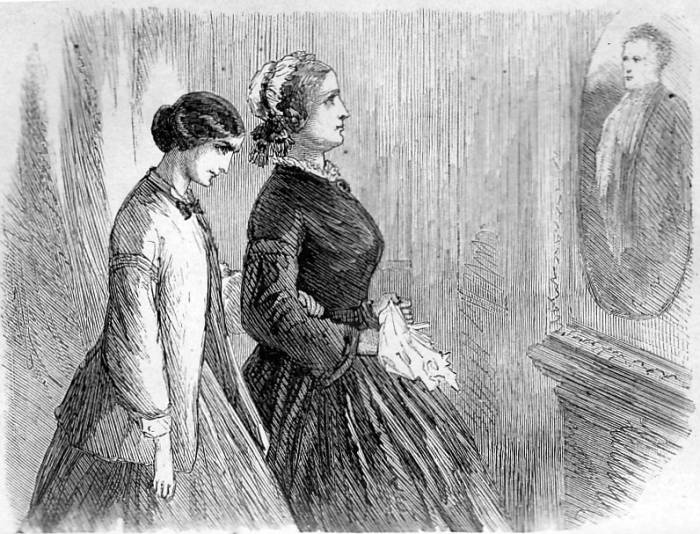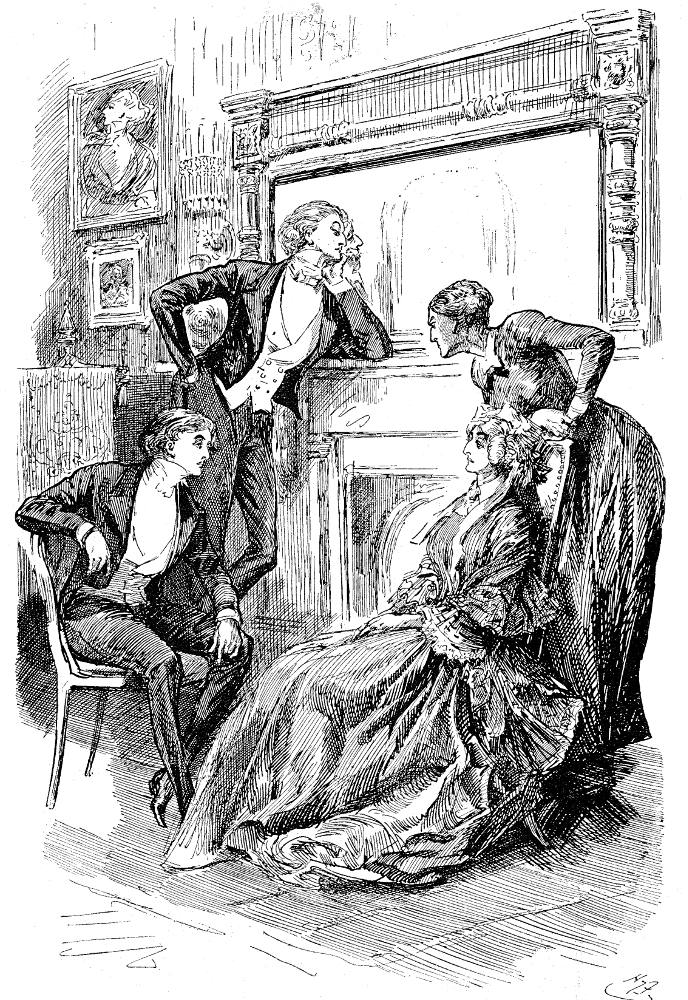 Left: Sol Eytinge, Jr.'s dual character study of the David's mother and her knowing companion: Mrs. Steerforth and Rosa Dartle (Diamond Edition, 1867). Right: Harry Furniss's version of Rosa seems appropriate to her perceptive and witty banter: Rosa Dartle Enquires about "Daisy" (Charles Dickens Library Edition, 1910. [Click on the images to enlarge them.]
The copy of the Household Edition from which this picture was scanned was the gift of George Gorniak, Editor of The Dickens Magazine, whose subject for the fifth series, beginning in January 2010, is this novel.
Scanned image and text by Philip V. Allingham. [You may use this image without prior permission for any scholarly or educational purpose as long as you (1) credit the person who scanned the image and (2) link your document to this URL in a web document or cite the Victorian Web in a print one.]
Bibliography
Bentley, Nicolas, Michael Slater, and Nina Burgis. The Dickens Index. Oxford and New York: Oxford U. P., 1988.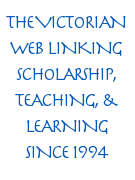 Dickens, Charles. David Copperfield. Illustrated by Hablot Knight Browne ("Phiz"). The Centenary Edition. 2 vols. London and New York: Chapman & Hall, Charles Scribner's Sons, 1911.
_______. The Personal History of David Copperfield. Illustrated by Sol Eytinge, Jr. The Diamond Edition. 14 vols. Boston: Ticknor & Fields, 1867. Vol. V.
_______. David Copperfield, with 61 illustrations by Fred Barnard. Household Edition. London: Chapman and Hall, 1872. Vol. III.
_______. The Personal History and Experiences of David Copperfield. Illustrated by Harry Furniss. The Charles Dickens Library Edition. London: Educational Book Company, 1910. Vol. X.
---
Created 14 June 2009 Last modified 8 March 2022