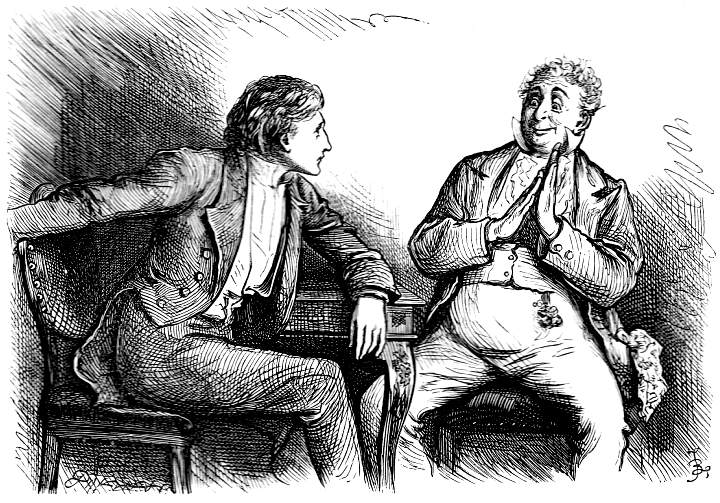 "Then, I have got it, boy!" said Mr. Dick. — Forty-fourth illustration for the 1872 Household Edition of David Copperfield (illustrating a moment in Chapter XLV, "Mr. Dick Fulfils My Aunt's Predictions," p. 313). 9.4 x 13.8 cm (3 ¾ by 5 ⅜ inches), vignetted. [Click on the image to enlarge it. Mouse over text for links.]
Passage Realised: Mr. Dick's Bright Idea
He looked so wistfully into my face, and was so anxious to understand, that I took great pains to answer him slowly and distinctly, as I might have entered on an explanation to a child.
"There is some unfortunate division between them," I replied. "Some unhappy cause of separation. A secret. It may be inseparable from the discrepancy in their years. It may have grown up out of almost nothing.
Mr. Dick, who had told off every sentence with a thoughtful nod, paused when I had done, and sat considering, with his eyes upon my face, and his hand upon my knee.
"Doctor not angry with her, Trotwood?" he said, after some time.
"No. Devoted to her."
"Then, I have got it, boy!" said Mr. Dick.
The sudden exultation with which he slapped me on the knee, and leaned back in his chair, with his eyebrows lifted up as high as he could possibly lift them, made me think him farther out of his wits than ever. He became as suddenly grave again, and leaning forward as before, said — first respectfully taking out his pocket-handkerchief, as if it really did represent my aunt:
"Most wonderful woman in the world, Trotwood. Why has she done nothing to set things right?"
"Too delicate and difficult a subject for such interference," I replied. [Chapter XLV, "Mr. Dick fulfills my Aunt's Predictions," 325]
Relevant illustrations from other 19th editions, 1850-1867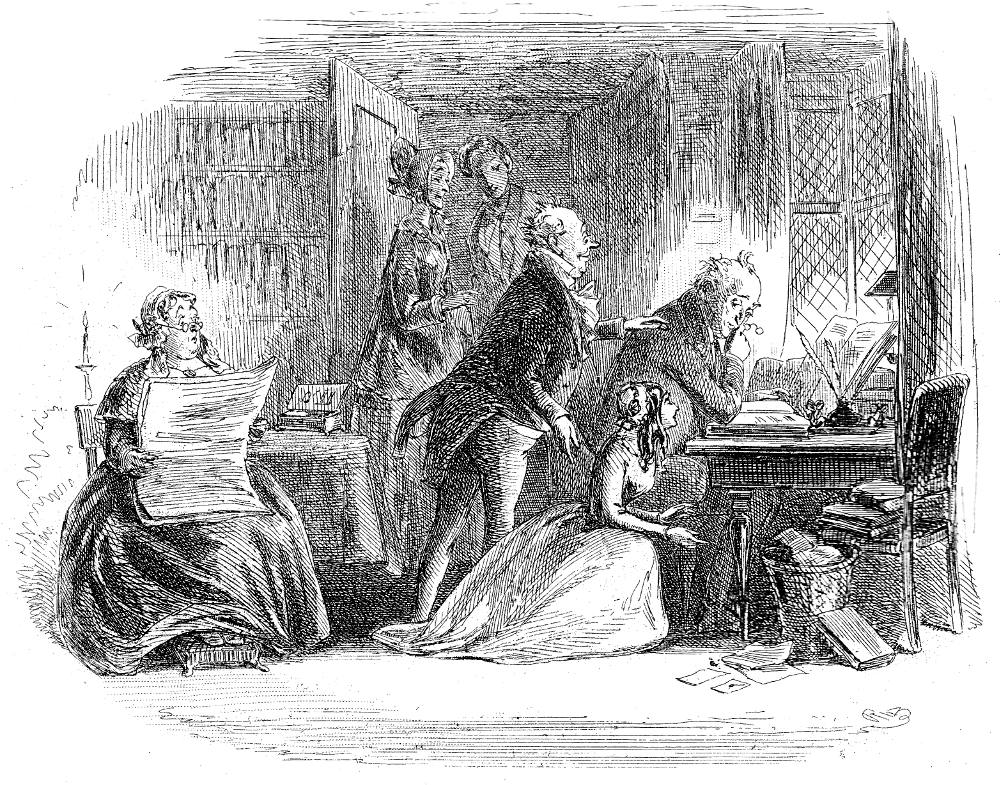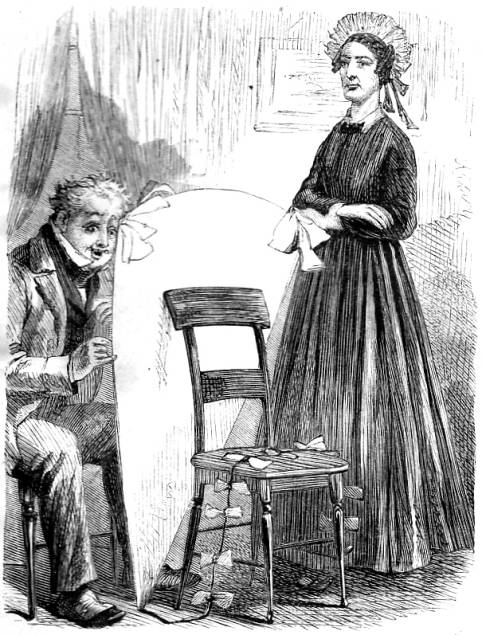 Left: The original Phiz engraving for this chapter in which Mr. Dick assumes the role of an advisor to Dr. Strong, Mr. Dick fulfils my Aunt's prediction (July 1850). Right: The Sol Eytinge, Jr., Diamond Edition characterisation of Betsey Twood and Mr. Dick, delighting in the construction of a kite, Miss Trotwood and Mr. Dick (1867). [Click on images to enlarge them.]
Related Material
Scanned image and text by Philip V. Allingham. [You may use this image without prior permission for any scholarly or educational purpose as long as you (1) credit the person who scanned the image and (2) link your document to this URL in a web document or cite the Victorian Web in a print one.]
The copy of the Household Edition from which this picture was scanned was the gift of George Gorniak, Editor of The Dickens Magazine, whose subject for the fifth series, beginning in January 2010, is this novel.
Bibliography
Bentley, Nicolas, Michael Slater, and Nina Burgis. The Dickens Index. Oxford and New York: Oxford U. P., 1988.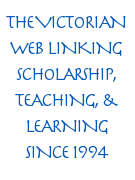 Dickens, Charles. David Copperfield. Illustrated by Hablot Knight Browne ("Phiz"). The Centenary Edition. 2 vols. London and New York: Chapman & Hall, Charles Scribner's Sons, 1911.
_______. The Personal History of David Copperfield. Illustrated by Sol Eytinge, Jr. The Diamond Edition. 14 vols. Boston: Ticknor & Fields, 1867. Vol. V.
_______. David Copperfield, with 61 illustrations by Fred Barnard. Household Edition. London: Chapman and Hall, 1872. Vol. III.
_______. The Personal History and Experiences of David Copperfield. Illustrated by Harry Furniss. The Charles Dickens Library Edition. London: Educational Book Company, 1910. Vol. X.
---
Last modified 25 August 2016