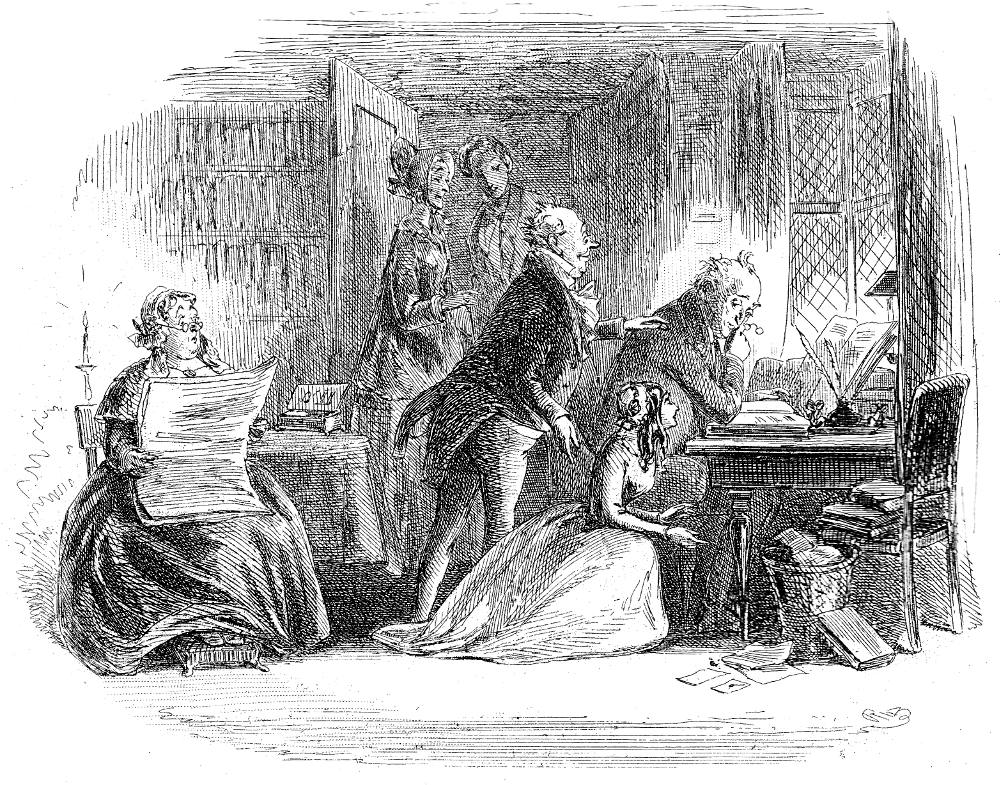 Mr. Dick fulfills my Aunt's Prediction by Phiz (Hablot Knight Browne). July 1850 (Instalment No. 15). Steel etching. Illustration for Chapter XLV, "Mr. Dick fulfills my Aunt's Predictions," in Charles Dickens's David Copperfield. Source: Centenary Edition (1911), Volume Two, facing page 266. 10.5 x 12.9 cm (4 ⅛ by 5 ⅛ inches), vignetted. [Click on the image to enlarge it.]
Commentary: A "Staged" Reconciliation Scene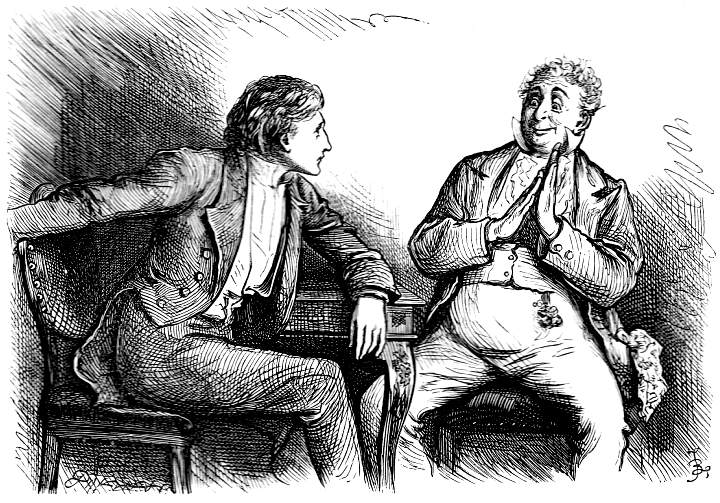 Fred Barnard's Household Edition moment of epiphany for Mr. Dick: "Then, I have got it, boy!" said Mr. Dick. (1872).
For the second illustration in the fifteenth monthly number, which was issued in July 1850 and comprises Chapters 44 through 46, Phiz has chosen to realize the dramatic moment at which the foolish, good-natured Richard Babley (Mr. Dick) attempts to effect an emotional reconciliation between the Strongs, who have been torn asunder by unvoiced suspicions as to young Mrs. Strong's infidelity with his childhood sweetheart, the handsome wastrel Jack Maldon. According to J. A. Hammerton (1910), the moment depicted is the following:
The gentleness of Doctor Strong's manner and surprise, the dignity that mingled with the supplicating attitude of his wife, the amiable concern of Mr. Dick, and the earnestness with which my aunt said to herself, "That man mad!" [Vol. 2, 266].
This highly staged, serio-comic tableau vivant is a reification of Victorian sentimentality, that luxuriating in tender-hearted, maudlin feelings that is so alien to twentieth-century and present-day readers. Phiz would have the reader take seriously the melodramatic pose of Annie Strong, kneeling in earnest supplication and humility before her donnish, somewhat emotionally detached philologist-spouse. As in the text, Dr. Strong seems to pause in his research; however, he does not seem particularly surprised either at his wife's beseeching posture or Mr. Dick's benign interruption. Although the books on his shelves (left) bespeak good order and domestic discipline contrasting the chaotic shelves in David and Dora's cottage in the other July 1850 illustration, Our Housekeeping, nevertheless the artist comments on the impracticality of Dr. Strong's dictionary project through the numerous reference tomes and loose papers that clutter the area immediately around his desk (right). In the shadowy central space in front of the doorway to Dr. Strong's study stand the acute observers of the scene, David and Aunt Betsey, fully engaged in the domestic drama unfolding before them.
In contrast to the serious subject of marital reconciliation at the right, to the left is "our military friend" and "old soldier" Mrs. Markleham, Annie Strong's obtuse, meddling, and snobbish mother, who has consistently served as the butt of Dickens's satire as she acts as a blight upon her daughter's marriage. Despite her importance in the text ever since David's arrival in Canterbury years before, this is her first appearance in Phiz's narrative- pictorial sequence. Corpulent and complacent, she looks up curiously from her newspaper but has not yet resumed her customary pomposity and implored her daughter to rise rather than abase herself before her husband. She is lit by the scene's only obvious source of illumination, the candle to the extreme left, but she remains emotionally and intellectually in the dark as to the significance of the scene playing out in the right-hand register of the plate. Around the noble head of Dr. Strong another light plays, but this would seem to be non-literal, the light of self-knowledge into which the amiable, simple- minded Mr. Dick and his adoring wife are about to bring him. Mr. Dick gently, tentatively rouses Dr. Strong with his upstage hand and he gestures downward with his right to bring Annie to her husband's attention, so that he seems to be saying, "Doctor! . . . What is it that's amiss? Look here!" (Vol. 2, 266).
Related Resources
Scanned image and text by Philip V. Allingham. [You may use this image without prior permission for any scholarly or educational purpose as long as you (1) credit the person who scanned the image and (2) link your document to this URL in a web document or cite the Victorian Web in a print one.]
Bibliography
Bentley, Nicolas, Michael Slater, and Nina Burgis. The Dickens Index. Oxford and New York: Oxford U. P., 1988.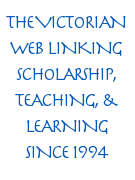 Cohen, Jane Rabb. Charles Dickens and His Original Illustrators. Columbus, Ohio: Ohio U. P., 1980.
Dickens, Charles. David Copperfield. Illustrated by Hablot Knight Browne ("Phiz"). The Centenary Edition. 2 vols. London and New York: Chapman & Hall, Charles Scribner's Sons, 1911.
_______. The Personal History of David Copperfield. Illustrated by Sol Eytinge, Jr. The Diamond Edition. 14 vols. Boston: Ticknor & Fields, 1867. Vol. V.
_______. David Copperfield, with 61 illustrations by Fred Barnard. Household Edition. London: Chapman and Hall, 1872. Vol. III.
_______. The Personal History and Experiences of David Copperfield. Illustrated by Harry Furniss. The Charles Dickens Library Edition. London: Educational Book Company, 1910. Vol. X.
Hammerton, J. A., ed. The Dickens Picture-Book: A Record of the the Dickens Illustrations. London: Educational Book, 1910.
Steig, Michael. Dickens and Phiz. Bloomington & London: Indiana U. P., 1978.
---
Created 29 January 2010 Last modified 17 March 2022