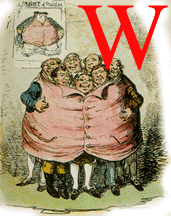 orking in the new, realistic manner of the 1860s pioneered by Fred Walker and exemplified by the work of George Du Maurier in the illustrated magazines of the decade, Frederick Barnard (1846-1896) faced a daunting task in the commission he won from Chapman and Hall in 1871: to illustrate over the next eight years nine of the twenty volumes of the green cloth-covered Household Edition of Dickens's works, including Bleak House, A Tale of Two Cities, and Martin Chuzzlewit, outdoing the narrative-pictorial sequences designed by the venerable Hablot Knight Browne ("Phiz") in collaboration with the novelist himself. For his mammoth output of roughly four hundred and fifty drawings over the eight-year life of the project Barnard earned the title "The Charles Dickens among black-and-white artists" (Kitton, p. 222). And certainly if it may be remarked of any artist illustrating Dickens after the novelist's death in 1870, it may be said of Frederick Barnard that he knew his Dickens well, if any artist has ever possessed such encyclopaedic knowledge.
Scarcely twenty-one when he received this commission, Fred Barnard decided that, rather than attempt to realize the scenes that Phiz and Dickens had originally chosen to realize on steel-etched plates, he would illustrate those textual moments that, for the most part, Phiz had not visualized. Whereas Phiz tended to draw in dramatic tableaux, group scenes for his separately mounted prints, in his illustrations produced through the revitalized medium of large-scale woodblocks and dropped directly into the letterpress, Barnard focused on the relationships between characters (often in pairs). As opposed to Phiz's delightful caricatures, Barnard has given us Dickens's people as they step forth from the pages and into our minds: three-dimensional, substantial, active, and insistently real in settings not crowded with the symbolic details that were Phiz's hallmark.
While Phiz must have wondered (when not so instructed by the writer himself, either in interviews or in letters) where the opening chapters of Martin Chuzzlewit would eventually lead the reader and which characters the novelist would choose to follow and develop (other than the titular young Martin himself), Barnard had the massive advantage of having read the whole novel, probably several times since entering adolescence, prior to planning his program of illustration that would rival Phiz's original schema in thoroughness and length. Furthermore, Barnard, though not having first-hand access to the original author's brilliant visual imagination, advice, and insight as Phiz did, was able to work at his own pace rather than that imposed by the relentless schedule of monthly serialisation. Finally, he would not have to brook Boz's corrections, observations, and interferences: he was free to follow his own pictorial fancies — well, almost free. In the mind of the reading public since before before Barnard's birth, Phiz's images of the Dickensian whimsies such as Sairy Gamp and Seth Pecksniff had engrained themselves so that, for example, Barnard could "flesh out" but could not fundamentally alter the timid Tom Pinch or the hypocritical Pecksniff, their balding pate and spiked hair respectively still being the sine qua non of these Dickens originals. Assimilating Phiz's quaint caricatures with the new realism of photography, Barnard could offer a new generation of readers something radically fresh: Dickens's characters, realised in the round, moving through three-dimensional, uncluttered settings which always keep the eye well forward.
Writing a century ago, the eight-year project of illustrating the Household Edition long completed, art critic J. A. Hammerton, a disciple of Harry Furniss, weighed the relative contributions of E. G. Dalziel, Charles Green, James Mahoney, Harry French, F. A. Fraser, and, of course, Fred Barnard:
of all the artists engaged on this edition Frederick Barnard held the most prominent position, he having fully illustrated no less than nine out of twenty books [including Sketches by Boz, Nicholas Nickleby, Barnaby Rudge, David Copperfield, Dombey and Son, the Christmas Books, and several other Dickens novellas]. Barnard ranks as one of England's truly comic artists; but he was not only comic, he was one of the most versatile artists of our time . . . . while the drawings [he produced for the Household Edition] are strictly in his own style, there is just enough resemblance to the figures created by H. K. Browne to save you a shock . . . . Barnard was no mean painter; perhaps his 'Saturday Night in the east End,' and 'The Guards' Band Marching' are amongst his most important works. He also painted a 'Ball-room Scene,' of an elegant character, from one of Dickens' books, that had a very prominent place in the Institute of Painters in Oil Colours. [The Dickens Picture-Book (1910), 23-24]
By the closing decade of the nineteenth century, Barnard, like fellow Dickens illustrator Luke Fildes, had established himself as a successful portrait painter to the aristocracy and royal family. Among his three celebrated series of eighteen lithographic "Character Sketches from Dickens" (1879, 1884, and 1885) is his iconic 1872 representation of Seth Pecksniff as a humbug walking through a woodland glade, a self-satisfied serpent in an Eden.
According to F. G. Kitton, Barnard died dramatically in September 1896, not yet fifty, of smoking in bed. Under the influence of "a powerful drug" such as laudanum, his pipe still alight, he fell asleep, and, when the bedclothes caught fire, was suffocated and his body charred.
Related Material
References
Hammerton, J. A. The Dickens Picture-Book. London: Educational Book Co., 1910.
Kitton, Frederic G. Dickens and His Illustrators. 1899. Rpt. Honolulu: U. Press of the Pacific, 2004.
---
Last modified 1 February 2008