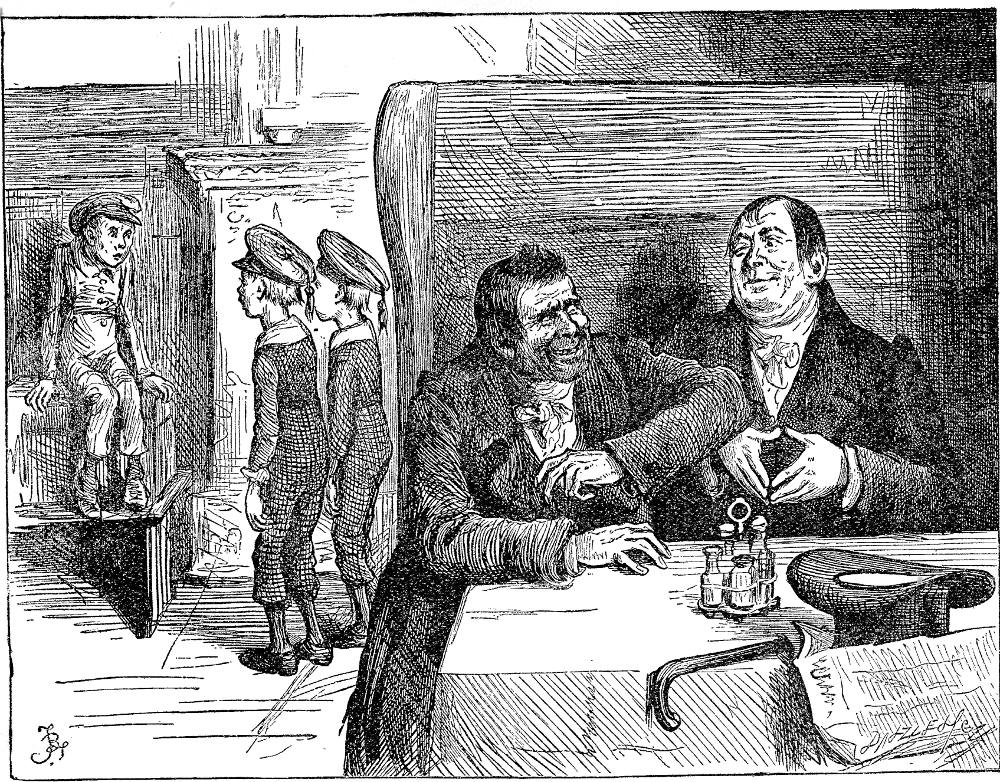 The schoolmaster and his companion looked steadily at each other for a few seconds, and then exchanged a very meaning smile from the fourth chapter of the novel in the Household Edition, illustrated by Fred Barnard with fifty-nine composite woodblock engravings (1875). 10.6 x 13.8 cm (4 ¼ by 5 ⅜ inches), framed. [Click on the images to enlarge them.]
Passage Illustrated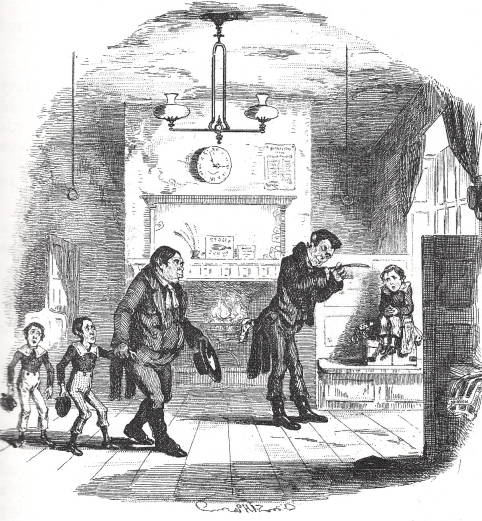 The Yorkshire Schoolmaster at The Saracen's Head (April 1838), in which Phiz introduces Nicholas and the reader to the vulgar and brutal schoolmaster who shamelessly exploits the vulnerability of his young charges.
"My dears, will you speak to your new playfellow a minute or two? That is one of my boys, sir. Belling his name is, — a Taunton boy that, sir."
"Is he, indeed?" rejoined Mr. Snawley, looking at the poor little urchin as if he were some extraordinary natural curiosity.
"He goes down with me tomorrow, sir," said Squeers. "That's his luggage that he is a sitting upon now. Each boy is required to bring, sir, two suits of clothes, six shirts, six pair of stockings, two nightcaps, two pocket-handkerchiefs, two pair of shoes, two hats, and a razor."
"A razor!" exclaimed Mr. Snawley, as they walked into the next box. "What for?"
"To shave with," replied Squeers, in a slow and measured tone.
There was not much in these three words, but there must have been something in the manner in which they were said, to attract attention; for the schoolmaster and his companion looked steadily at each other for a few seconds, and then exchanged a very meaning smile. Snawley was a sleek, flat-nosed man, clad in sombre garments, and long black gaiters, and bearing in his countenance an expression of much mortification and sanctity; so, his smiling without any obvious reason was the more remarkable. [Chapter IV, "Nicholas and his Uncle (to secure the Fortune without loss of time) wait upon Mr. Wackford Squeers, the Yorkshire Schoolmaster," pp. 17-18]
C. S. Reinhart's American Household Edition Frontispiece (1875)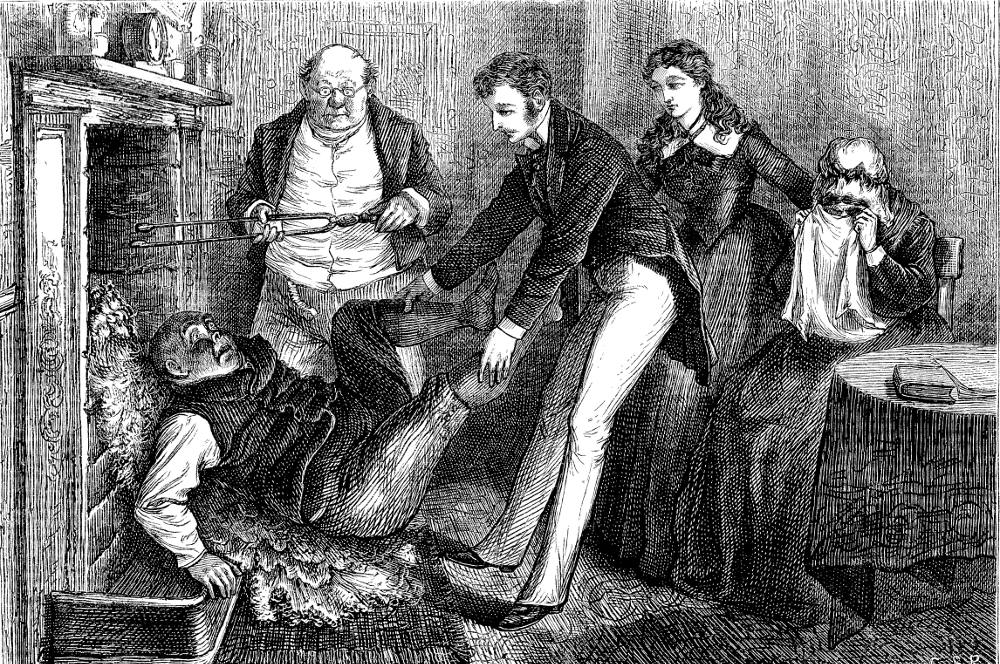 Above: Reinhart's frontispiece for the American Household Edition complements the title-page by focussing on the novel's comic strain, Floundering into the room with greater precipitation than he had quite calculated upon (1875).
Related material, including front matter and sketches, by other illustrators
Scanned image, colour correction, sizing, caption, and commentary by Philip V. Allingham. [You may use this image without prior permission for any scholarly or educational purpose, as long as you (1) credit the person who scanned the image, and (2) link your document to this URL in a web document or cite the Victorian Web in a print one.]
Bibliography
Barnard, J. "Fred" (il.). Charles Dickens's Nicholas Nickleby, with fifty-eight illustrations. The Works of Charles Dickens: The Household Edition. 22 vols. London: Chapman and Hall, 1875. Volume 15. Rpt. 1890.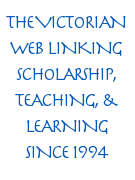 Bentley, Nicolas, Michael Slater, and Nina Burgis. The Dickens Index. Oxford and New York: Oxford U. P., 1988.
Davis, Paul. Charles Dickens A to Z: The Essential Reference to His Life and Work. New York: Facts On File, 1998.
Dickens, Charles. The Life and Adventures of Nicholas Nickleby. With fifty-two illustrations by C. S. Reinhart. The Household Edition. New York: Harper & Brothers, 1872. I.
__________. Nicholas Nickleby. With 39 illustrations by Hablot K. Browne ("Phiz"). London: Chapman & Hall, 1839.
__________. Nicholas Nickleby. Illustrated by Harry Furniss. The Charles Dickens Library Edition. 18 vols. London: Educational Book, 1910. Vol. 4.
__________. "Nicholas Nickleby." Scenes and Characters from the Works of Charles Dickens, being eight hundred and sixty-six drawings by Fred Barnard et al.. Household Edition. London: Chapman and Hall, 1908.
---
Created 21 January 2020